google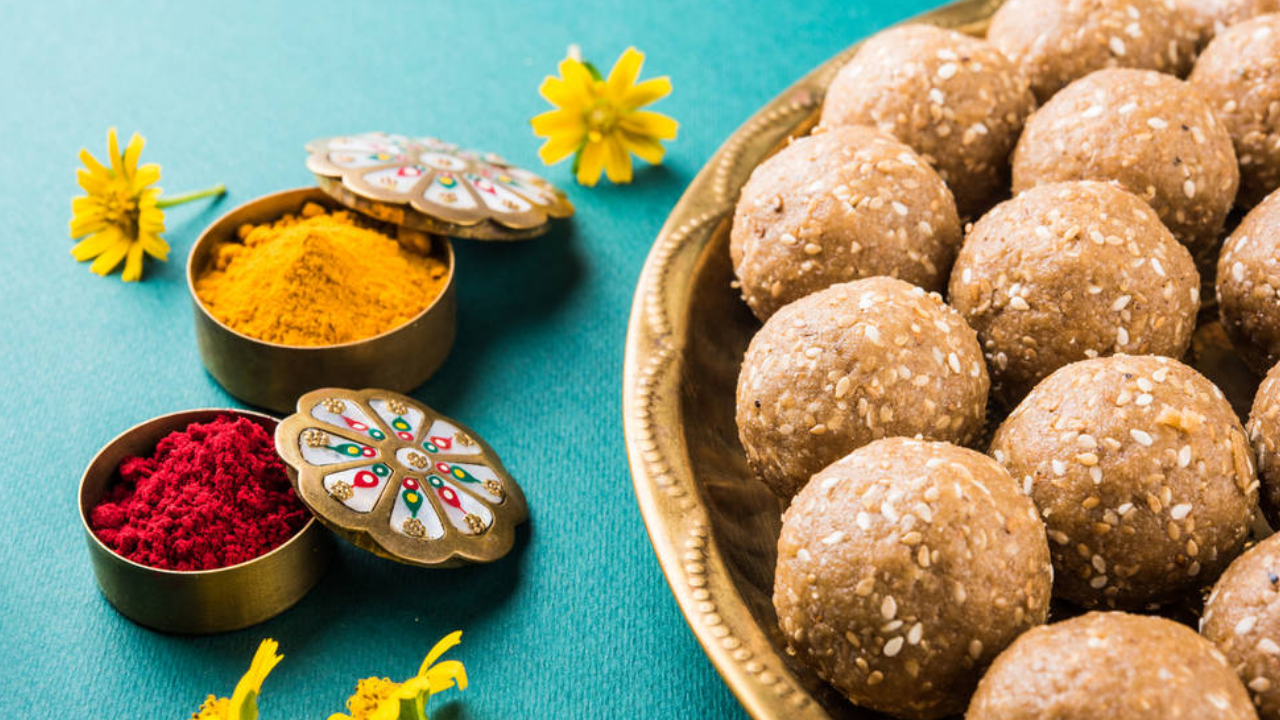 Ganesh Chaturthi 2021: This Ganesh Chaturthi surprise lord Ganesha by offering him his favourite laddoos & Modaks. Let's go back to the time when women used to cook Ganpati Bappa's favourite delicacies at home. A lot of Besan Ladoo and  Modak are made during these preparations. Because our  Adidev Ganesh ji, adores laddoos.
Wondering how to make it? Well, you don't have to go far for it because we are going to tell you some mouthwatering, easy To make at home, quick ladoo & Modak recipes.
Boondi ke Laddoo
From bappa to kids and adults who can ignore Boondi ke Ladoo. The smell of these laddoo are enough to attract anyone's attention towards this delicacy. Let's find how to make it
Recipe :  First thing, first mix gram flour with water or milk  in order to make a thin paste of it. Keep checking the consistency. Pour some amount of ghee in a pan and let it heat for a while. After the pan has been heated,  place the prepared mixture in a sieve and immediately drop it into the hot ghee. Keep frying them on a low temperature until they get light brown(avoid over heating) remove them from the pan and set them aside to soak up the ghee. Then make a syrup by combining sugar and water. You can either add saffron or orange color to it. If you wish you can add dry fruits to the syrup as well, after some time pour a little amount of hot water and keep it aside for at least one and a half hour. After that you are done, start giving it the shape of laddoo and don't forget to use water on your hand to avoid sticking,
Key ingredients: water, milk, ghee, dry fruits and kesar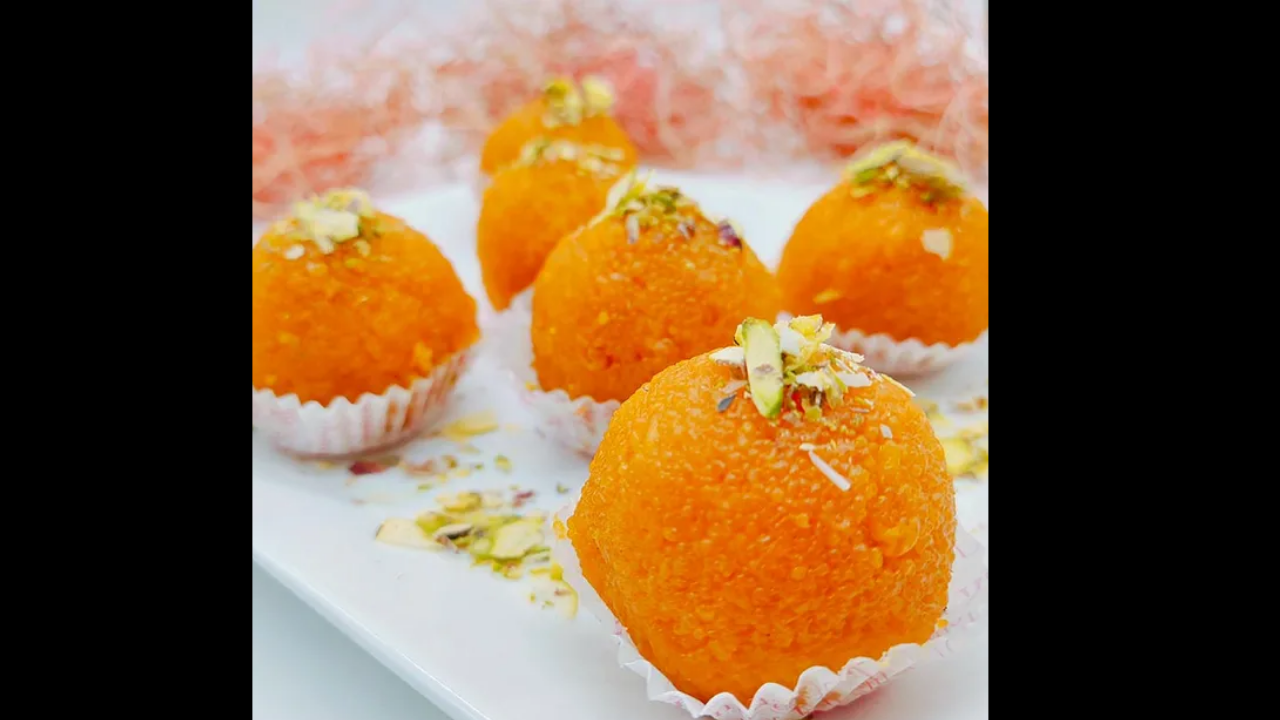 Pic credit: delocious
Nariyal Laddoo -
Probably the most diverse and easily available laddoo is nariyal laddoo. Both raw and dried coconut can be used to make these ladoos.
Recipe: Take one and a half cup of mashed coconut (kasa hua) and then dry roast it in a pan with a medium or low heat, following that add boiled milk and khoya to it. Keep stirring till the time it becomes thick and leaves its side of the pan. Take some amount of peanuts and cashew and dry roast it alongside once done add those in the mixture and mix well so that it can spread evenly. Use some water in your palm and start giving it your desired shapes.
Key ingredient - Milk, water, Khoya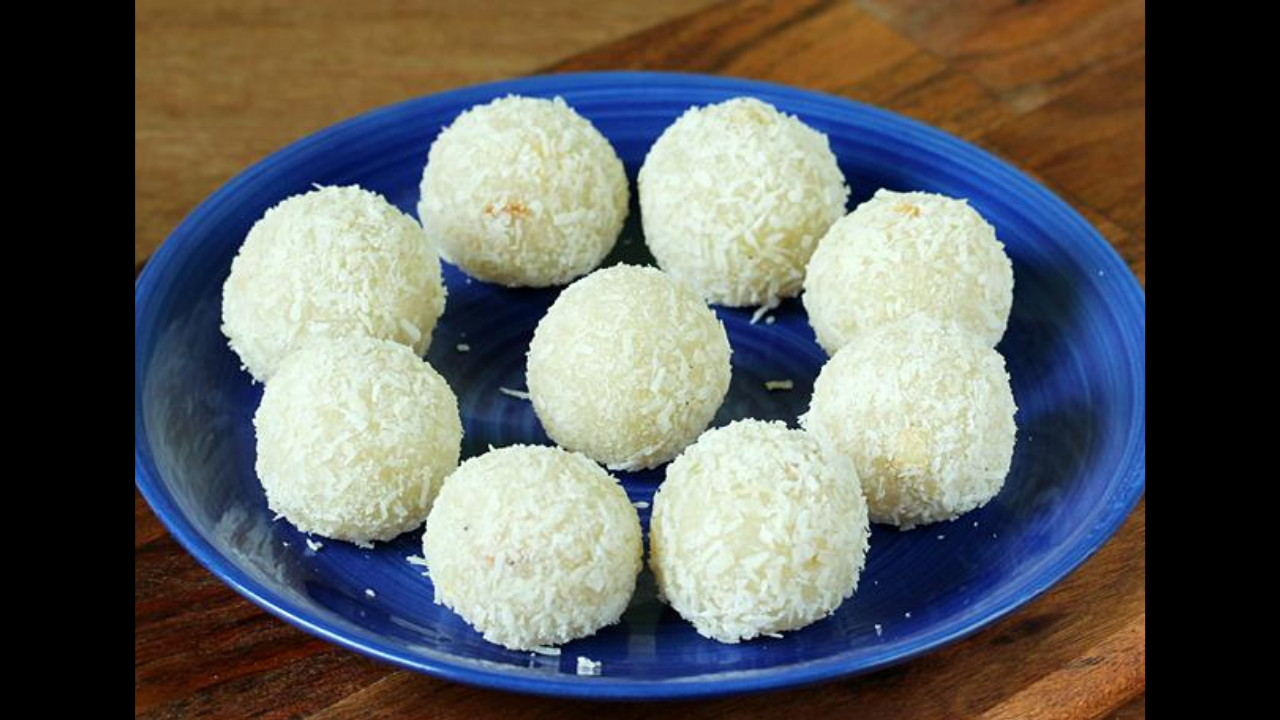 pic:Indianhealthy recipes
Besan Laddoo-
Every region of India has its own method of preparing laddoo's , however some basic laddoo recipes remain unchanged, one of the biggest example is Besan Laddoo. You can find this everywhere and anywhere in this diverse culture of India, this always remains the top priority.
Recipe: To begin, melt half a cup of ghee in a saucepan. Then cook it with 2 cups of gram flour. Continue to whisk until the gram flour gets completely dissolved in the ghee. Add 1 tbsp ghee if the flour does not dissolve properly. Soon, the gram flour will begin to leave the ghee. After approximately 20 minutes, gram flour will start changing to turn golden but don't stop and keep stirring  for around half an hour. Take the gram flour out of the pot when the color changes and set it aside to cool. Now crush the sugar and cardamom together in a blender. After the gram flour has cooled, add the powdered sugar and stir well. Give the laddoos desired shape. Adding dry fruits are always profitable.
Key ingredient : Gram flour, Sugar, dry fruits, cardamom, Ghee

pic:Vegrecipies of india
Atta laddoo:
In India, aate ke laddus are highly popular. They can be created in a variety of methods. They're not only tasty, but they're also good for your health. Although It's very commonly made yet even on happy occasions, you can prepare atta ladoos at home if you desire. Also, this would prove to be a plus point for those who are health concious.
Recipe :
Crush the almonds once they've been roasted,  After that, saute the flour until it turns light brown in colour, then add the ghee and continue to fry until it starts to release ghee from the sides.  Allow the mixture to cool. When it's done, mix in the rest of the ingredients and make the laddoos.
Key ingredient :
Atta, sugar, almonds, ghee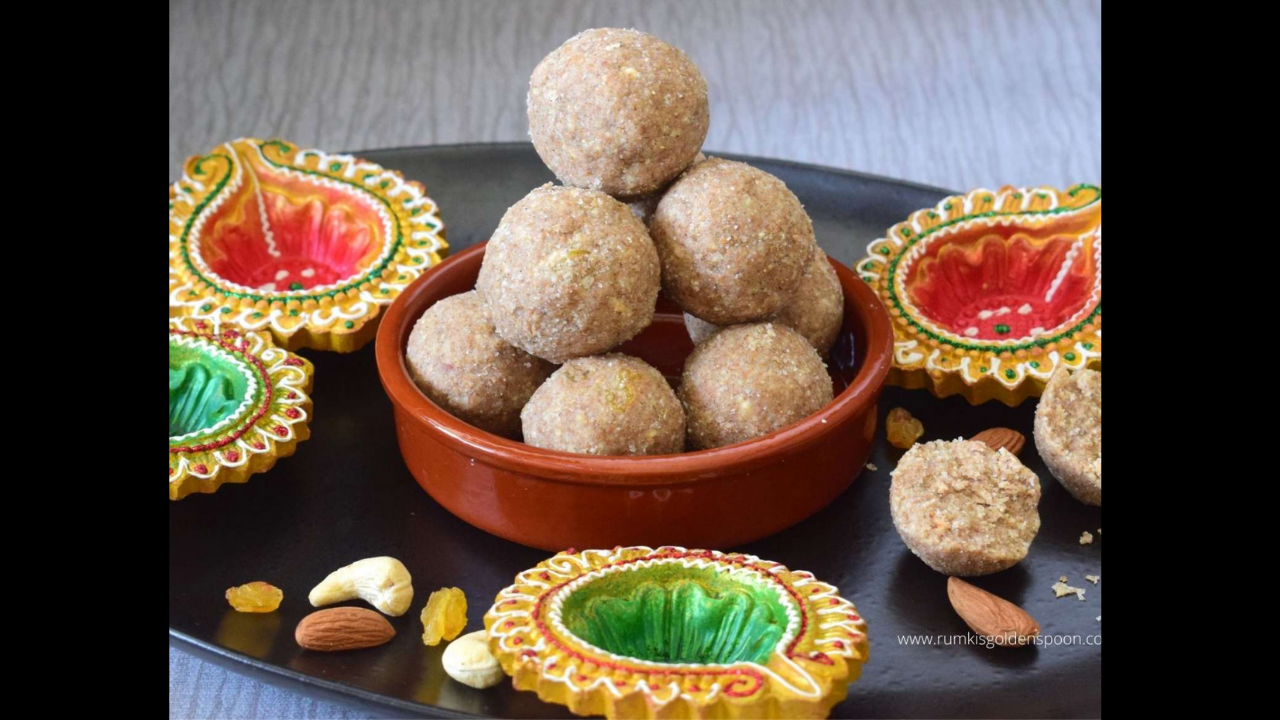 pic:Golden spoon
This was all about Laddoo now let's learn about Ganpati's Favourite- Modaks


Mawa Modak:
Ganpati's most beloved dish is modak. People make several varieties of modaks and offer them to Bappa on this day. You can serve Mawa Modak as Prasad if you are also bringing Ganpati to your home and want to offer Modak Bhog of your choice.


Recipe: To prepare Mawa Modak, start by heating a pan, start mixing the mawa and sugar together until thoroughly mixed. When both melts perfectly, add the saffron.
Cook until the sauce has thickened. After that, add the green cardamom powder and stir it for a few minutes. Turn off the gas and allow it to cool. Mould it in modak shape from a modak maker, and you are done for the day. Offer these to Bappa and he will surely shower his blessings on you.
Key ingredient : Mawa, cardamom, sugar, Saffron 

pic: aartimadan
Malai Modak/Paneer Modak:
This is new to the trend, if you have got bored with all those traditional modak flavors you can surely go for this one.
Recipe: Take scrambled paneer, condensed milk and few saffrons in the pan (yes saffron is the must though) Mix and  keep crushing the large paneer pieces while stirring. Continue to whisk and boil until the mixture thickens and becomes a dough-like consistency,  after around 10 mins It begins to pull away from the pan's sides. Knead it like a dough 2-3 times while it's still warm to smooth it out. Before placing it in the mould cover the mold with a layer of ghee.
Key ingredient : Paneer, condensed milk, saffron, Ghee.