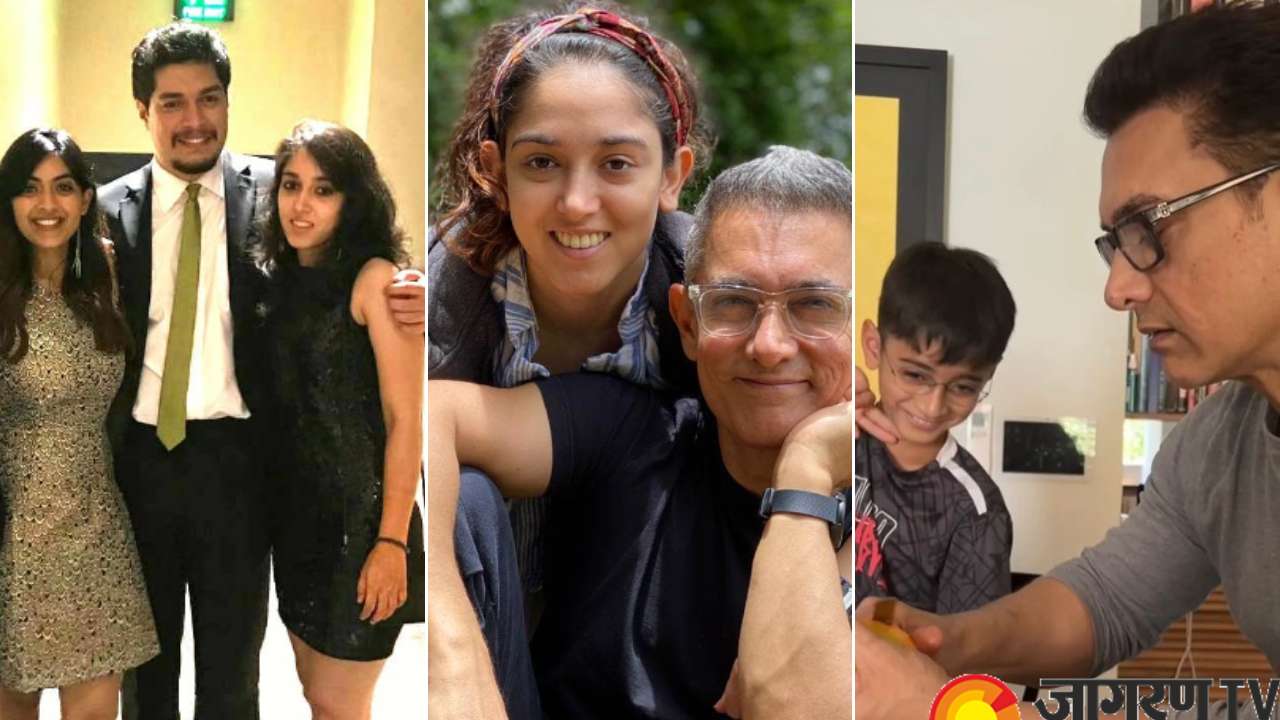 Aamir Khan is celebrating his 57th birthday today. The actor is known for giving mega hits to the Indian Film Industry, known as Mr Perfectionist. Aamir Khan's career is filled with his versatility, dedication, passion, and talent. He was most recently seen in Laal Singh Chaddha, the Hindi remake of Forrest Gump directed by Advait Chandan which also starred Kareena Kapoor Khan.
Let us know some facts about Aamir Khan children, their profession and where they are now.
Aamir Khan Kids
Superstar Aamir Khan has three children, son Junaid and daughter Ira with ex-wife Reena Dutta and son Azad with ex-wife Kiran Rao. 
Junaid Khan
Junaid was born in Mumbai on June 2, 1993. He received his education from Mumbai's Dhirubhai Ambani International School before earning his degree from Mumbai's HR College of Business and Economics. He then traveled to Los Angeles to enroll in classes at the American Academy of Dramatic Arts. In the movie PK, he assisted Rajkumar Hirani with his work. A celebrity Twenty20 cricket match between Bollywood stars and those with physical disabilities was organized by Junaid Khan on May 1, 2012, at Mumbai's Brabourne Stadium. Junaid is in a relationship with Sonam Varma. The two were students at HR College where they first met. Aamir announced in 2022 that he wanted Junaid to be the lead character in Laal Singh Chaddha but producer Aditya Chopra and script-writer Atul Kulkarni objected.
Ira Khan
Ira Khan is the founder, CEO, and director of the nonprofit Agatsu Foundation. She attended the B.D. Somani International School and Lilavatibai Podar High School in Bombay for her education before earning her degree from University College Utrecht in the Netherlands in 2019. Ira, who has always had a passion for music, began working as Ram Sampath's assistant in 2017. On November 18, 2022, Ira Khan proposed to Nupur Shikhare in a private ceremony held in Mumbai. With the play Medea, she made her directing debut in 2019. Actress Hazel Keech, the wife of Yuvraj Singh, played the lead role in the play.
Azad Khan
Aamir Khan's third son Azad was born on November 25, 2011, via surrogate mother. Aamir named him "Azad" after his great-grandfather, freedom fighter and India's first education minister Abul Kalam Azad. He is currently a student at Mumbai's Dhirubhai Ambani International School.
Aamir Khan relationship with kids
In an interview with a media channel, Aamir Khan went candid about his relationship with his kids. He claimed that he neglected his daughter Ira when she most needed him. He said, "Today, Ira is 23 but when she was 4-5, I wasn't there for her. I was busy with films. Every kid needs their parents because when you are a child you have your own fears and hopes. But when she needed me the most, I wasn't by her side to hold her hand when she would get scared. And, I know that moment will never come back."
Talking about his relationship with his two wives, he said, "Somewhere I didn't shoulder my responsibilities. I would start with my parents, my siblings, my first wife - Reena ji, Kiran ji, Reena's parents, Kiran's parents, my children, all these people I am talking about are my close ones. When I was 18, when I joined the film industry, I got so absorbed, I wanted to learn so much, I wanted to do so much that I somewhere — today I realise — people who were close to me, I couldn't give them time the way I wanted to. They are important to me."