Adipurush: On Sita Navami motion poster of Janaki starring Kriti Sanon unveiled, captivates audience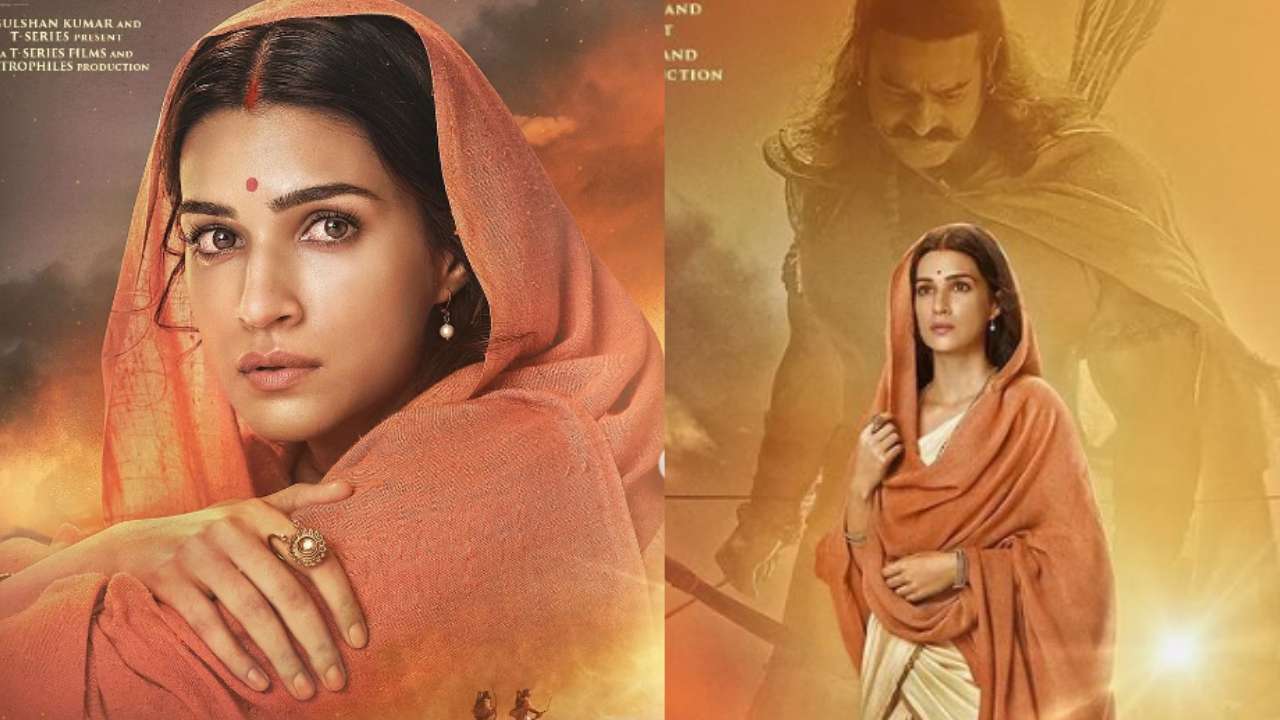 Adipurush: The Pan India biggie which is soon to make its thunderous entry to the box office collection is leaving no stones unturned in generating hype. Prabhas and Kriti sanon starrer Adipurush after releasing the poster of Lord Rama featuring Prabhas and the background vocal of 'Jai Shri Ram' has now released the Janaki version of the same. The poster of Janaki (Mata Sita) featuring Kriti Sanon however has another background vocal in the motion picture. National award winner Om Raut's Adipurush after facing backlashes and a controversial row is now slowly becoming one of the most anticipated pictures of the year. 
Adipurush new lyrical poster 
On the occasion of Sita Navami 2023, makers took the opportunity to unveil the poster of Mata Janaki starring Kriti Sanon in the role. The actress has shared a couple of posters on social media. One of the posters displays Janaki in a white saree with a saffron shawl draped over her head, while in the background, Prabhas's character is seen carrying bows and arrows. The other poster is a closeup shot of Kriti as Mata Janaki beautifully highlighting her bridal aesthetics and finger ring. The enchanting motion poster which was attached to the previous two uploaded pictures features a new vocal 'Ram Siya ram' and seems like the audience are already in love with it. 
Captioning the poster Kriti wrote "सीता राम चरित अति पावन The righteous saga of Siya Ram Jai Siya Ram जय सिया राम జై సీతారాం ஜெய் சீதா ராம் ಜೈ ಸೀತಾ ರಾಮ್ ജയ് സീതാ റാം
 

 

 

View this post on Instagram
 

 

 

View this post on Instagram
 

 

 

View this post on Instagram
About Adipurush
Adipurush is a movie based on the epic Ramayana, directed by Om Raut. The cast includes Prabhas as Raghav (Lord Ram), Kriti Sanon as Janaki (Goddess Sita), Sunny Singh as Shesh, Devdatta Nage as Hanuman, and Saif Ali Khan playing the role of the villain Lankesh.The highly anticipated Pan India movie is now set to release on June 16, 2023, both in India and on an international level. The film will be released in various languages, including Hindi, Tamil, Telugu, Kannada, and Malayalam, in theaters.The Adipurush movie is set to debut at the Tribeca Film Festival, and the producers have unveiled a new poster that reveals this.
 

 

 

View this post on Instagram