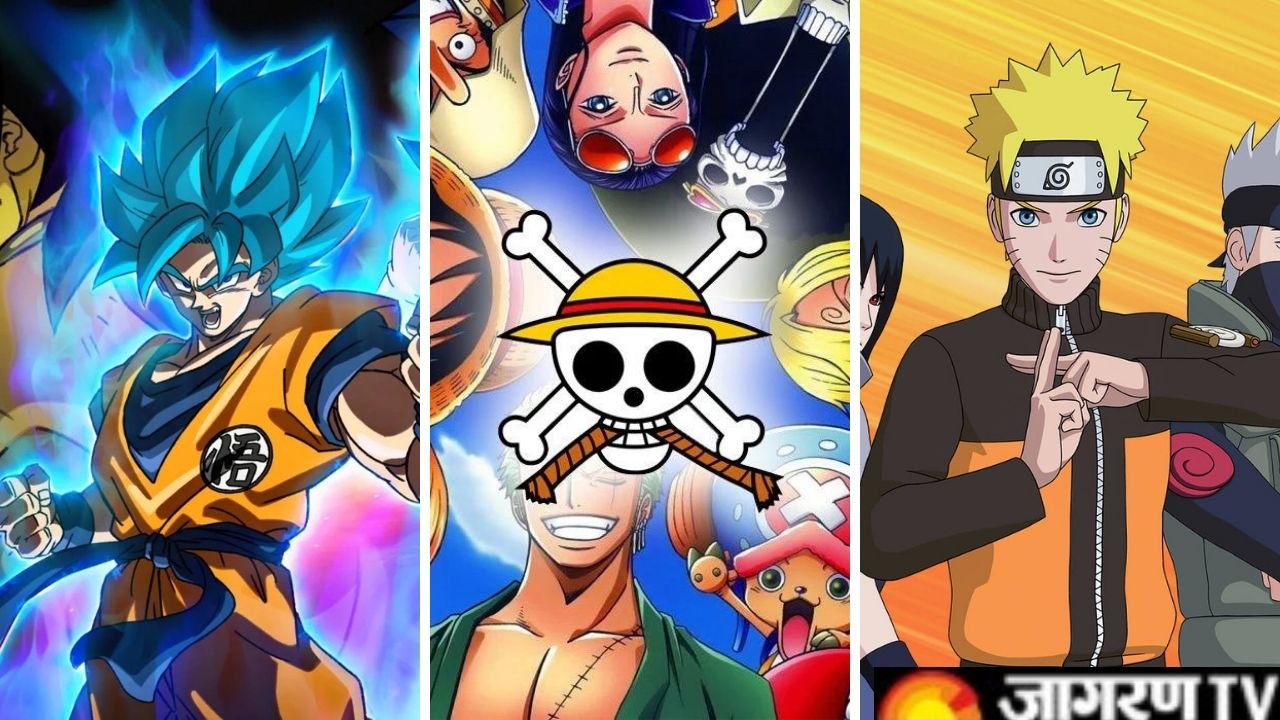 The Anime universe is currently above the world renowned franchises like Marvel cinematic universe and Disney. The global viewership has made these industries so rich and popular that they have now gone toe to toe with entertainment industries like Hollywood. Be it Korean dramas, Anime worlds or Turkish series, people are loving them so much that they have reached a different level altogether.
Anime rankings are a big topic of discussion among the anime lovers and the fan base of each anime has their own opinion for their favourite anime. But let's find out the top 10 best anime
Top 10 animes of all times
Dragon Ball
Dragon Ball is a Japanese media franchise created by Akira Toriyama in 1984. The initial manga, written and illustrated by Toriyama, was serialized in Weekly Shōnen Jump from 1984 to 1995, with the 519 individual chapters collected into 42 tankōbon volumes by its publisher Shueisha. Dragon Ball was originally inspired by the classical 16th-century Chinese novel Journey to the West, combined with elements of Hong Kong martial arts films.
Additionally, Dragon Ball is an anime television metaseries. Dragon Ball (1986-89), Dragon Ball Z (1989-96), and Dragon Ball Super (2015-18) are set in a uniform main continuity, while Dragon Ball GT (1996-97), and Super Dragon Ball Heroes (since 2018) explore several alternate continuities.
Dragon Ball metaseries Net worth
The manga first appeared in the weekly Shonen Jump Magazine back in 1984. By 2021, the franchise has grown in value to reach a net worth of $27 billion. You can find Dragon Ball manga, anime, video games, figurines, toys, clothing, snacks, even cleaning products. It is currently one of the biggest money making anime series of all time and has been in the top 3. 
One Piece
One Piece is a Japanese manga series written and illustrated by Eiichiro Oda. It has been serialized in Shueisha's shōnen manga magazine Weekly Shōnen Jump since July 1997, with its individual chapters compiled into 102 tankōbon volumes as of April 2022. The story follows the adventures of Monkey D. Luffy, a boy whose body gained the properties of rubber after unintentionally eating a Devil Fruit.since 2000.
In 2015, One Piece set the Guinness World Record for "the most copies published for the same comic book series by a single author". It was the best-selling manga for eleven consecutive years from 2008 to 2018, and is the only manga that had an initial print of volumes of above 3 million continuously for more than 10 years, as well as the only that had achieved more than 1 million copies sold in all of its 100 published tankōbon volumes. Furthermore, One Piece is the only manga whose volumes have ranked first every year in fourteen years of Oricon's Manga Sales Ranking existence. As of July 2021, One Piece had over 490 million copies in circulation in 58 countries and regions worldwide, making it the best-selling manga series in history, and the best-selling comic series printed in book volume. It is also one of the highest-grossing media franchises of all time.
One Piece Net Worth
The One piece anime series and manga are currently valued at 20.9 Billion dollars. It has completed 1016 episodes and is still nowhere near its end. Eiichiro Oda who is the magna artist of One Piece has an estimated net worth of $150 million dollars, as of 2022. 
Pokemon
Pokémon is a Japanese media franchise managed by The Pokémon Company, a company founded by Nintendo, Game Freak, and Creatures. The franchise was created by Satoshi Tajiri in 1996, and is centered on fictional creatures called "Pokémon". In Pokémon, humans, known as Pokémon Trainers, catch and train Pokémon to battle other Pokémon for sport. All media Pokémon is estimated to be the highest-grossing media franchise of all time. The Pokémon video game series is the fourth best-selling video game franchise of all time with more than 380 million copies sold and one billion mobile downloads.works within the franchise are set in the Pokémon universe.
The Pokémon Trading Card Game is the highest-selling trading card game of all time with over 34.1 billion cards sold. In addition, the Pokémon franchise includes the world's top-selling toy brand, an anime film series, a live-action film (Detective Pikachu), books, manga comics, music, merchandise, and a temporary theme park.
Pokemon Net worth
The Pokémon franchise earned $ 95 billion in total revenue, more than other franchises such as Star Wars, Marvel, and Mickey Mouse combined. There is no doubt that Pokemon is the biggest anime franchise of all time with a market value of $99 billion. As a marketing giant, Pokemon is nothing short of legendary.
Naruto
Naruto is a Japanese manga series written and illustrated by Masashi Kishimoto. It tells the story of Naruto Uzumaki, a young ninja who seeks recognition from his peers and dreams of becoming the Hokage, the leader of his village. The story is told in two parts – the first set in Naruto's pre-teen years, and the second in his teens. The series is based on two one-shot manga by Kishimoto: Karakuri (1995), which earned Kishimoto an honorable mention in Shueisha's monthly Hop Step Award the following year, and Naruto (1997).
Naruto is the sixth best-selling manga series in history having 250 million copies in circulation worldwide in 47 countries and regions, with 153 million copies in Japan alone and remaining 97 million copies elsewhere. It has become one of Viz Media's best-selling manga series; their English translations of the volumes have appeared on USA Today and The New York Times bestseller list several times, and the seventh volume won a Quill Award in 2006.
Naruto Net worth
With over $11 billion in revenue, its animation division brought in over $11 billion for the 2019 fiscal year. A large part of that has been attributed to Hidden Leaf Village, which has been built on 6 billion yen. A recent report indicates that Naruto was TV Tokyo's highest-selling show and its best-profitable one.
Death Note
Death Note is a Japanese manga series written by Tsugumi Ohba and illustrated by Takeshi Obata. The story follows Light Yagami, a teen genius who discovers a mysterious notebook: the "Death Note", which belonged to the Shinigami Ryuk, and grants the user the supernatural ability to kill anyone whose name is written in its pages. The series centers around Light's subsequent attempts to use the Death Note to carry out a worldwide massacre of individuals whom he deems immoral and to create a crime-free society, using the alias of a god-like vigilante named "Kira", and the subsequent efforts of an elite Japanese police task force, led by enigmatic detective L, to apprehend him.
The series was adapted into three live action films released in Japan in June 2006, November 2006, and February 2008, and a television drama in 2015. A miniseries titled Death Note: New Generation and a fourth film were released in 2016. . As of April 2015, the Death Note manga had over 30 million copies in circulation.
Demon Slayer
Demon Slayer: Kimetsu no Yaiba is a Japanese manga series written and illustrated by Koyoharu Gotouge. It follows teenage Tanjiro Kamado, who strives to become a demon slayer after his family was slaughtered and his younger sister Nezuko turned into a demon. It was serialized in Shueisha's shōnen manga magazine Weekly Shōnen Jump from February 2016 to May 2020, with its chapters collected in twenty-three tankōbon volumes. It has been published in English by Viz Media and simultaneously published by Shueisha on their Manga Plus platform.
As of February 2021, the manga had over 150 million copies in circulation, including digital versions, making it the ninth best-selling manga series of all time. Also, it was the best-selling manga in 2019 and 2020. Both the manga and its anime adaptation have received critical acclaim.
Demon Slayer net worth
In 2020, the Demon Slayer franchise generated an estimated annual sales revenue of ¥1 trillion ($8.75 billion), becoming one of the highest-grossing media franchises of all time.
Attack on Titan
Attack on Titan is a Japanese dark fantasy anime television series adapted from the manga of the same name by Hajime Isayama that premiered on April 7, 2013. It has aired on NHK General TV in Japan, and Aniplus Asia in various Asia-Pacific countries. In the United States and Canada, the series has streamed on Crunchyroll, Funimation, Netflix, Amazon Prime Video, and Hulu, in addition to airing on Adult Swim's Toonami programming block in the U.S.
Attack on Titan has received widespread acclaim and has notably sustained a broad, active, and international fan base. Critics and audiences have praised the story, characters, animation, music, voice acting, and dark (yet sometimes humorous) themes.
Attack on Titan net worth
The success of Attack on Titan's third season has undoubtedly played a major role in WIT Studio's profits for the year as the studio recently reported a huge increase in profits from last year. According to Anime News Network, the company reported consolidated sales of 8.426 billion yen (about $75 million USD) and a net profit of 201 million yen (about $1.8 million) in may 2018. 
Jujustu Kaisen
Jujutsu Kaisen is a Japanese manga series written and illustrated by Gege Akutami. It has been serialized in Shueisha's shōnen manga magazine Weekly Shōnen Jump since March 2018, with its chapters collected and published in nineteen tankōbon volumes as of April 2022. The story follows high school student Yuji Itadori as he joins a secret organization of Jujutsu Sorcerers in order to kill a powerful Curse named Ryomen Sukuna, of whom Yuji becomes the host. Jujutsu Kaisen is a sequel to Akutami's Tokyo Metropolitan Curse Technical School, serialized in Shueisha's Jump GIGA from April to July 2017, later collected in a tankōbon volume, retroactively titled as Jujutsu Kaisen 0, in December 2018.
As of April 2022, the Jujutsu Kaisen manga had over 65 million copies in circulation, including related novels, digital versions and Jujutsu Kaisen 0, making it one of the best-selling manga series of all time.
Jujustu Kaisen Net worth
Jujutsu Kaisen earned an estimated 14.8 billion yen or roughly 133 million USD. It edged out the competition as Demon Slayer: Kimetsu no Yaiba earned a solid 14.2 billion yen to grab second place.
Fullmetal Alchemist
Fullmetal Alchemist is a Japanese anime television series loosely adapted from the original manga series of the same name by Hiromu Arakawa. Comprising 51 episodes, it was produced by the animation studio Bones for Mainichi Broadcasting System and Aniplex, and directed by Seiji Mizushima. It was broadcast on MBS in Japan from October 2003 to October 2004.
The first anime series concluded with a direct sequel film, Conqueror of Shamballa, released in 2005. A second anime series, Fullmetal Alchemist: Brotherhood, which faithfully adapted the entire storyline of the original manga, was broadcast in 2009.
The manga has sold over 80 million volumes worldwide, making it one of the best-selling manga series. It received the 49th Shogakukan Manga Award for the shōnen category in 2004, the UK's Eagle Award for favorite manga in 2010 and 2011 and the Seiun Award for best science fiction comic in 2011.
Bleach
Bleach  is a Japanese anime television series based on Tite Kubo's original manga series of the same name. It was produced by Studio Pierrot and directed by Noriyuki Abe. The series aired on TV Tokyo from October 2004 to March 2012, spanning 366 episodes. The story follows the adventures of Ichigo Kurosaki after he obtains the powers of a Soul Reaper—a death personification similar to the Grim Reaper—from another Soul Reaper, Rukia Kuchiki. His newfound powers force him to take on the duties of defending humans from evil spirits and guiding departed souls to the afterlife. The anime adaptation includes original storylines not found in the manga with repeated appearances and stories containing these original characters.
In March 2020, it was announced that the manga's final story arc, "Thousand-Year Blood War", would receive an anime television series adaptation, which is set to premiere in October 2022.
Bleach net worth
The anime series currently values at 7.24 Billion dollars. The anime was produced by Studio Pierrot and lasted until 2012.
The anime world is ever-growing and has gained a lot of fame and respect by people all around the world. Many people believe that the anime universe is at its peak, but new series, movies and mangas are proving them wrong everyday by breaking world wide records everyday.