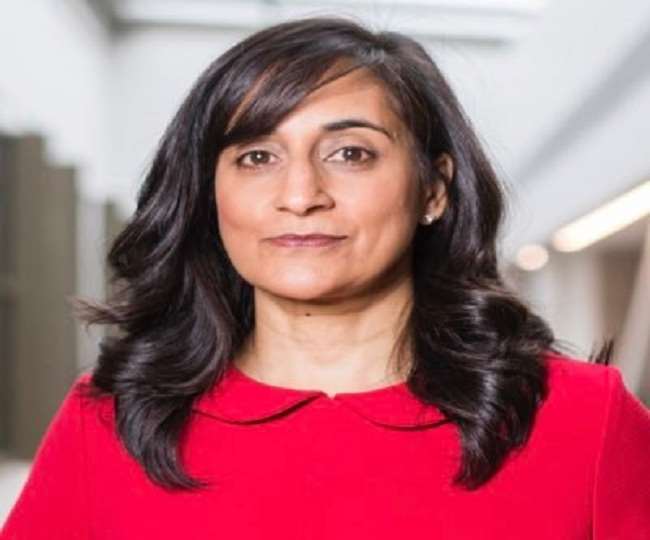 Anita Anand, a Canadian politician of Indian Origin, on Tuesday took oath as the Minister of National Defence in Prime Minister Justin Trudeau's reshuffled cabinet. Anita replaced Harjit Sajjan, who had served as the minister of defence for a long time but was criticised for his handling of sexual misconduct in military, as per the reports of PTI. Anita is the second woman to hold the portfolio of Canada's national defence minister. She earlier served as the procurement minister.
Trudeau reshuffled his cabinet over a month after his Liberal Party returned to power in snap polls and the new cabinet too ensures gender balance. It has total 38 members, with half of the portfolios occupied by women. 
Trudeau said,"One of the things people will be learning about Anita Anand over the next months is [that] she is a world class expert in governance, that she will bring to bear to make sure the Canadian Armed Forces, the leadership thereof, are worthy of the extraordinary men and women who chose to serve."
Anita also expressed her gratitude towards the Prime Minister through her tweet. 
Anita Anand Early Life
Anita Anand was born in 1967 to Mrs. Saroj D. Ram (now deceased) and Mr. S.V. (Andy) Anand in Kentville, Nova Scotia. Both of her parents were physicians. Her father belonged to Tamil Nadu while her mother was from Punjab.
Anita Anand Family
Anita's family relocated to Ontario in 1985 and she has two sisters- Gita Anand, an employment lawyer in Toronto and Sonia Anand, a medical doctor and researcher at McMaster University. Anita is married to John and the couple has four children.
Anita Anand Education
Anita has four degrees-
Bachelor of arts (honours) in political studies from Queen's University; 

Bachelor of arts (honours) in Jurisprudence from Wadham College, Oxford University; 

Bachelor of laws from Dalhousie University

Master of laws from the University of Toronto.
Anita Anand Academic Career
Anand began her legal career at Torys from 1994-97 and then pursued her teaching profession as an assistant professor(adjunct) from 1997-99 at Faculty of Law of Western University.
In 1999, she became the assistant professor in the Faculty of Law at Queen's University and then advanced to the rank of Associate professor in 2003. 
In 2006, she joined University of Toronto as a full professor in Faculty of Law. She also served as an associate dean from 2007-09.
Since her election, she is on leave from the Faculty of Law, University of Toronto.
Anita Anand Political Career
On June 12,2019, Anita won the Nomination for the riding of Oakville, Ontario, after the incumbent John Oliver announced that he will not be contesting in 2019 election.  On October 21, 2019, she won the riding of Oakville.
She took oath as the member of Parliament for Oakville on November 22,2019 and represents Oakville in the House of Commons.
Anita Anand Minister
On November 20,2019, Anita was sworn in as the member of Privy council and as the Procurement Minister at Rideau Hall. She made earnest efforts to procure PPE Kits and Vaccines for the Canadian health workers and citizens, as procurement minister.