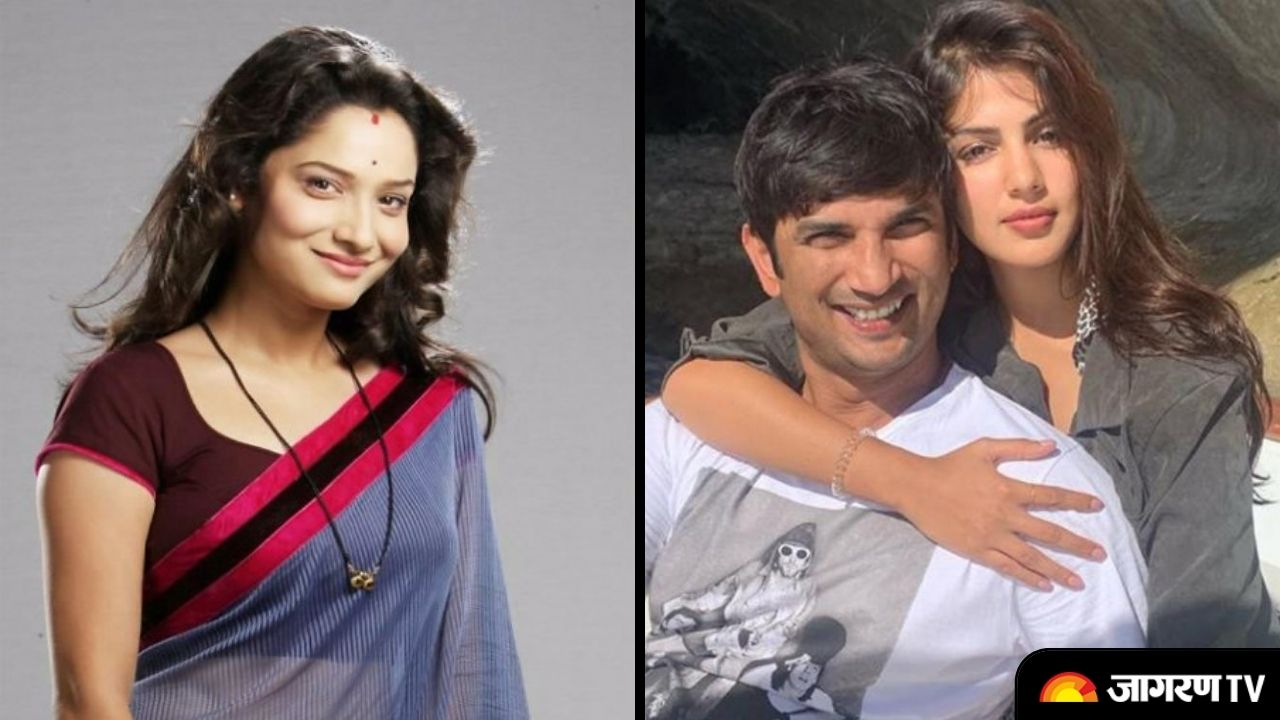 Late actress Sushant Singh Rajput's sudden demise in 2020 left the entire industry in shock. It was reported that the actor committed suicide in his Mumbai house and the case even roped in CBI. While the case is still going on, Sushant's ex-girlfriend, Ankita Lokhande often remembers the actor and the time they spent together. The two met on the sets of Pavitra Rishta and dated each other for a long time. While the two had a breakup, they were still each other's friends. In a recent interview with a leading daily, Ankita speaks about how she faced trolls after SHushant's death. The actress also commented on the relationship between Sushant and his alleged girlfriend Rhea Chakraborty. 
Ankita Lokhande speaks on Sushant and Rhea Relationship 
In a recent interview with ETimes, Ankita talks about Sushant and Rhea Chakraborty's relationship. When asked if she had spoiled her relationship with industry people by speaking against Rhea Chakraborty in the Sushant Singh case, ANkita says she didn't know about their relationship.  "I don't know this girl, so what will I say? I didn't even know about Sushant and Rhea's relationship. I've never spoken about her anyway. God bless her wherever she is. Maine kisi se koi relation nahi bigaada hai kyunki mere kisi se relation hi nahi. Mera jisse tha, maine uske liye stand liya (I have not spoiled my relationship with anyone because there was no relation to begin with; the one whom I had a relationship with, I defended). I have no regrets," says Ankita. 
Anikta Lokhande on being trolled over Sushant's death 
In the same interview when Ankita was asked how she dealt with all the troll and hate after the death of the actor. Ankita replies that she can do nothing about people's thinking 'nothing is in her hand. She further adds, " I can't do anything. There is nothing in my hand. Logo ko lagta hai tab mujhe woh devi banaa dete hai, logo ko lagta hai tab mujhe utaar dete hai (When people feel like it, they make me into a Goddess, when they don't, they take me off that pedestal). I don't think I have existed in Sushant's life for the past four years. Kisi aur ka gussa mujh par nikalne ka koi matlab nahi hai (No point directing anger at me). I think everyone has been targeted throughout this process. And it is okay. I know what I stood for, I know what I feel. I know what I've gone through, so it is okay."
Ankita Lokhande in Pavitra Rishta 2.0
Let us tell you that the second season of Ankita Lokhande and Sushant SIngh starrer show Pavitra Rishta will premiere on September 15. While Ankita will be again seen in the role of Aarti, actor Shaheer Sheikh will be seen in the iconic character of Manav which was earlier played by Shushant. 
Remembering Shushant during a special press conference of the show Anikta says, "Sushant would have been very happy to hear this news. He was a person who appreciated good work and he always encouraged me. I remember on the last day of the shooting of Pavitra Rishta, I only told him that he should come on the sets. Even though he had left it long back, he came there on the last day of the show. He really liked this show. Pavitra Rishta has made both of us. Had he been with us today, he would have been really happy.".