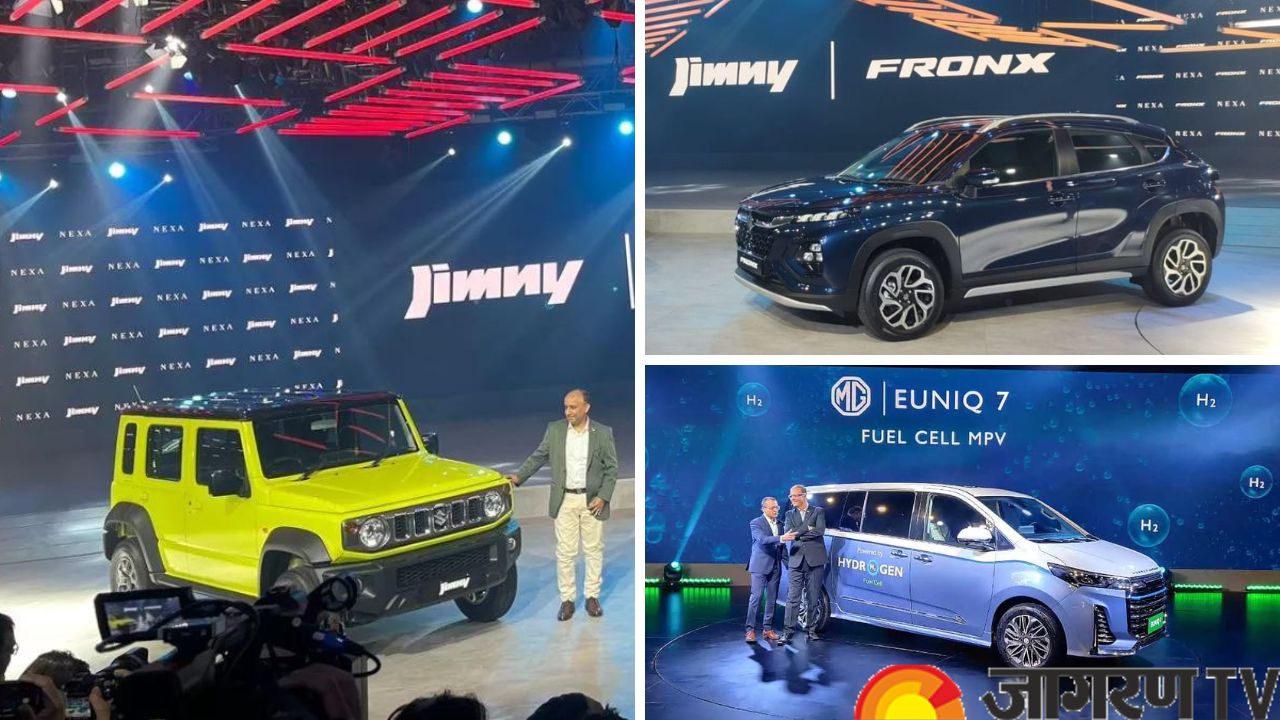 Auto Expo 2023 day 1 was filled with a lot of excitement and enthusiasm for car lovers as we got to see many new cars launched and introduced to the world. Starting from Maruti Evx concept to ending at Tata's curvv ice, the day was filled with action. The second day also witnessed a great launch of many products and automobiles from companies like Maruti and Morris Garages. Let's take a look at these new launched vehicles of Auto expo day 2.
Auto expo day 2 launches
Maruti Suzuki Jimny
On day two of Auto Expo 2023, Maruti unveiled the five door Jimny. A 1.5-liter K15B petrol engine, mated to either a four-speed torque converter or a five-speed manual transmission, powers the Jimny's all four wheels through Maruti's AllGrip Pro 4x4 technology with a low range gearbox. 
Maruti Suzuki Fronx
The Jimny was not Maurti's only brand-new automobile. Maruti Suzuki's newest model, the Fronx, an SUV-coupe based on the Baleno, was unveiled at the 2023 Auto Expo. The Alpha 1.0L Turbo AT model has an engine that produces a maximum of 148 Nm of torque and 99 bhp of power at 5500 rpm. The Maruti Fronx Alpha 1.0L Turbo AT comes in 9 colours and has an automatic transmission.
MG Euniq 7
Another significant announcement made on the second day was the Euniq 7, a distinctive hydrogen fuel cell-powered vehicle from MG. A hydrogen fuel cell in the car generates 201 horsepower. According to the business, refuelling the high-pressure hydrogen unit should only take 3-5 minutes. It's interesting to note that the MPV may have a driving range of up to 605 kilometres.
Wagon R Flex Fuel
Maruti also debuted the waggon r flex fuel prototype alongside the Jimny and Fronx. Which of the two engines available in the regular Wagon R would be used for flex-fuel compatibility is not yet known by Maruti Suzuki. It might be the 1.0-liter K10C or the 1.2-liter K12C, which will be designed to adapt the flex-fuel with a base ethanol content ranging from 20 to 85%.
Maruti Suzuki Brezza CNG
The new Brezza CNG was also released by Maruti alongside the Wagon R flex fuel. It will be propelled by the Ertiga CNG's 1.5-liter K15 four-cylinder conventional petrol engine. Standard output for this K-series engine is 102 horsepower and 137 Nm.