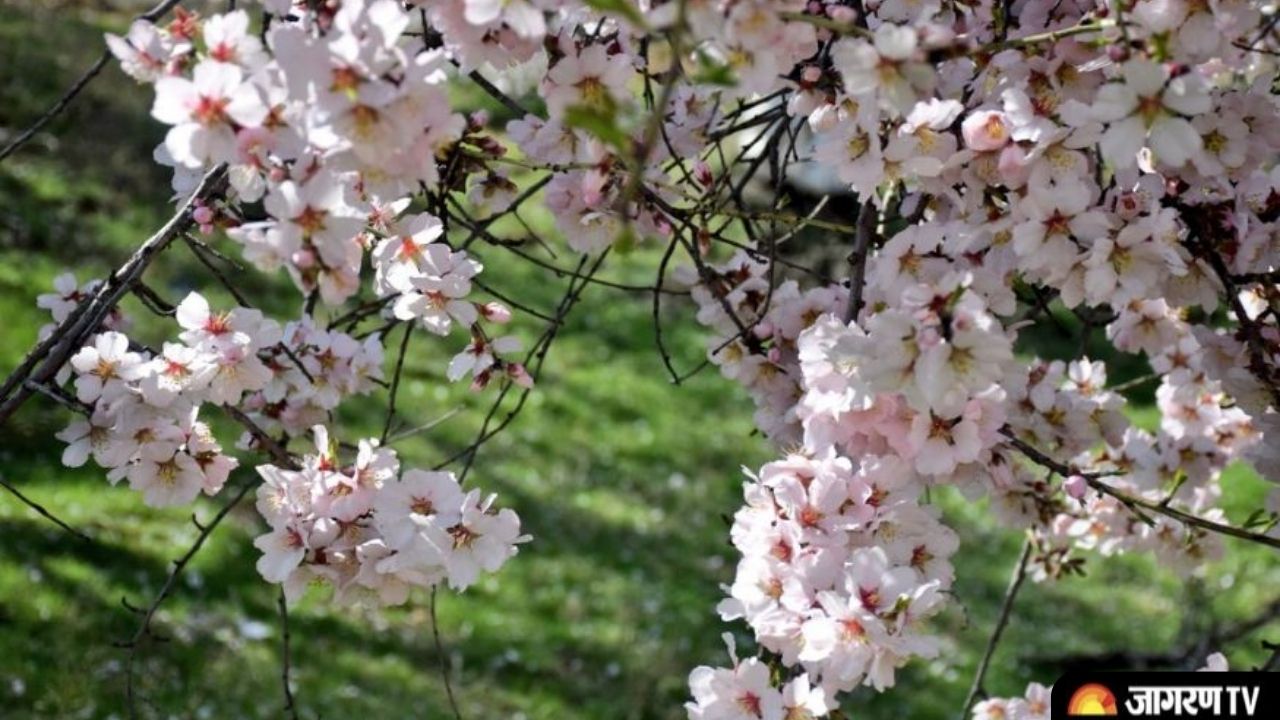 Badamwari Garden 2022: After a long pause of more than 2 years, due to the pandemic of covid-19 which had brought life to a standstill, thousands of holidaymakers are now looking forward to spending vacations in the scenic locales of Kashmir.
While nature enthusiasts and picnickers are keen on visiting health resorts across Kashmir, the Valley is waiting to welcome nature lovers with open arms, with a riot of colour across the Badamwari in old Srinagar.
Badamwari, a historic park also known as Warris Shah Bagh, was revived by J&K Bank in 2008 and last year the Badamwari was transferred to the Floriculture Department, officials said. The garden is located at the foothills of Hari Parbat Fort.
Speaking with the media, Director Floriculture Kashmir, Farooq Ahmad Rather said almonds being one of the earliest blooming flowering trees in Kashmir have "set the stage for kick-starting the tourism season in the Valley."
"There are almost 280 kanals with 1000 almond trees spread in the Badamwari. Apart from almonds, different varieties of flowers are present in the garden which present a scintillating view," said Rather.
"An extension of Nigeen Lake on one of the sides of the garden is also a valuable addition to this destination. Bloom of almond flowers for the next two weeks is expected to attract footfalls in large numbers. It is an attractive destination, especially for the local population of the Valley, who like to spend time with their families in this garden," said Rather.
Entry Ticket in Badamwari Garden
He said Departure of Floriculture has made entry by paid ticket to the Badamwari.
"Officials of the department along with Tourism Department officials on Saturday held a meeting to review the arrangements for the different flower shows. The meeting was chaired by the Secretary Tourism. We are working in tandem to ensure that spring turns out to be a bumper tourist season with the help of Badamwari and Tulip Garden," said Rather.
"Apart from the different varieties of flowers, many civic works have been undertaken at the garden to ensure that best possible facilities are provided to the visitors. Repair of paths etc has been completed," Rather said.
Badamwari garden Location, History, Importance and more
The early bloom of flowers on Almond trees in the sprawling historic Badamwari garden in Shahr-e-Khaas has become a source of attraction for nature lovers, tourists, visitors etc. 
Situated on the foothills of Koh-e-Maran, almost 300 kanals garden was dotted with trees, flowers and cascades providing a soothing experience to the visitors. 
Historians maintain there was no record to suggest who laid the garden but they say it existed even before the rule of Sultan Zain-ul-Abidin in the 14th century.
A well covered dome in the garden is named after an Afghan ruler, Warris Shah. The bloom on the Almond trees heralded the spring. The garden was revived and formally thrown open to the public in 2008.