Baramulla Encounter:
Three Lashkar-e-Taiba terrorists were killed by security forces in an encounter that took place in the Sopore area of district Baramulla late on Sunday, including chief terrorist Mudasir Pandit. The police had also announced a reward of Rs. 10 lakhs on the wanted Mudasir in many murders and terrorist attacks.
Sharing information on this, IGP Kashmir Vijay Kumar stated that the terrorist organization Lashkar-e-Taiba has suffered a great loss due to the killing of Mudasir Pandit. Pandit was involved in the killing of three policemen, two counselors, and two civilians. He had attacked and killed two councilors and a policeman during the meeting of the consular being held in Sopore, and was being searched for, for a long time.
The encounter took place in the Gund Brath area of Sopore in district Baramulla of North Kashmir. Late in the night, the security forces were informed about the presence of three terrorists in the area, and the police had accurate information that among the three terrorists hiding in the area, the most wanted terrorist of Lashkar-e-Taiba, Mudasir Pandit was also involved. A joint team of SOG, Army, and CRPF reached the Gund Brath area late in the night and started with the search operations.
These three terrorists were hiding in a house and seeing the security forces approaching them, they opened fire. Before starting the retaliatory action, the security forces asked the terrorists to surrender as usual, but the terrorists responded by firing. 
Around 1 AM to 2 AM in the morning, the three terrorists were killed one after the other and soon after that, the security forces launched a search operation around the encounter site. After obtaining the bodies of the three, it was confirmed that Mudasir was one of those terrorists killed, and the same confirmed by the IGP through his Twitter handle on Monday.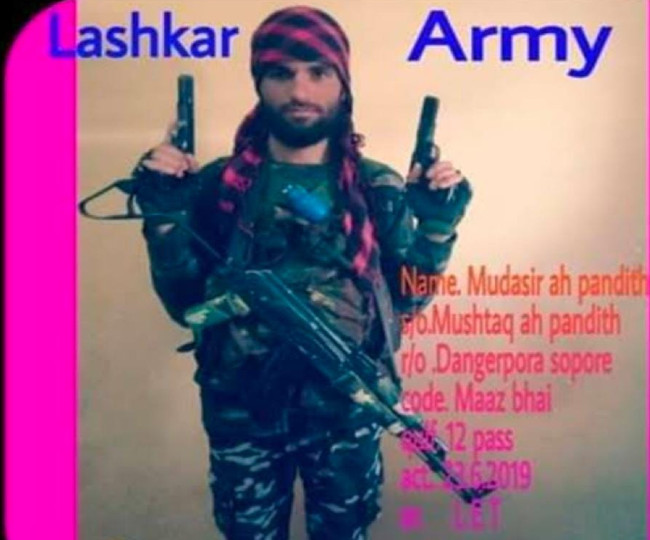 The second terrorist of the three killed is also being identified as a Pakistani terrorist Asrar Alias Abdullah. While the identity of the third terrorist isn't disclosed, while he is being identified as a local.
Police also recovered a considerable number of arms and ammunition from the encounter site. The security forces evacuated the area after the operation was over in the early hours of Monday.