BTS J-hope leaves for military & its pouring in Seoul; ARMY says 'The universe is crying' watch reactions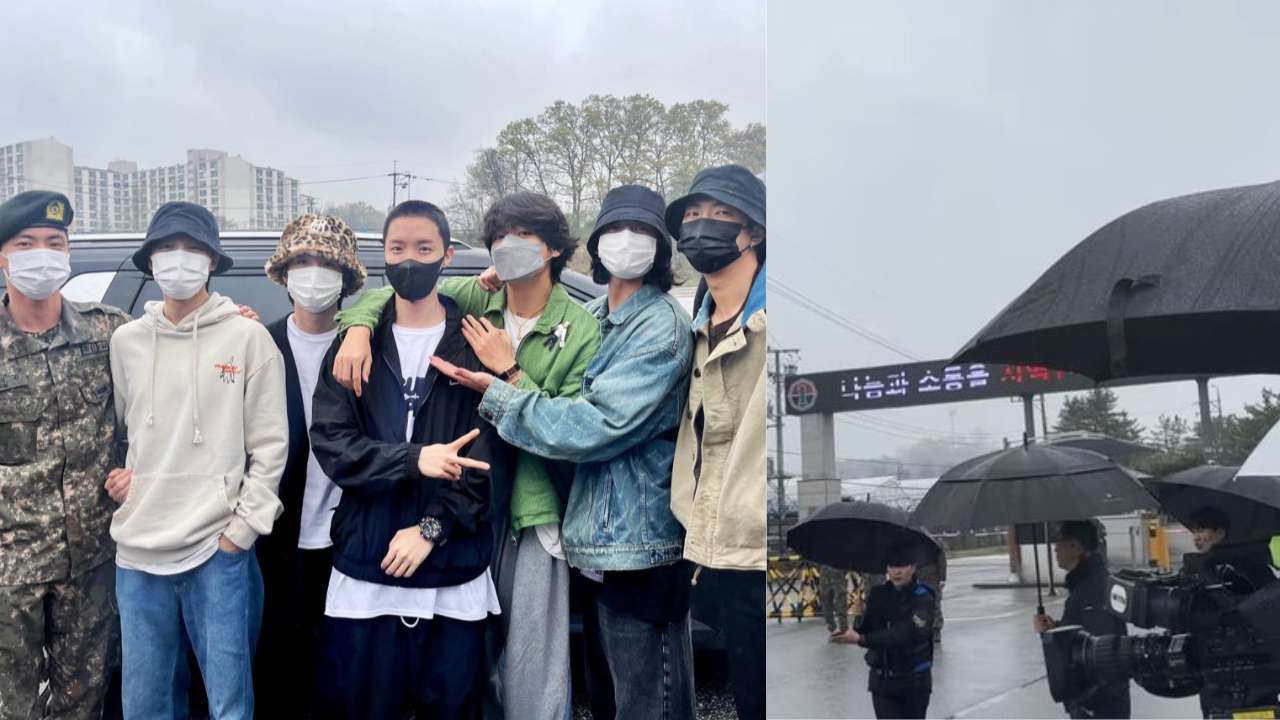 On April 18th 2023, BTS third oldest member Jung Hoseok aka J-hope got enlisted in the mandatory military services. Hobi's military came following the oldest Jin's enlistment. Once again the OT7 reunited to bid their farewell to the Chicken noodle soup crooner. The 7 member South Korean band were spotted recreating the same signature pose as they did with Jin. And we guess it is going to remain the same till Jungkook. Before leaving J-hope made a request to his fans to not come and see him off at the base camp so fans started having a breakdown on the internet itself. J-hope even shared a handwritten note on Instagram stating that he will have a safe trip. But, as he was leaving it started raining heavily in Seoul and the internet reaction is just heartbreaking.
J-hope enlists in military
The morning of April 18th 2023 saw heavy rainfall in South Korea's capital Seoul. J-hope who recently released his Collab with J.cole on the street is set to enlist today in military duties. Fans took several snapshots from the base camp and quoted that even the universe is crying to watch their sunshine go. It was indeed heartbreaking to see fans breaking down on the internet and sharing their emotions. A fan wrote "The universe is really crying because this week, it's literally gonna rain only on the day that hobi is enlisting" other said "it's raining so hard in korea rn, even the sky is crying because hobi is leaving :(( WE LOVE YOU J-HOPE"
Fans react on J-hope's military enlistment
it's raining so hard in korea rn, even the sky is crying because hobi is leaving :((

WE LOVE YOU J-HOPE
WE WILL WAIT FOR YOU J-HOPE #UntilWeMeetAgainJHOPE #HaveASafeFlightOurHOPE#JHOPE #HOSEOK pic.twitter.com/AkrwzRhCRe

— Ikra♡JK (@JEONJUN20577224) April 18, 2023
oh why did they take away his hobi hyung pic.twitter.com/WHBLnWEXyE

— sen (@sugatradamus) April 18, 2023
taehyung arrived at the place of the military service to bid farewell to Jhope ! 😭💔

WE LOVE YOU HOBI
WE WILL WAIT FOR YOU HOBI
WE WILL WAIT FOR YOU J-HOPE
LET'S MEET IN 2025#HaveASafeFlightOurHOPE #HOSEOK #JHOPE #Jhope_military #WeWillRootForYouHobi #WeWillWaitForYouJhope pic.twitter.com/qNCWJwTphR

— Ayat🎓JK⁹⁷ JJK X CK ❤️‍🔥 (@7btskook) April 18, 2023
the eye smile of the one who traveled from LA to seoul earlier just to send off his hobi hyung pic.twitter.com/eAEuuSxXJ4

— jungkook admirer (@dreamjeons) April 18, 2023
K-media stated that all 6 went to support j-hope, meaning if this is true, Seokjin has taken time to send off Hobi 😭😭😭😭😭😭😭😭😭😭😭😭😭😭 pic.twitter.com/kREOs75rQX

— Hourly Jin 👩🏻‍🚀 (@hourjinnie) April 18, 2023


BTS in military 
Kim Seokjin was the first member to enroll in mandatory military services of South Korea and was followed by J-hope. J-hope made sure to treat his fans with a solo album J-hope in the box and collaborated with few foreign artists. Suga is set to enlist in the public sector rather than the military due to his shoulder injury, Min Yoongi is about to kick off his world tour soon. RM, Jimin, Taehyung and Jungkook are currently working on their next solo projects post which they will also be joining the services soon.