BTS Jungkook vibes on 'Naatu Naatu' And its for real, Desi ARMY how's the josh??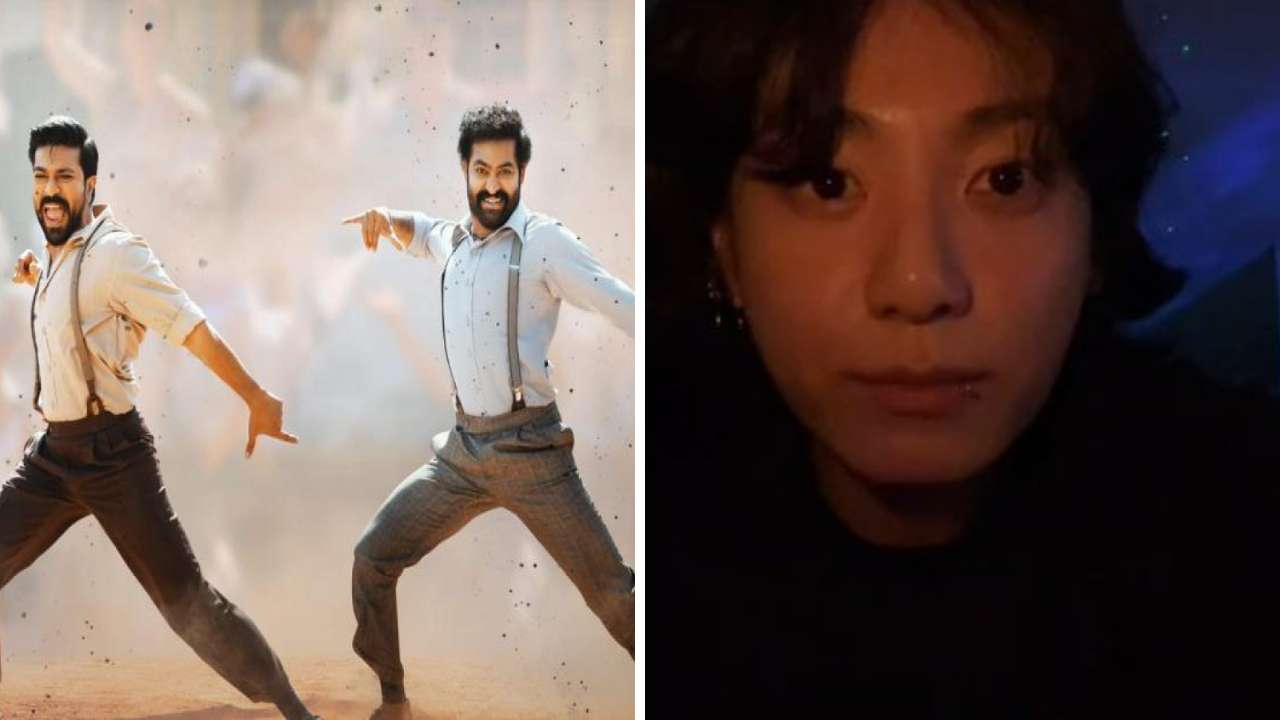 BTS Jungkook on March 3rd, surprised his fans by hosting an unexpected Weeverse Live session, but what came as a complete set of excitement and surprise was him vibing on Oscar nominated song 'Naatu Naatu' from an Indian movie RRR starring Ramcharan Teja and Jr. Ntr and held by SS Rajamouli. Jungkook recently deactivated his Instagram account with over 50 Million followers stating that he is no longer interested on the social media platform and that he will be hosting a live session on Weeverse itself for his fans. The video clips from today's live session are going viral on social media and Desi ARMY cannot contain their happiness.
Jungkook vibes on Naatu Naatu song
For those living under the rocks, RRR song Naatu Naatu has been nominated at the 95th Academy awards or Oscars 2023, under the best original song category. Fans have high hopes for the song to win The Academy this year. And now that one of the biggest boy band members Jungkook himself has validated the song it is a big thing for Indian fans who cannot get over the now viral video. Before playing the song Jungkook asks the user whether they are aware about the song and then goes on to say that this song is from one of the movies called 'RRR'.
Jungkook Naatu Naatu goes viral
While you might have seen many BTS edits on Hindi songs, this time it's for real. The Twitter comments will surely make your heart soft. Check out 
JUNGKOOk is listening nattu nattu an Indian song from movie RRR.. the proudest moment for Indian Armys 💜
JUNGKOOk desi 🫡
JUNGKOOk is live on weverse 👏
Jk is live
Jk live
I love you JUNGKOOk so much pic.twitter.com/Bg75la4BgG

— 𝓐𝓵𝓵𝓮𝓷⁷🐻#FaceXOnTheStreet🌻 (@boii_bangtan) March 3, 2023
NOOOOOOO JUNGKOOK PLAYED NATU NATU(RRR MOVIE) SONG IN HIS LIVE???? WTFFFFFGSJJSHSJSNSNN
Indian Armys how are we feeling?😩 pic.twitter.com/fYphGo3ck3

— Zoe⁷_.saranghae.bts._ on ig🪞 (@OT7wreckedarmy) March 3, 2023
Jungkook listening to naatu naatu from the "RRR" movie!! A win for South Indian ARMYs pic.twitter.com/NZikZNBSgo

— Luv⁷ (@Bang_Sheet) March 3, 2023
jungkook vibing and singing to Nattu Nattu from RRR movie and even doing some choreos in tiny... INDIAN ARMYS WE LITERALLY WONN??!? 😭😭pic.twitter.com/Yug3H6JmmQ

— Kajal Youniverse🌍⁷ (@kmohanty99) March 3, 2023