google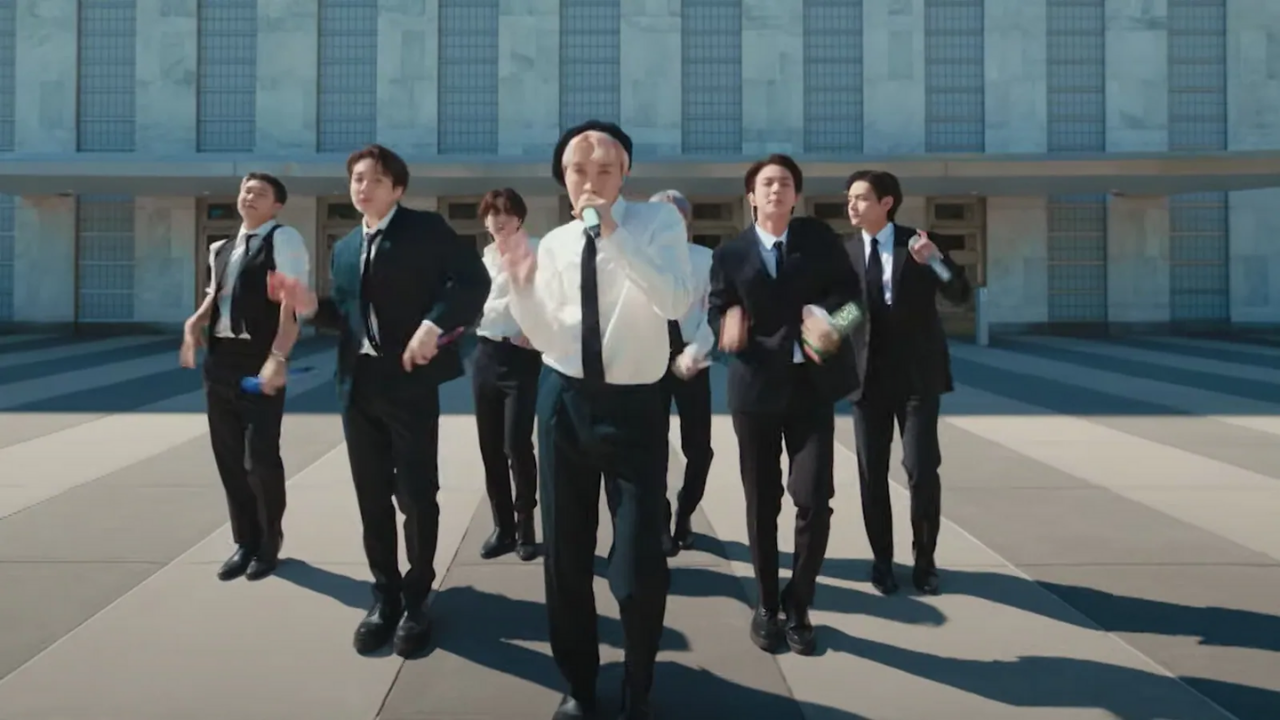 BTS: No armies around, no screaming voices to cheer, just seven normal boys from South Korea donning subdued black suits grooving Inside UN's grand assembly hall on their Billboard shattering song 'Permission to dance'. The record machine BTS were invited at the 76th United Nations General Assembly, their speech followed their new and third English song which is in itself a message of Positivity.
BTS Performs at UN General Assembly Hall
By chance, you thought you are reading it wrong let me correct because it's true that the Korean pop sensation Bangtan sonyeondan in a new performance video were seen shaking their legs in the United Nations halls on their newly released billboard topping song "permission to dance".
 The video was pre-recorded. It all started with the youngest member Jungkook who started singing the opening lines of the song in the assembly hall and thereafter every member of BTS joined him and moved towards the lobby and then ended the performance with a big dance Party at the side of East river from where the New York City skyline was clearly visible.
BTS delivers a powerful and moving speech at UN:
Earlier we saw that the president of South Korea Moon Jae In gave BTS the diplomatic passports and access to represent South Korea in UN, although they have already done it twice but this time they appeared as the "special presidential envoy for future generations and cultures"
 BTS gave a speech at the United Nations General Assembly's 76th session, which focused on themes like climate change, poverty, and inequality. Through the eyes of the adolescents, all of the band members gave their perspectives on the COVID-19 situation and climate change actions. This was their third appearance at the UN, after previous appearances in 2018 and 2020.
 I've heard that people in their teens and twenties today are being referred to as Covid's lost generation," BTS' RM said. "I think it's a stretch to say they're lost, just because the path they tread can't be seen by grown-up eyes."
 "Some of you may have heard that we're going to the United Nations, and many of you may have wondered if we've been vaccinated. And I'll use this chance to state that yes, all seven of us were vaccinated. "The immunization was merely a ticket to meet our fans who were waiting for us and to be able to be here in front of you today," J-Hope, real name Jung Ho-seok, explained.
 Permission to dance a message of Positivity
The song itself hints towards the post pandemic era which will come soon But until  it happens everyone should stay strong and work harder. In the song they were seen communicating in sign languages it was done so that the message could be  conveyed to all group of people equally. 
 BTS Breaking records making records
The band comprising 7 members Kim Namjoon, Kim seokjin, Min Yoongi, Jung Hoseok, Park Jimini, Kim Taehyung, Jeon Jungkook have emerged out to be the most powerful and impactful band of the time.
 We can easily calculate the impact the band is having when the president himself asks them to represent the country in UN while giving them the authority to be "special presidential envoy for future generations and cultures". The band single-handedly uplifted the economy of its country and also doubled up the tourism sector.