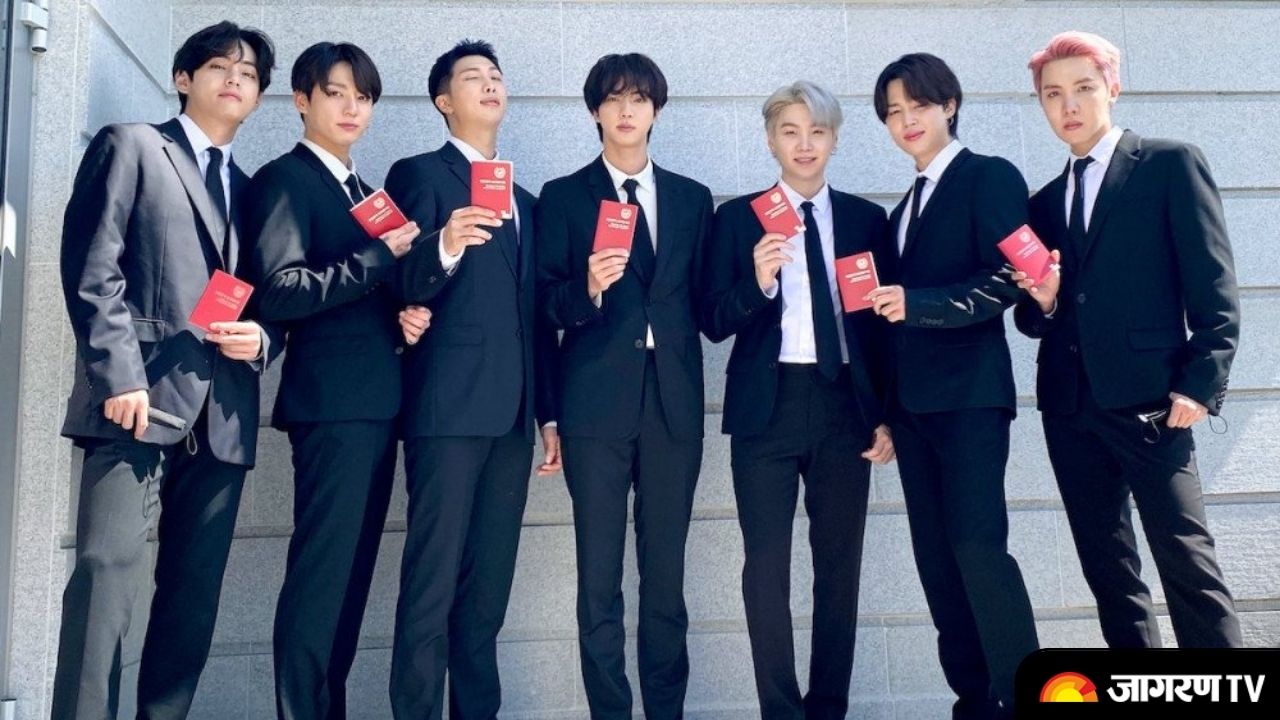 South Korean famous Band BTS members recently received diplomatic passports from the president of South Korea. BTS boys – Jin, Suga, J-Hope, RM, Jimin, V, and Jungkook earlier got appointed a  'Special Presidential Envoy' and got the red-covered diplomatic passports ahead of the upcoming United Nations General Assembly. 
Bangtonboys Boys met the South Korean President Moon and received the passports in his office and residence building. Talking the this special passport, BTS member RM says, "It is a great honour to receive this title." 
Benefits of Diplomatic Passport given to BTS
BTS boys RM, Jin, SUGA, j-hope, Jimin, V, and Jungkook visited President Moon and received their red-colored Diplomatic Passport with Blue House fountain pens. The passport has been given to them due to their immense contribution and representing the country internationally. 
BTS is the pride of South Korea and were qualified for the requirement which is needed to get the passport. 
Here are the prestigious treatment and benefits BTS will receive after getting the Diplomatic passports.
Red carpet treatment and diplomatic lounge use at many airports.

No tax liability on several income sources.

No counting the days for immigration purposes.

Easier visa restrictions.

Use of CC or CD or Consul license plates on cars.

Access to salon d'honneur government lounges.

Prestige internationally.

Instant door opener in the political or business environment.

Meeting top-ranking government officials in any country.

Sovereign inviolable status of your home and residence.

Free visas to any country and visa-free travel in many cases.

Never pay the airport departure tax.

Volvo and BMW diplomatic cars at 20-40% discount (max 2 cars per year).

Travel upgrades on airlines and hotels.
BTS appointed as Special Presidential Envoy
Earlier in July, BTS was appointed as "Special Presidential Envoy" by South Korean President Moon Jae. The statement by the Presidential Spokesperson stated, "The appointment of a special envoy is part of public diplomacy that seeks to broaden diplomatic horizons by gathering diplomatic capabilities. It will be carried out to enhance the image of the nation in leading [diplomatic] issues."
BTS at UNGA
BTS members will be accompanying President Moon on the five-day trip to the US on September 21 for the 76th annual United Nations General Assembly in New York.
BTS will also be organizing various events to promote international cooperation aiming to tackle global issues including poverty and inequality in UNGA