BTS SUGA Agust D concert makes wave as singer Halsey surprisingly joins him; ARMY reacts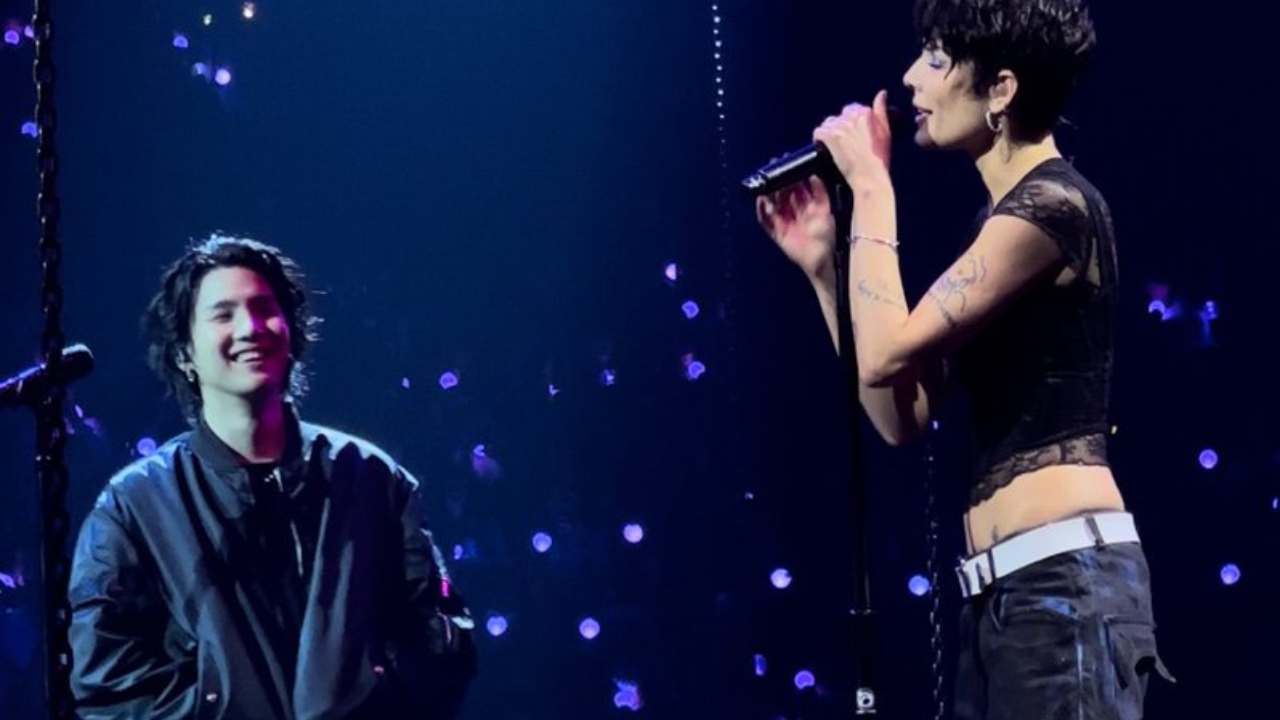 BTS SUGA is currently touring the world as a part of his solo era. Suga aka Min Yoongi has been making headlines for his concert taking place in the US with the album D-Day. With this Suga became the first BTS member to kick off the first solo concert. ARMY took twitter by storm following Yoongi's Las Angeles concert as Halsey joined him for the surprise collaboration for interlude. Previously the Daechwita crooner was joined by Max when the singers grooved and sang 'Burn It' together. Halsey has long been a good friend and one of the biggest fans of the 7 member boy band. Time to time both Halsey and BTS have collaborated, and spoken about each other showering love and support.
Halsey joins Suga in D-day Concert
Suga's D-day concert has been a roller coaster ride for the fans as surprises never stop coming. Firstly it was Jimin who made a surprise cameo on the stage and then it was Max who took the fire to the wholesome level. Now it is BTS and ARMIES best friend Halsey who rocked the stage to perform "Suga's Interlude" alongside the 'Haegeum' crooner. The surprise entry took place on May 15th and Twitter was taken aback, overwhelming response soon started flooding the microblogging platform. 
Skyesports Masters on boards Zebronics as Peripherals Partner for India's Biggest Esports League
Halsey and Suga
Both Halsey and Suga are quite close to each other in friendship terms. Suga recently went to see Halsey's new born. The rapper was snapped holding the little Ender Ridley in his arms and the picture went viral like a wildfire. There was no doubt that fans have been rooting for the artists to come together in one frame and seems like it happened just right
Halsey and BTS
Halsey has previously collaborated with BTS for their song 'Boy With Luv'. The catchy lyrics and groovy rhythm is still one of the favorite tracks of BTS among fans. Talking about their affection towards each other, Halsey went on to win BTS fans heart after she was seen defending the 7 member boy band on multiple occasions. Twitter is oozing with reactions right now and here are just a few examples.
"SUGA's Interlude" with surprise guest @Halsey! ✨#SUGA_AgustD_TOUR_in_LA #D_DAY_TOUR #DDAY #SUGA #AgustD #슈가 #AgustD_SUGA_Tour_in_LA pic.twitter.com/Nx9z59ZCgz

— The Kia Forum (@thekiaforum) May 15, 2023
OMGGGGGG SUGA'S INTERLUDE WITH HALSEY!!!

#AgustD_SUGA_Tour_in_LA pic.twitter.com/oyGC6l2PfP

— ⟭⟬♡ (@BTSArmy_47) May 15, 2023
COMO YOONGI LE SONRÍE A HALSEY 🩷🥹 #AgustD_SUGA_Tour_in_LA pic.twitter.com/jZo6lyThkn

— Nicolle (@nicolle971_) May 15, 2023
"SUGA's Interlude" with surprise guest @Halsey! ✨#SUGA_AgustD_TOUR_in_LA #D_DAY_TOUR #DDAY #SUGA #AgustD #슈가 #AgustD_SUGA_Tour_in_LA pic.twitter.com/Nx9z59ZCgz

— The Kia Forum (@thekiaforum) May 15, 2023