BTS Suga D-day Haegeum concept explained, meaning behind, english lyrics & more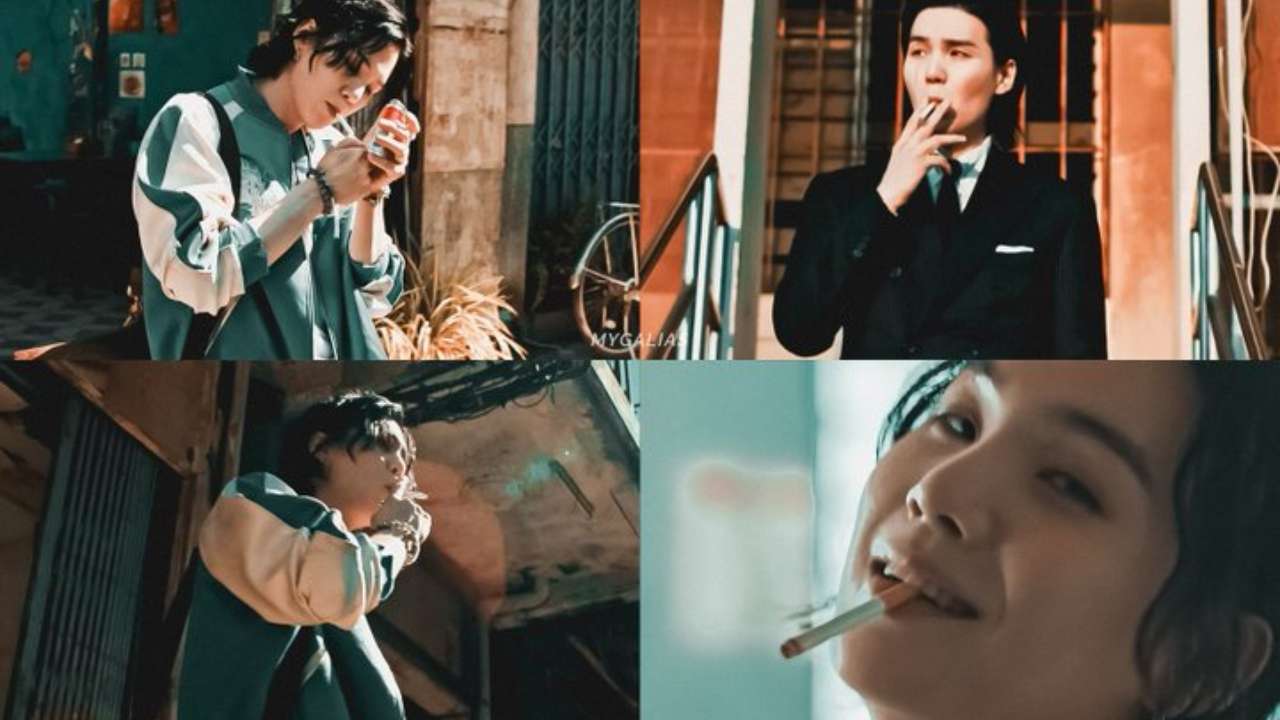 BTS Suga sorry its August D making his exceptional comeback in the MV world following his sensational hit Daechwita. Min Yoongi's D-day album is skyrocketing on the Billboard chart with the release of new MV Haegeum. And trust us this Music Video is everything you need to state that K-pop stands for King and it's none other than August D himself. So before you start grooving and vibing with the Army's new anthem Haegeum, here is everything you need to know about Min Yoongi's solo debut with D-day and MV Haegeum. 
Haegeum Concept explained 
The haegeum is a traditional string instrument from Korea with two strings that resembles a vertical violin. The title song of "Haegeum" uses the haegeum sound as well, it was previously used in Yoongi's other albums too including 'Daechwita' and 'D2'. But in this case, "Haegeum" refers to more than just the instrument. Haegeum is much more than just a certain sound in D-day's new album. It's a series of artists' inner emotion, the urge to call out certain stereotypes,  it also means to lift a prohibition and allow something that is forbidden. It appears that the song's title itself refers to being free from being forbidden. 
Some of our interpretations of Yoongi's MV include: Since he uses them for both eating and murdering, the crimson chopsticks have a lot of symbolic significance. Killing is a necessity for both eating and survival. The basis for our ongoing existence is this never-ending loop. The murder of the mob boss/King is quite lyrical. The continual reference to Daechwita in the segment was nicely blended with the mv. The King tried to drown Yoongi in the following segment to make him speak. But the one who raised his face had his body unmarked by scars. And as per the press release D-day is a closure to Suga's August D trilogy, which means its a closure of August D and the one who emerged victorious was Min Yoongi…the series will be continued in the next part. Yoongi's Haegeum is a cinematic masterpiece, watching the MV itself feels like watching the whole film in just a few minutes. 

"Slaves to capitalism, slaves to money, slaves to hatred and prejudice, slaves to YouTube, slaves to flexin'. Selfishness and greed have gone off the rails... Everyone's been blinded by envy and jealousy, without realizing that they're putting shackles on each other."


Haegeum English lyrics


This Song's A Haegeum
Get On Board Now
This Lively Rhythm
Perhaps, This Could Be A New Kind Of Haegeum
This Song's A Haegeum
Get On Board Now
This Lively Rhythm
Perhaps, This Could Be A New Kind Of Haegeum
This Song's A Haegeum
Get On Board Now
This Lively Rhythm
Perhaps, This Could Be A New Kind Of Haegeum

Interpretation Is Free For All
Out With The Nonsense
Freedom Of Expression
Could Be Reason For Somebody's Death
Could You Still Consider That Freedom?
If Your Convictions Are Reflected In Your Judgment And Speculations
And You Believe That Your Freedom Is On The Same Level As Others'
Then Don't Hesitate, Just Get On Board
Liberation From All That's Forbidden
For All Those Living In These Unfortunate Times
Who Don't Even Understand Their Own Tastes
This Song's Simply About Freeing What's Forbidden
But You Must Remember To Differentiate Freedom From Self-indulgence

This Song's A Haegeum
Get On Board Now
This Lively Rhythm
A New Kind Of Haegeum
This Song's A Haegeum
Get On Board Now
This Lively Rhythm
Perhaps, This Could Be A New Kind Of Haegeum
This Song's A Haegeum
Get On Board Now
This Lively Rhythm
Perhaps, This Could Be A New Kind Of Haegeum

Endless Influx Of Information Prohibits Freedom Of Imagination, And Seeks Conformity Of Thought
All These Painful Noises Blind You, And
Now It Even Infringes On Freedom Of Thought
All The Controversy Incessantly
Triggers Confusion In Judgment Uh
Really, What Is It Exactly That's Been Restricting Us?
Maybe We Do It To Ourselves
Slaves To Capitalism, Slaves To Money
Slaves To Hatred And Prejudice
Slaves To YouTube, Slaves To Flexin'
Selfishness And Greed Have Gone Off The Rails
I Close My Eyes And It's Easy, It's All So Obvious
Opinions Clearly Split Depending On What's To Gain
Everyone's Been Blinded By Envy And Jealousy
Without Realizing That They're Putting Shackles On Each Other
Don't Get Swept Away By This Tsunami Of Info
'Cause We All Differentiate Freedom From Self-indulgence

This Song's A Haegeum
Get On Board Now
This Lively Rhythm
A New Kind Of Haegeum
This Song's A Haegeum
Get On Board Now
This Lively Rhythm
Perhaps, This Could Be A New Kind Of Haegeum
This Song's A Haegeum
Get On Board Now
This Lively Rhythm
Perhaps, This Could Be A New Kind Of Haegeum
This Song's A Haegeum
Get On Board Now
This Lively Rhythm
Perhaps, This Could Be A New Kind Of Haegeum
This Song's A Haegeum
Get On Board Now
This Lively Rhythm
Perhaps, This Could Be A New Kind Of Haegeum
Lyrics credit-Trap Lyrics