BTS Suga birthday turns 'Kis Kis se pyar karu' as Maknae can't stop asking 'Yoongi Marry me' on LIVE: Watch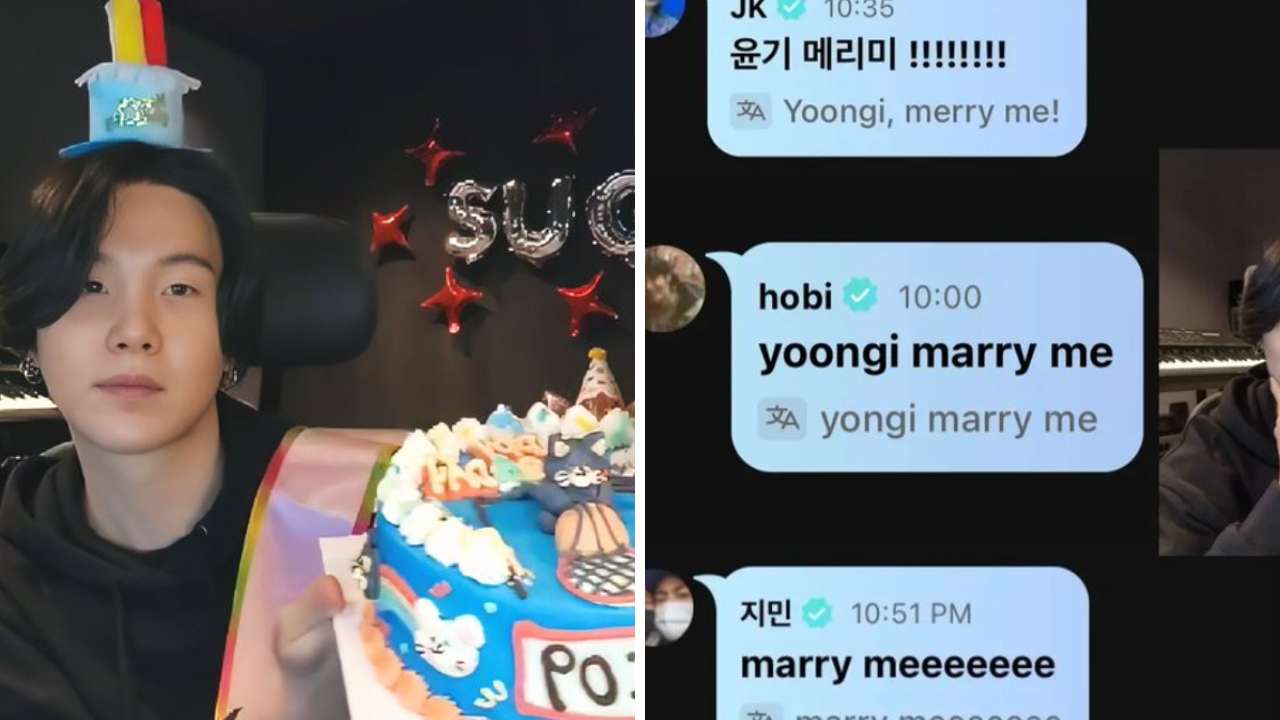 BTS Suga Birthday
: It's a Happy Suga day as Min Yoongi aka BTS member Suga aka ARMY's Cat turns 30th on March 9, 2023. Meanwhile, going by the Korean age standard Suga this year turned 31. Suga is soon to kickstart his first solo tour which will also make him the first BTS member to do so. And like every member of the K-pop band the Daechwita crooner too turned on his Weeverse Live to celebrate his big day with the fans, less that he knew that his Vlive session would turn into chaos. Yes, we are talking about our chaotic maknae line Jungkook, Taehyung and Jimin who joined ARMY to comment in the section and got full support from their J-hope hyung.
Yoongi Marry Me
You can always find a fan waving a sign that reads "Yoongi Marry Me," which has become a common metaphor among the fans, during a concert, a Live session, or simply wherever Suga appears. Likewise, BTS members don't miss an opportunity to make fun of Yoongi for the same. And just when Suga appeared live thinking he would calmly celebrate his birthday, cut the cake and go to bed, the maknae line, who were prepared to attack, arrived and flooded the comment section this time too. All 4 of them one by one asked 'Yoongi marry me' Soon the live turned too chaotic for fans to handle but Suga in his very savage way didn't pay attention to anyone and continued engaging with the audience. But, Jungkook, Jimin, Taehyung and J-hope didn't settle for this negligence and said that they were sad that hyung didn't reply to them. 
Jimin gets a reply on Yoongi Marry me from Suga
Later Jimin replied that Suga only responded to him and it felt like they were having a whole conversation over the comment section. Poor Jungkook and J-hope could complain about not getting one while Jimin proudly flaunted his response. Jimin also shared a clip of him watching Suga's live from his room with fans with his live reaction. In short the whole weeverse live sessions were quite a treat for the fans.
BTS Suga birthday clips
 

 

 

View this post on Instagram
[230309 Jungkook Weverse Post + J-hope Jimin Comments]

🐰 wow yoongi hyung didnt answer im upset really !

🐿 kekekeke me too..😢

🐥 huh? what is this, for me it was almost as if we were having a conversation kek pic.twitter.com/hkJtzxMdyj

— 미니융 🧸 (@miiniyoongs) March 8, 2023