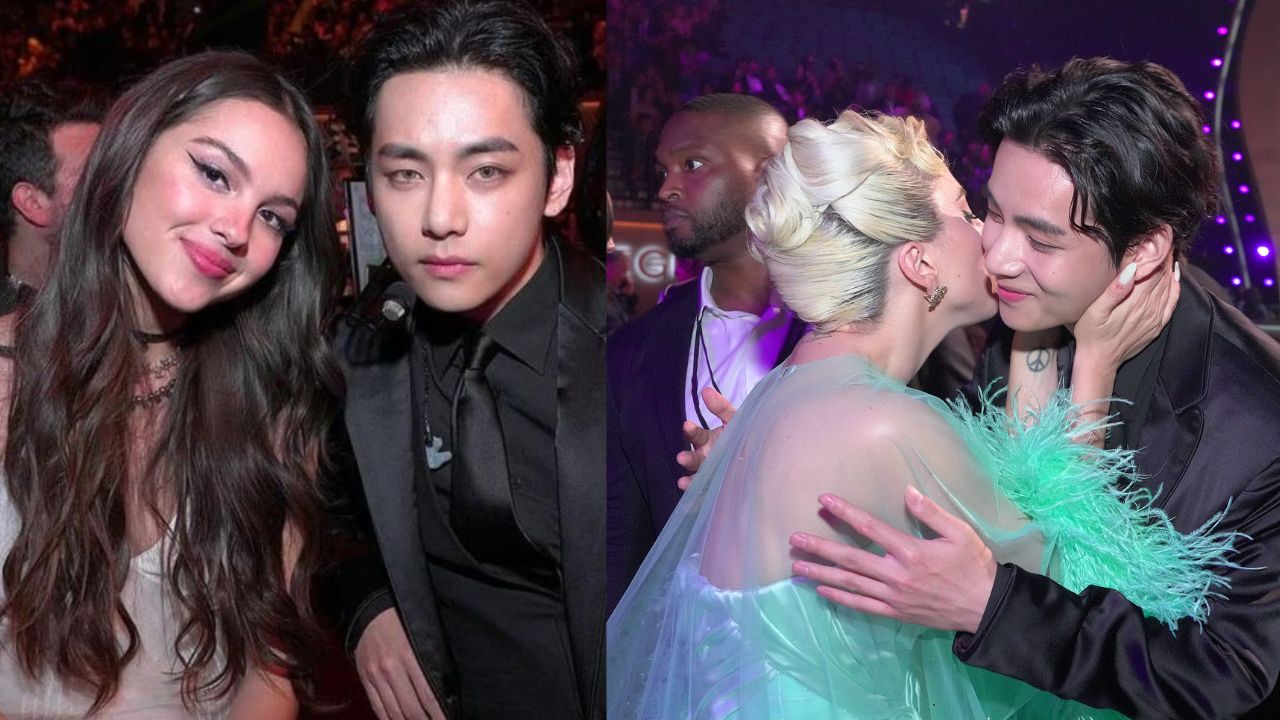 Curious about what BTS member Taehyung aka BTS V actually whispered in singer Olivia Rodriogo's ear which made her gasp surprisingly during the Grammy 2022? Well, Taehyung finally opened up about two most mysterious conversations which occurred during the award ceremony between him, Olivi and Lady Gaga. Although he gave hint about their conversation to the ARMY right after the performance, in the new weeverse magazine he opened up about the conversation in detail. Adding cherry on the cake V also spoke about his next solo mixtape.
BTS Kim Taehyung interaction with Olivia Rodrigo
The 27-year-old singer put an end to the flood of memes and rumors surrounding his connection with Olivia Rodrigo. On social media after the video of too having a brief interaction just before the performance took place. When asked about the same he recalled that he was too nervous to say anything and that's why he just did Blah Blah Blah in her ear, the best part was Olivia knew it was an act so she acted along. He claimed that it was a Grammys suggestion and that he had no idea who he would be sitting next to during the performance. V also admitted that he was so anxious before the performance that he couldn't focus on his chat with her and couldn't hear her properly either because he had both of his in-ears on the song's beats.
BTS Kim taehyung conversation with Lady Gaga
Moments later Taehyung was seen getting up from his place and meeting Lady Gaga, the two of them had a warm conversation as Lady Gaga ended up hugging and kissing him on the cheeks.Asked about the same he admitted to watching too many Lady Gaga and Tony Bennett videos. "I'm a huge fan of Lady Gaga's jazz performances. So, as I said, I'm a huge admirer, I love listening to your music, and I genuinely believe you're the jazz queen of this generation."
BTS Kim Taehyung solo mixtape
Well, fans are desperately waiting for his next solo song and they assume it is going to be KTH1. But, fans have to wait a little more as Taehyung is still writing too many songs and then just writing another. The yet to come crooner believes his songwriting skills has improved so who knows ARMY might get a wholesome Album instead of just a mixtape.