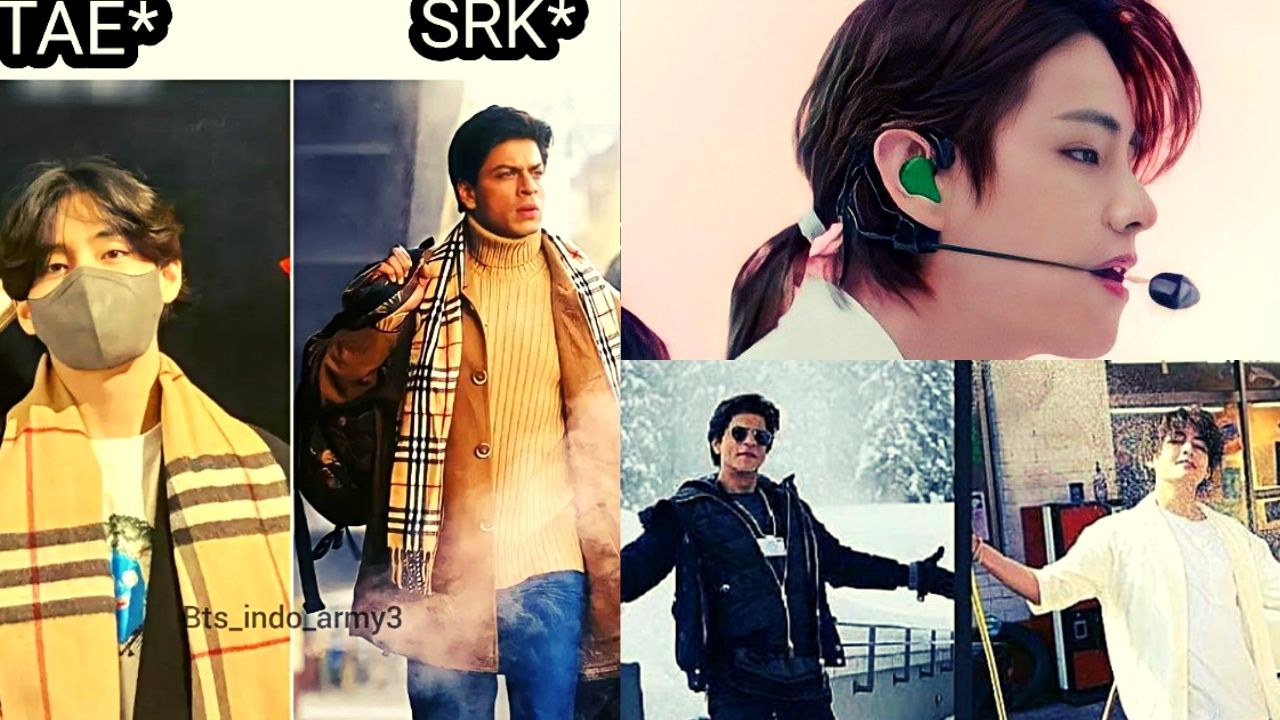 BTS: the one thing BTS member V aka Kim Taehyung and Bollywood superstar Shahrukh Khan have in common is the crazy fan following around the world. From Burj Khalifa lightning up for two's birthday to many other iconic moves and face cut outs just keep getting added to the long list made by indian BTS army and Taehyung's solo stans. BTS the K-pop stars which consists of Jimin, Jin, J-hope,V , Rm, Suga and Jungkook are currently the most influential & as well as widely liked band across the globe on the other hand Shahrukh Khan is one of the highest paid artist around the world who has kept ruling his fans heart for almost more that 2 decades.
BTS Taehyung replicates Shahrukh Khan iconic pose
BTS member Kim Taehyung and India's very own Shah Rukh Khan have been compared by fans. V and SRK create similar poses in a series of photos edited by BTS Indian Army's and SRKians.  The first post has a shot from BTS' Butter photoshoot featuring Tae with his arms wide open, which has been edited with a photo of Shah Rukh making his famous pose from Mannat's balcony.
 

 

 

View this post on Instagram
Taehyung and SRK have similar face cut out
Not only do they look hot with arms open, but also have similar face features when snapped from side profiles. In one of the brilliantly edited photos you can see Taehyung turning srk for just a millisecond. While in another pony hairstyle they both look like a long lost brother.
 

 

 

View this post on Instagram
BTS V & SRK  legendary walk
Another fan took it to a wholesome level while comparing their ramp walk style. In the reel below both Shahrukh & Taehyung look ethereal and it seems like both can finish all the model careers in a blow.
 

 

 

View this post on Instagram
 

 

 

View this post on Instagram
Taehyung Vs. SRk in Mai hoon na outfits
 

 

 

View this post on Instagram
BTS V & SRk edits
 

 

 

View this post on Instagram