spotify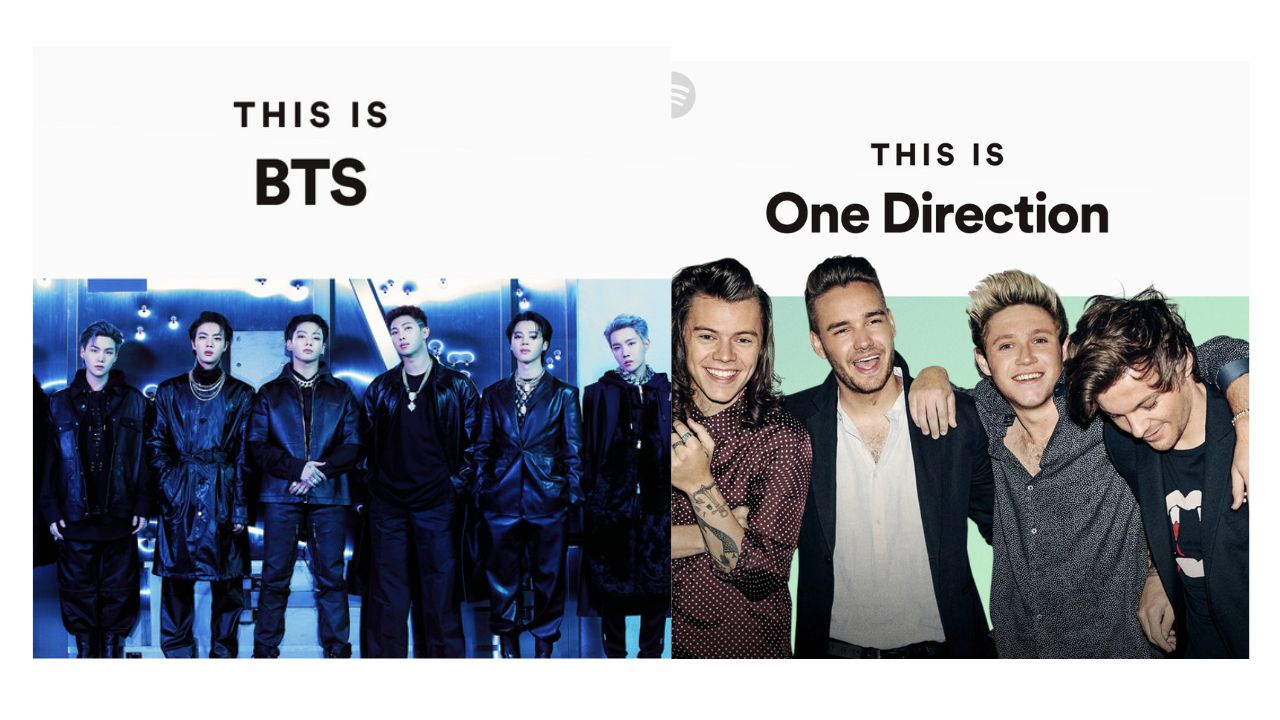 In just the matter of a few years, Kpop has swept the world and is now ruling the music industry with back-to-back singles and comebacks, soaring off the Billboard chart and dominating all music streaming sites. This is a great example of how language is no barrier when it comes to music. The Hallyu wave is everywhere, from BTS to EXO to stray kids and so on. In India, a country rich in culture, heritage, music, and the arts, many boy bands rose to fame over the decades, regardless of their background, language, or culture. Indians admired, respected, and welcomed arts from all over the world long before the west accepted that an Asian group could dominate western artists.
Well, you might be shocked to know that BTS is not the first K-pop group to be loved by the Indians. Let's go back to a decade before when the internet was not as accessible as it is now, many still remember the time when One direction songs were being downloaded with 3G internet slowly and steadily. Today we will talk about 5 such groups which were highly popular between Indians
BTS vs One direction
BTS and One Direction are frequently compared, by ARMYs and Directioners arguing over who is the best. However, only those BTS  ARMY's who were formerly directioners and had their hearts shattered when One Direction went on a permanent break know how they found love again with BTS while still falling in love with each song of 1D everytime there is a hope of comeback.  So, in effect, there is no comparison because they are both the finest.
5 most popular boy bands in India
One direction
 Niall Horan, Liam Payne, Harry Styles, and Louis Tomlinson make up the band. One Direction, nicknamed as 1D, is an English-Irish music boy band that formed in 2010. One Direction eventually rose to the fame many just dream of achieving. The Boy band soon started ruling the hearts of music lovers globally and received a lot of love from India after their breakthrough with 'what makes you beautiful' from the album 'Up all night'. Soon India got hit by pop music. However the band never came to perform in India and later started breaking after the quit of Zayn Mallik in 2015.  Soon 1D went on a permanent hiatus.
 

 

 

View this post on Instagram
BTS
Not to mention the fact that BTS is currently the most popular group among music fans all over the world. Jin, Suga, J-hope, Rm, Jimin, Taehyung, and Jungkook, a seven-member boy band from South Korea, have achieved a milestone and made history that not everyone can achieve in such a short time. The country (India) currently ranks second and third in the world for the number of BTS ARMYs, and the fandom here is also responsible for contributing the largest number of BTS song streams, allowing their Butter and Permission to Dance to reign supreme on the Billboard and Spotify charts for multiple months. It's interesting that, unlike 1D, the group has yet to perform in India
 

 

 

View this post on Instagram
EXO
If you think that Hallyu wave kicked off in India with BTS then you might be wrong and most importantly the EXo-L's of the country will be offended. EXO debuted a year before BTS, and by the time PSY's Gangnam Style already had a base in India despite the fact that many never knew that it was actually a K-pop music. Talking about the history EXO contributed a significant part in introducing K-wave to maximum households.  Back in 2015, Exo's leader Suho visited India to test out the water, although he got a lot of love and respect, we cannot deny that a very less population in India was introduced with K-pop. 
 

 

 

View this post on Instagram
Backstreet boys
One of the highest selling group Backstreet boys which took the entire music world by storm with their back to back hits and skyrocketing Album sales, is the first in this list who actually came to India for a concert. With tracks like Quit playing games and Straight through my heart, Backstreet Boys, one of the most popular boy bands in the 1990s, headlined the annual Rock 'N India musical festival alongside singer Richard Marx. They continued ruling over the decades. J McLean, Nick Carter, Brian Littrell, and Howie Dorough  not only sung their greatest hits, but also danced and acted, much to the delight of their adoring fans.
 

 

 

View this post on Instagram
Beatles
Rishikesh, the land of India rich for it's culture, heritage and temples is also famous for it's Beatles Ashram. The Beatles have always been and will continue to be the most popular band in India. The singles started making their way to India in 1964 and were targeted at young people who spoke English and were interested in Western culture.  The Beatles' 1968 trip of India boosted their popularity among Indian amateur  rock bands. in the early 1970s, igniting the country's first high pac-erock movement. In February 1968, the Beatles travelled to Rishikesh, India, to take part in a Transcendental Meditation course at Maharishi Mahesh Yogi's ashram.
 

 

 

View this post on Instagram