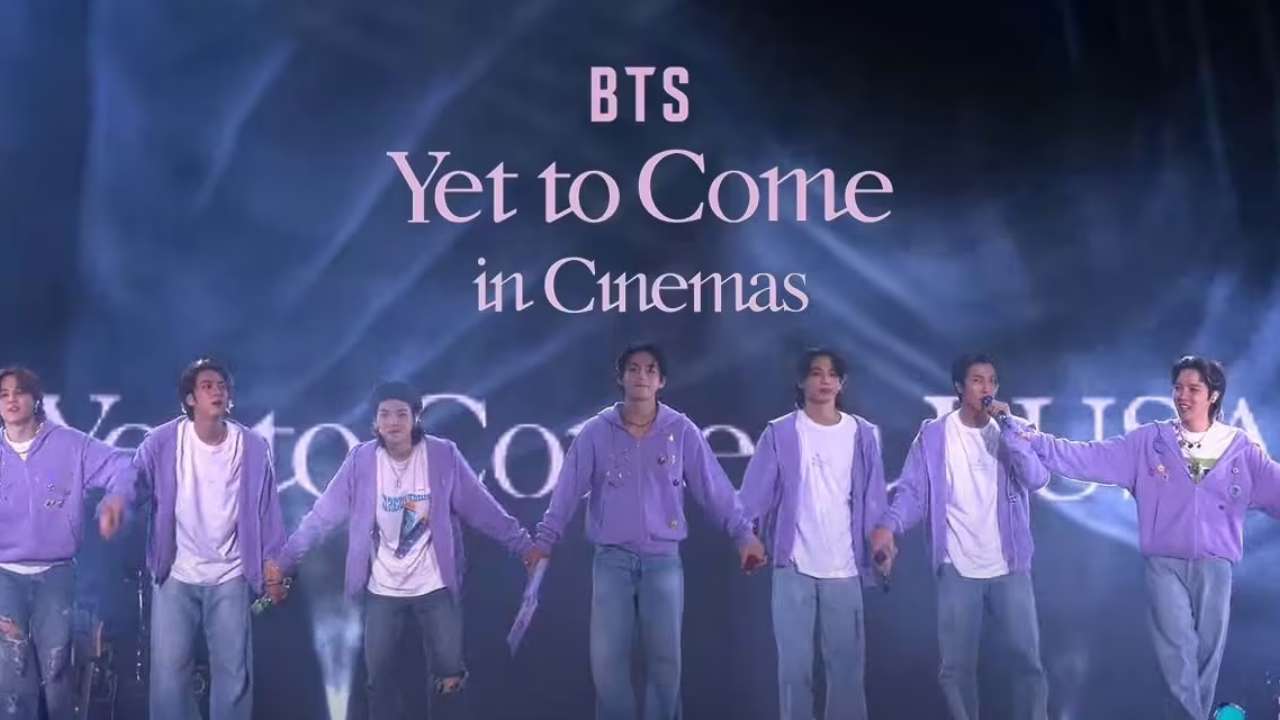 BTS Yet to come in cinemas concluded its 5 days screening schedule in India on February 5. The Yet to come concert of BTS highlighted the last gig at Busan concert and showcased RM, Jin, Suga, J-hope, Jimin, Taehyung and Jungkook in a cut, edited, cinematic version of the same. The concert cinema left a bittersweet love note for ARMY which accurately captures the overwhelming emotion of their last concert. In India, BTS concert Cinema proved to be much more than just a normal screening, especially for the Desi fans who have been desperately waiting for the boys to hold a concert in the country and were left heartbroken after knowing that the Mumbai concert was canceled due to the pandemic.
BTS Yet to come concert cinema in India reaction
BTS Yet to come in cinemas opened on a record breaking note in India. A report in The Hindu quoted joint managing director of PVR who stated "The seats are fast filling up for BTS Yet to Come." Going by the trend in ticketing websites, Book My Show with Paytm and other websites saw a massive rush of ARMY all over India, with almost 100% occupancy in all the formats including 2D and 4DX across different cities of the country. In India, the Busan concert movie was scheduled to stream in Hyderabad, Bengaluru, Chennai, Noida, Delhi, Ahmedabad, Lucknow, Ghaziabad, and Mumbai at multiplex chains PVR, INOX, and Cinepolis. 
Indian BTS ARMY ready for BTS live concert in 2025
Indian fans did all in their power to make BTS Yet to Come in Cinemas a huge success in the nation, whether it was shouting broken Korean lyrics to the band's hit albums like Run, Fire Mic drop, etc. or fast-paced English songs like Dynamite, Butter. We were particularly impressed watching fan boys of BTS arriving at the location amid the swarm of Bangtan's beloved fangirls. All these trends definitely indicate that India is ready for a BTS concert when the group reunites in 2025.  
Centering on Kim Seokjin's declaration about joining the military after the Busan concert the video left the fans on a bittersweet note amid the overflowing emotions. The Bangtan boys were filmed using a total of 14 cinematic-only cameras, which were placed in a variety of positions to capture both full shots and up-close views.

When the BTS Permission To Dance on Stage - Seoul: live screening was held at pvr last year, Sanjeev Kumar Bijli, Joint Managing Director, PVR Limited, told The Hindu that Live Viewing was scheduled at 46 chosen cinemas across 25 Indian cities.  Even though live viewing of the first episode was supposed to start at 2:30 p.m over 11,000 registrations in 50 performances on one day, with a 95% occupancy rate, demonstrated the remarkable reception to the screening.