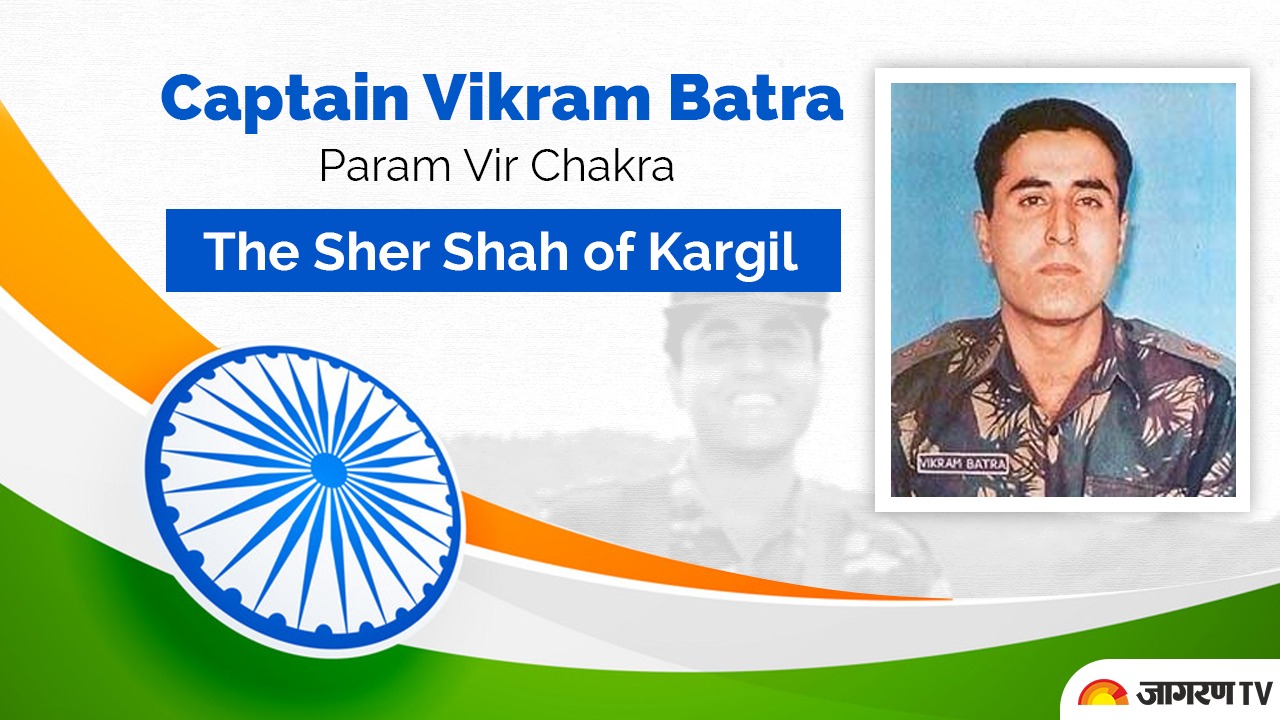 Vikram Batra Biography: Captain Vikram Batra PVC (Param Vir Chakra) is always known for the valor and courage he showed during the 1999 Kargil War. He was the war hero and helped India win by leading the war on one of the toughest mountains in history. His code name 'Sher Shah' (Meaning- Lion King) has been etched in the history of the Indian Army. 
Vikram Batra Biography
Remembering the brave hero of Kargil, here is the story of Our Sher Shah who fought with all the valor and routed the enemy. 
Vikram Batra Family
Hailing from Palampur, Kangra District of Himachal Pradesh, Batra was born on September 9, 1974. He was born as the third child of Girdhari Lal Batra and Kamal Kanta Batra. His father Girdhari Lal is a government school principal while his mother Kamal Kanta Batra is a school teacher. Vikram was the elder of the twin and has two sisters.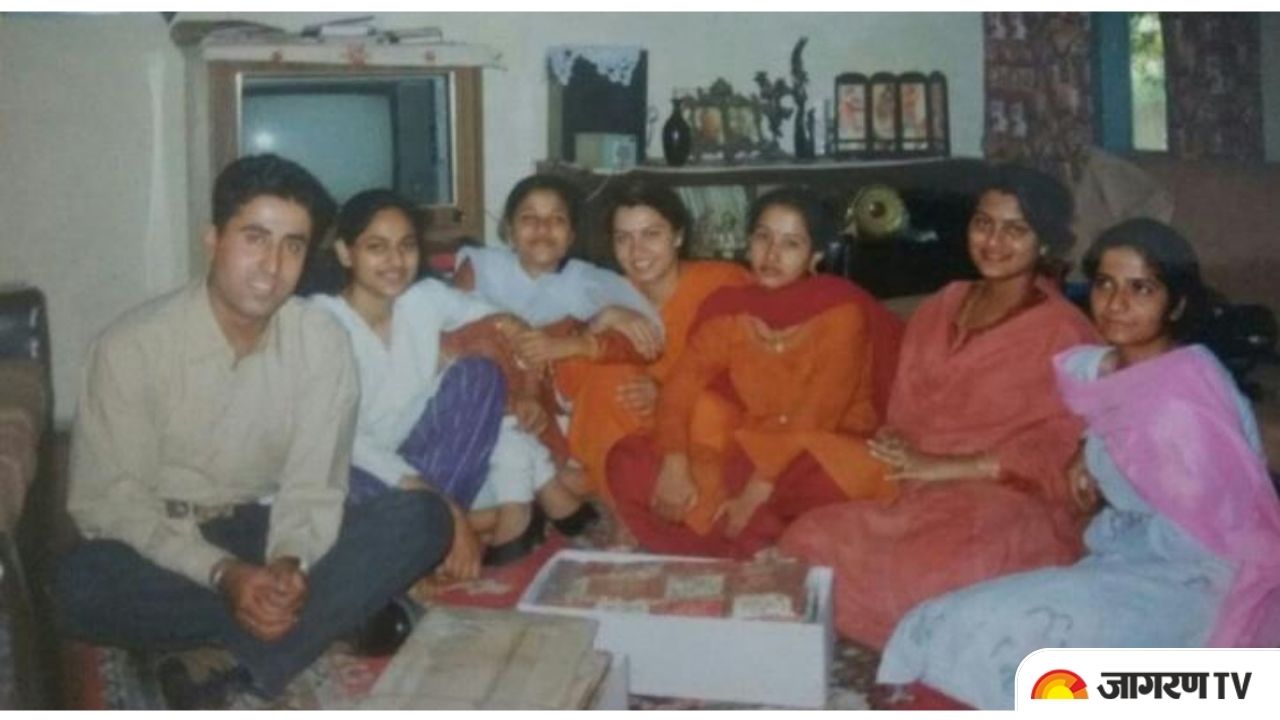 Vikram Batra Education
Capt. Vikram Batra completed his schooling till eight std from  D.A.V. Public School in Palampur and later did his senior secondary education from Central School, Palampur.
Both Vikram Batra and his twin brother Vishal Batra represented their school at All India KVS Nationals in 1990. 
Vikram was also a Karate player and even had a green belt. He also attended the national level camp of Karate in Manali. 
Vikram Batra as NCC Cadet
Vikram later completed his graduation from  DAV College, Chandigarh in B.Sc Medical Sciences. During his college, he joined the National Cadet Corps (NCC) in the air wing. He also attended the Inter-State NCC Camp and was honored with the best NCC Air Wing cadet of Punjab Directorate in North Zone. 
During his NCC days, he was selected in the paratrooper training with his NCC Air Wing unit and did his 40-day training at Pinjore Airfield and Flying Club. He completed his 3 years of NCC in his college and gained the C certificate with an A grade from the Army Wing of NCC.
Vikram even did the Republic Day Camp which is one of the biggest camps in NCC and walked on the Rajpath during the Republic Day parade of 1991.
In his college last year, he even got selected in the merchant navy at a shipping company headquartered in Hong Kong. But He wanted to join the army so rejected the offer. 
Vikram Batra Joined Indian Army 
After completing his college degree and 3 years in NCC in 1995, Vikram Batra shared his dream of joining the Indian Army with his parents. He enrolled in an MA English course at Panjab University in Chandigarh and subsequently started prepping for the "Combined Defence Services" (CDS) Examination.
In the year 1996, Vikram Batra cleared the Combined Defence Services Examination (CDS) and got selected at the Services Selection Board (SSB) at Allahabad. He was among the 35 candidates on the Merit list. After one year of his MA in English, Vikram left the masters and joined  Indian Military Academy, Dehradun. 
Talking about Vikram's goal and purpose of life, his father cited that 'He had found the way to a righteous path that would lead him to his goal — to a service that was extraordinarily high and supreme.'
Vikram Batra IMA
Vikram Btta joined the Indian Military Academy (IMA) at Dehradun in June 1996 in the Manekshaw Battalion. He graduated from the IMA on December 6, 1997, after 19 months of training course. 
After his graduation from IMA, Batra was commissioned as a lieutenant into the 13th battalion, Jammu and Kashmir Rifles (13 JAK RIF). Later Vikram Batra joined the regimental center in Jabalpur, Madhya Pradesh for further training. His training continued for one month from December 1997 to the end of January 1998.
After the completion, Batra was posted to Sopore, Baramulla district, Jammu, and Kashmir an area with high militant activities. After this, he was again posted to Infantry School at Mhow, Madhya Pradesh, for the Young Officers Course and did his 5 months course till September 1998. During this, he was awarded Alpha grading and he rejoined his battalion in Sopore in October 1998.
Vikram Batra Kargil war (Operation Vijay)
During the Kargil war of 1999, Batra was called from his leave as the war was on between India and Pakistan. After receiving his leave cancellation letter, Vikram met his Best friend and fiance fiancée Dimple Cheema for the last time. Dimple asked him to take care and come back safely from the war, to which he replied, "I'll either come back after raising the Indian flag in victory or return wrapped in it. But I'll come back for sure." (Ya to Tiranga lehra ke aaunga ya Tirange me Lipat Ke aaunga. Par Aaunga Jaroor).
After joining the field his battalion was ordered to move to Dras, Jammu, and Kashmir. During the movement, he assured his parents not to stress about him and worry much. He used to call his parents at least once in ten days and his last call was on June 29, 1999. During his call he said to his mom, "Mommy, ek dum fit hoon, fikar mat karna", ("I'm absolutely fine. Don't you worry.") These were the last words of Vikram Batra to his mom.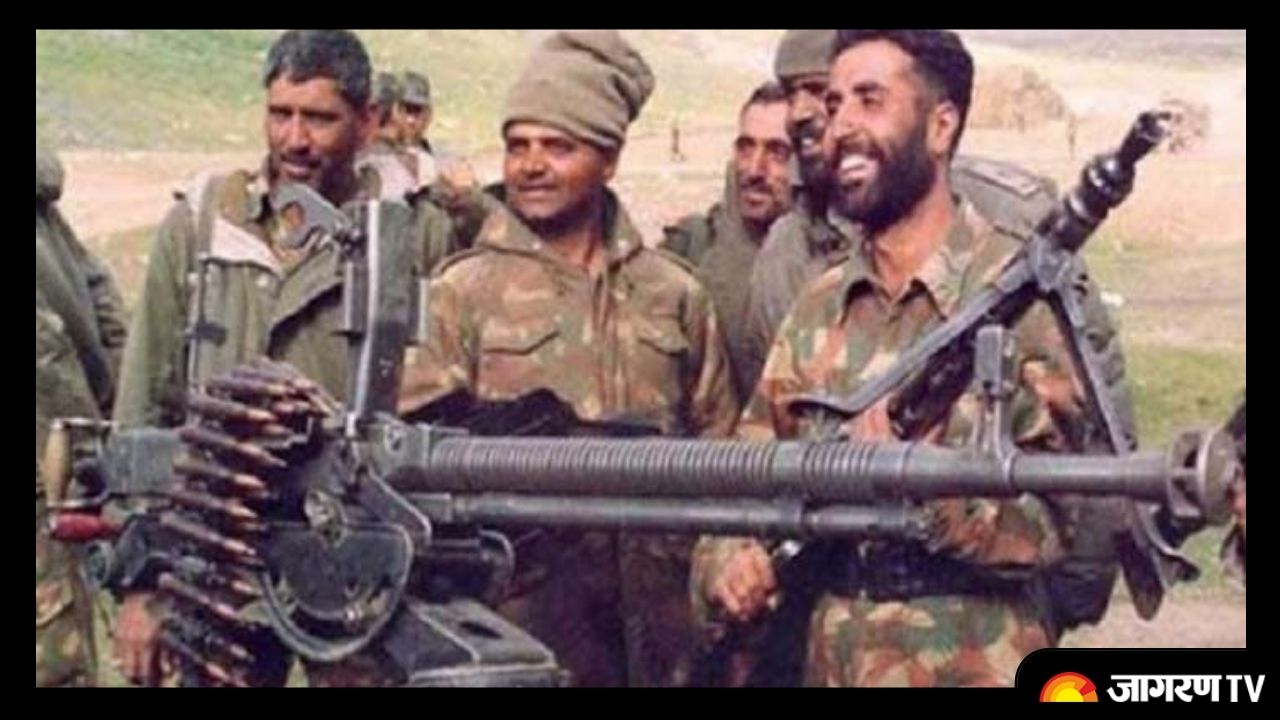 Vikram Batra Martyrdom 
During the operation Vijay, after capturing Point 5140, Vikram and his battalion headed on capturing the Capture of Point 4875 which was a strategically important peak located in the Mushkoh Valley. While the mission was almost over, and Vikram did capture the point, during the last few minutes, he saw his comrade was shot down. He asked his soldiers to take command and decided to evacuate his men. Holding the AK-47 and leading the operation, Vikram turned to Sub. Raghunath Singh and told him, "Aap aur main usko evacuate karenge," (We will evacuate him, you and I).
During the ambush, Vikram pushed aside Singh and told him, "You have a family and children to go back to, I'm not even married. Main sar ki taraf rahunga aur aap paanv uthayenge" (I will take the head and you take his feet) and exposed himself in front of the enemy. 
He showed his extreme valor and fought with the enemy while shielding his injured soldier. However, during the rescue, Batra was shot in the chest, and later a splinter from an RPG hit him in the head.  He fought till his last breath and later collapsed and succumbed in the lap of Mother India while saving his nation and fellow comrade. 
 Maj. Gen. Ian Cardozo cited the valour of Vikram Btra in his book Param Vir: Our Heroes in Battle and panned, 'Captain Vikram Batra, always leading from the front, and fully aware of the great danger of his mission, displayed unparalleled courage and determination in eliminating a Pakistani position at a ledge because he was aware of the importance of his task. His daring assault enabled the completion of the capture of Pt 4875 and this broke the will of the enemy. His courage and action were well beyond the call of duty and he continued to take risks, ultimately making the supreme sacrifice in the finest traditions of the Indian Army.'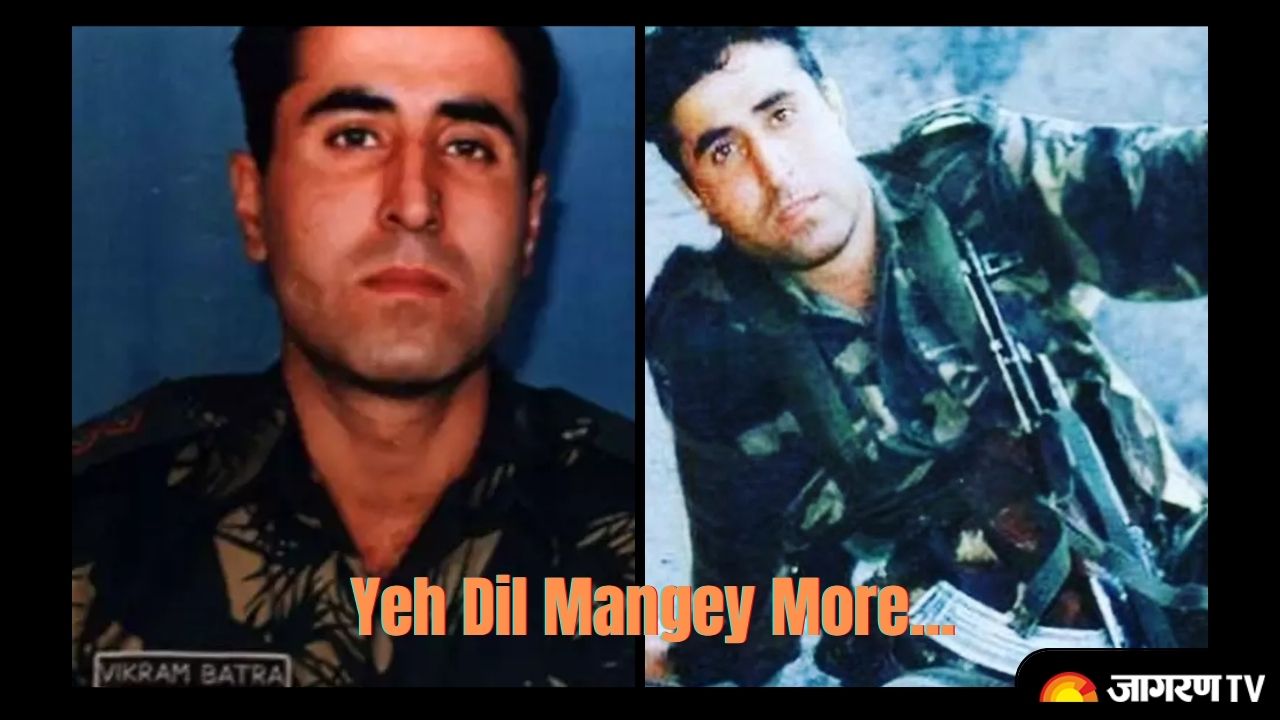 Vikram Batra- Param Vir Chakra
For bravery and courage, President K. R. Narayanan presented the Param Vir Chakra (posthumously) to the father of Captain Vikram Batra, 13 Jammu and Kashmir Rifles on 15 August 1999. 
The Param Vir Chakra citation reads as follows:
CAPTAIN VIKRAM BATRA
13 JAMMU AND KASHMIR RIFLES (IC 57556)
During 'Operation Vijay', on 20 June 1999, Captain Vikram Batra, Commander Delta Company was tasked to attack Point 5140. Captain Batra with his company skirted around the feature from the East and, maintaining surprise, reached within assaulting distance of the enemy. Captain Batra reorganised his column and motivated his men to physically assault the enemy positions. Leading from the front, he in a daredevil assault, pounced on the enemy and killed four of them in a hand-to-hand fight. On 7 July 1999, in another operation in the area Pt 4875, his company was tasked to clear a narrow feature with sharp cuttings on either side and heavily fortified enemy defences that covered the only approach to it. For speedy operation, Captain Batra assaulted the enemy position along a narrow ridge and engaged the enemy in a fierce hand –to-hand fight and killed five enemy soldiers at point blank range. Despite sustaining grave injuries, he crawled towards the enemy and hurled grenades clearing the position with utter disregard to his personal safety, leading from the front, he rallied his men and pressed on the attack and achieved a near impossible military task in the face of heavy enemy fire. The officer, however, succumbed to his injuries. Inspired by his daredevil act, his troops fell upon the enemy with vengeance, annihilated them and captured Point 4875.
Captain Vikram Batra, thus, displayed the most conspicuous personal bravery and leadership of the highest order in the face of the enemy and made the supreme sacrifice in the highest traditions of the Indian Army.
— Gazette of India Notification: No. 16 – Press/2000
Vikram Batra Movies
In the 2003 film LOC: Kargil, which featured the dramatic sequence and story of full Kargil conflict, Abhishek Bachchan played the role of Captain Batra.
Another film named Shershaah based on the life of Capt Vikram Batra is releasing in August 2021. In this film, actor Sidharth Malhotra will be playing the role of Captain and the biopic directed by Vishnuvardhan and produced by Dharma Productions and Pen India Limited.