Dior Mumbai show: On the beats of 'Om Namah Shivay' European luxury shined at the gateway of India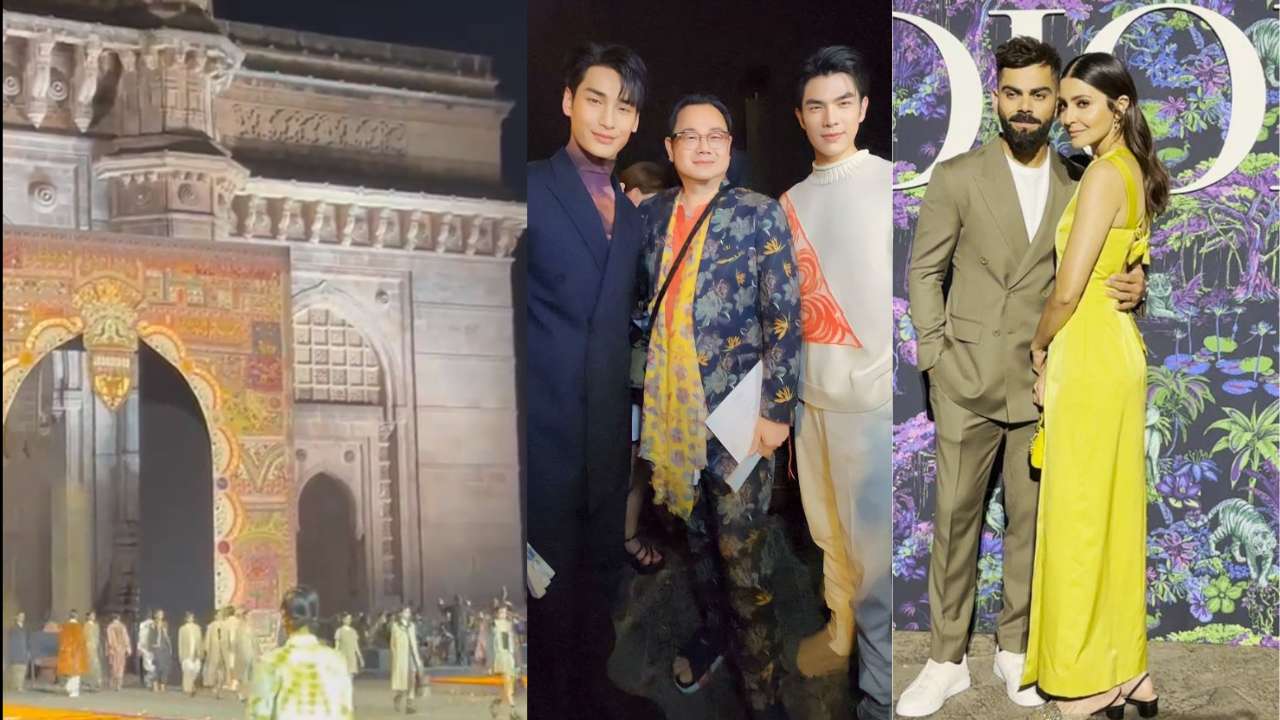 Dior Mumbai show: Dior shined, grooving on Indian sitar-tabla beats we can't ask for more. With the first ever DiorXMumbai gig, the Gateway of India witnessed a night full of glitz and glamor. The star studded A listers turned head in Dior ready to wear Fall collection. The models ate, left no crumbs. But the star of the show were the Indian musicians who played Sitar and Tabla, the whole aura screamed Indian touch in the show & the audience were absolutely delighted. Maria Grazia Chiuri unveiled the amazing Dior Autumn 2023 presentation as it takes place in front of Mumbai's magnificent Gateway of India.
Dior runway with Indian music
Dior Fall 2023 show Mumbai, concluded on the spiritual and highly sacred beats of 'Om Namah Shivay'. The sight itself was so serene that one can feel the atmosphere oozing with style, heritage and sophistication. From Sonam Kapoor Ahuja to Thai actors Nattawin Wattanagitiphat, Mile Phakphum Romsaithong, Bridgerton actress Simone Ashley, GOT actress Maisie Williams, Evergreen Rekha, Shweta Bachchan, even the Ambani ladies dazzled at the red carpet of the night.
Dior show highlights
The European Multinational luxury showcased some of its best combinations with Indian embroidery. Navy blue, beige, Indian rose, Rani pink, emerald, and jamuni violet are just a few of the colors—some of which were developed especially—that are available in a variety of solids and patterns.With fashion exhibitions held in Delhi and Mumbai in 1962, The House's long-standing link with India was physically solidified during the creative leadership of Marc Bohan. The legacy continued.
APO IS SO BEAUTIFUL!!! GOD 😭😭🫵🏾

DIOR MUMBAI X NATTAWIN#DiorFall23xMileApo pic.twitter.com/5cG75vKcJb

— 𝖳𝖱𝖴𝖥𝖥𝖫𝖤 ♡🥐🐈‍⬛|𝖠𝖯𝖮 𝖥𝖫𝖸 𝖳𝖮🇮🇳 (@ttruffle_) March 30, 2023
🎥 | Simone Ashley at the Dior fashion show on March 30, 2023 in Mumbai, India pic.twitter.com/kerPICdoXa

— Simone Ashley Network (@SimoneANetwork) March 30, 2023
THE KING's in MUMBAI at Dior Fall 2023 show by Maria Grazia Chiuri in INDIA #DiorFall23xMileApo @milephakphum @Nnattawin1
#Diorfall23 pic.twitter.com/w53C48F2fl

— Asia News (@asianewsteam) March 30, 2023
Catch the #DiorFall23 show by Maria Grazia Chiuri, taking place beneath the historic Gateway of India in Mumbai. https://t.co/mwJoJNVDNF

— Dior (@Dior) March 30, 2023
The streets of Mumbai and @Dior 🤍🤍 pic.twitter.com/6cTsBSTQQT

— Manushi Chhillar (@ManushiChhillar) March 12, 2022