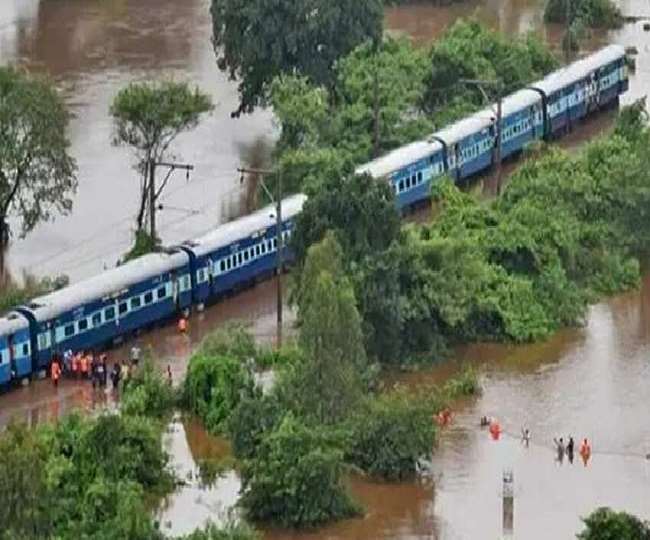 Chennai train routes diversions:
The heavy rains in Tamil Nadu's capital Chennai have disturbed the lives of people significantly with leading the simplest daily operations made difficult, for the last several days.
Due to the Water-logging that has occurred in many parts of the capital, the routes of some trains have also been diverted. The Southern Railway and South-Central Railway have crossed the danger level now, on the bridge located in the Tada-Sullurupeta section of Chennai Central Division. Due to this, many trains have been diverted considering the overflow of water. 
So, in this article further, let's have a look at the various train routes that have been diverted due to the heavy rains in Chennai.
Diverted route of Danapur-KSR Bengaluru Superfast:
According to a press release issued by South Western Railway, the Danapur-KSR Bengaluru Superfast Express special journey will start from Danapur that will run via Gudur, Renigunta, Melpakkam, Katpadi, and Jolarpettai. While the Kamakhya – Yesvantpur Express Special has been diverted to run from Kamakhya via Gudur, Renigunta, Melpakkam, Katpadi and Jolarpettai.
Diverted route of Bangalore Cantonment-Guwahati Express Special:
Bengaluru Cantonment - Guwahati Express Special starting from Bangalore Cantonment was diverted to run via Perambur, MGR Chennai Central, Arakkonam, Renigunta, and Gudur.
Trains suspended on many routes:
Earlier, due to heavy rains, Southern Railway, Chennai Divisional Railway Manager's Office had suspended most of the services till Tiruvallur due to waterlogging of tracks at Avadi and Ambattur.
On the other hand, on the previous day, the Indian Railways has decided to make the 2164 km route of New Delhi-Chennai a high-speed corridor. Railways are now planning to run trains at a speed of 160 kmph on the Delhi-Chennai route. Indian Railways has also started the process of preparing a detailed project report for this. Along with this, Railways also plans to increase train speed on 1965 km section of Mumbai-Howrah, Mumbai-Chennai, Chennai-Howrah, Chennai-Bengaluru, Bengaluru-Hyderabad, Chennai-Hyderabad and Howrah-Puri routes.