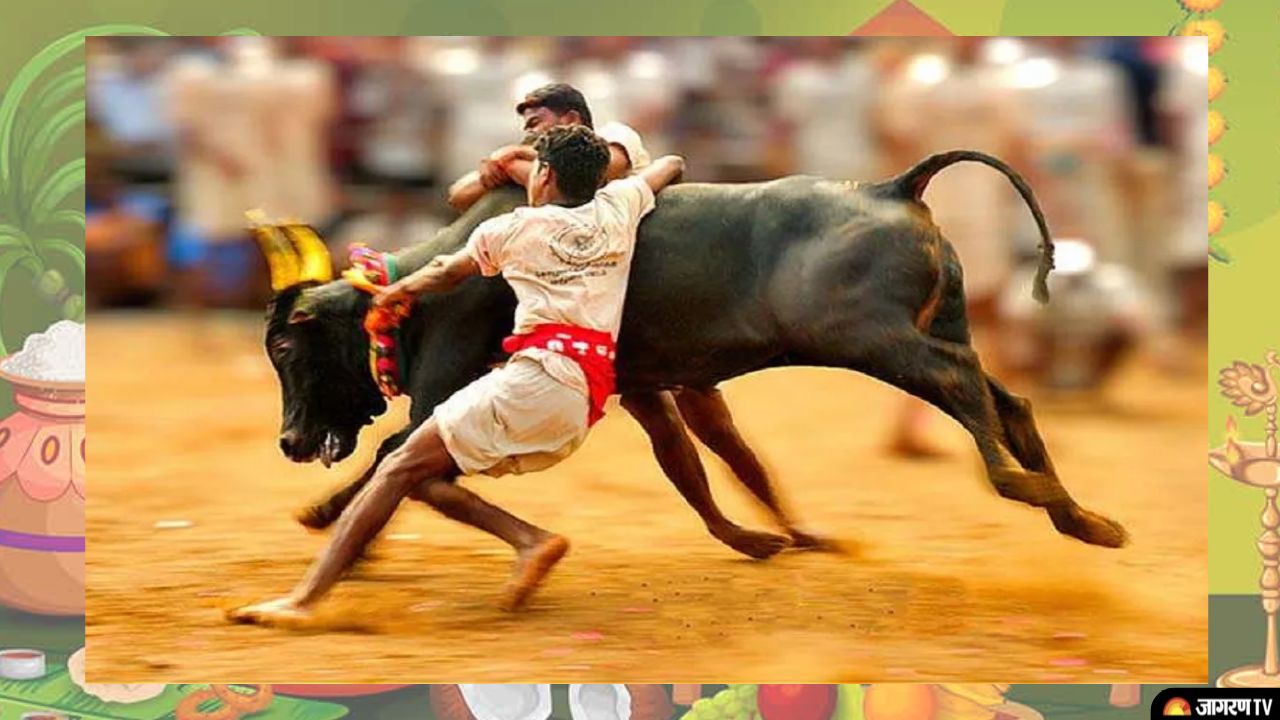 Jallikattu 2023: 'Jallikattu' derived from the words 'Calli' (coins) and 'Kattu' (tie), which denotes a bundle of coins is tied to the bull's horns. It is a sport which is organised as a part of Mattu Pongal. Mattu Pongal is the 3rd day of the four-day-long festival Pongal which is observed predominantly in the Indian state Tamil Nadu. 
Jallikattu 2023 Date
Over 300 bulls were let loose into the athletic arena on Sunday to kick off Tamil Nadu's largest sporting festival, Jallikattu. Celebrations for Jallikattu got underway on Sunday at Thatchankurichi in the Pudukkottai district's Gandarvakottai taluk. Due to safety concerns, the bull-taming event that was originally set for January 6 was moved to Sunday.
Jallikattu Meaning and Important Facts | Jallikattu 2023 Festival Tamilnadu
Silappatikaram, the great epics of the Tamil classical period and other ancient texts have references to the celebration of Jallikattu.  Belonging to Tamil Classical Age (400-100 BC), it is a historical sport. 

Other names of Jaliikattu are Yeruthazhuvuthal, Madu Pidithal and Pollerudhu Pidithal.

Thousands of participants try to tame the bulls at Jallikattu by clinging onto their horns or bums. Dravidian literature contains various references to it, and the Tamilnadu natives have celebrated this occasion for many years.

At Alanganallur near Madurai, the festival is celebrated at its highest zeal.

Native breeds like Kangayam and Bangur are just two of the bull breeds used in the sport. These breeds of bull are said to be the strongest. The breeds are raised more with the aid of Jallikattu, increasing their otherwise declining numbers. (As said, there were around one million Kangayam bulls in 1990. By 2017, the number had decreased to 15000.) Consequently, the Jallikattu sport offers an opportunity to raise the bulls.
Jallikattu Case and Controverdy
Following petitions from animal welfare organisations such as Federation of India Animal Protection Agencies (FIAPO) and People for the Ethical Treatment of Animals, the Supreme Court of India outlawed Jallikattu in 2014. (PETA).
The President has approved a change made by the Tamil Nadu government to the 1960 Prevention of Cruelty to Animals Act. Jallikattu was made possible by the amendment since it is regarded as a state cultural treasure.
On the request of the Tamil Nadu government, the Central Government lifted the restriction in January 2016. PETA and other similar welfare organisations appealed this notification to the Supreme Court. According to PETA, "cruelty" includes inflicting unnecessary agony and torment on animals so that people can be entertained as well as the act of killing them.