BTS loses Grammy's 2022 award to Doja Cat; ARMY asks motive behind late pop duo/group schedule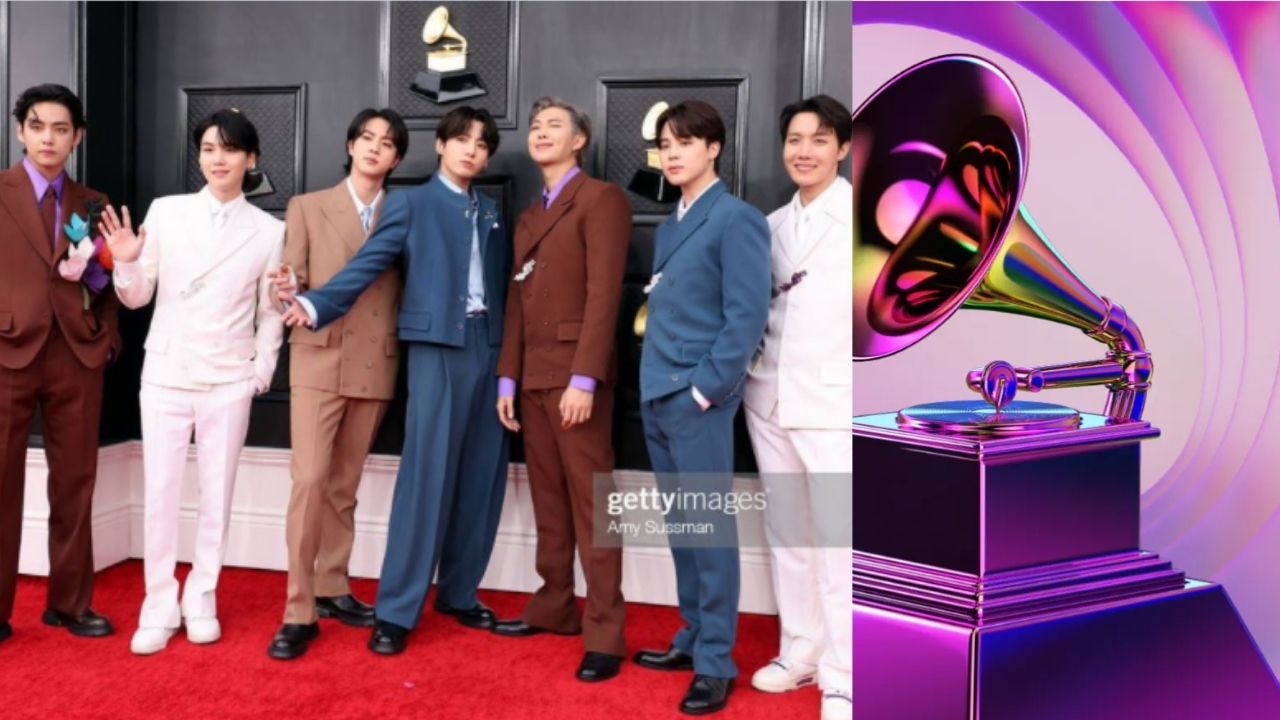 Grammy best pop duo/Group: The 64th Grammy awards or Grammys 2022 is nearing it's end and with this the final list of winners have also been revealed. Millions of Army hopes who were continuously trending BTS and BTS to win on twitter way before the ceremony, got shattered. The award show stood out as the biggest musical night of the year, with over 86 categories up for consideration.
BTS lost Grammy 2022 awards for best pop duo
BTS the boy band comprising (Jin, Suga, J-hope, RM, Jimin, V and Jungkook) was up against Tony Bennett and Lady Gaga's "I Get a Kick Out of You," Justin Bieber and Benny Blanco's "Lonely," Coldplay's "Higher Power," and Doja Cat and SZA's "Kiss Me More" . Although Butter ruled Billboard for straight consecutive months, it came as a shock that the group was unable to win the award and lost it to Doja Cat's 'kiss me more'.  
Congrats Doja Cat for the win
Doja Cat won the Best pop group/duo for song 'Kiss me more'. The singer broke down into tears while reciving the award.
Doja Cat reaccionando tras ganar Best Pop Duo/Group Performance en los #Grammys! 🥺 pic.twitter.com/QIK6Vpp3ux

— Doja Cat Chile (@DojaCatChile) April 4, 2022
Angry BTS fans lashes out at Grammy awards
For the second time in the row despite being the Billboard ruler the 7 member boy band was unable to take Grammy home. With this a wide range of contention has begun on social media on whether BTS deserves Grammy or Grammy deserves BTS. Well, it seems like we are no soon getting the answer. Meanwhile surprising reactions are coming from the fandom. The ARMY fandom who were waiting for the grand announcement since days are for sure highly disappointed but at the same time feeling proud for their boys who have shown excellence to the world. On the other hand many are questioning about the delay caused in the announcement of Best pop group/duo award and whether it was done intentionally to get millions of views.


Watch reaction
Nothings wrong if bts didn't won the best pop duo they are still the best group but I wish Grammys didn't change the line up of the show just for the fans of the bts to watch the whole entire award show I didn't watch the award show but base on the trendings and tweets of others

— Christel 💕 (@chubstel24) April 4, 2022
grammys decided to move the best pop duo group category to the main show, announced 2nd to the last ...
only for this??? #OurProudBTS

— tati🌸 (@btsvtati) April 4, 2022
Still our Best Pop Duo/Group. The efforts you've exerted are enough to make you a winner.

•Jin is injured
•Hobi made sure to fly to LV right after his SQ
•JungKook haven't rest properly after he was cleared from cov19

Thanks to Scammy!!! You clout chaser's #ScammyGrammys pic.twitter.com/v4DIpHT8iB

— Junggukielovesu (@junggukielovesu) April 4, 2022
with or without Grammy boys, you won and will always win no matter what! 🤍✨ chukahae our ot7!

ps. crying over the clip where they hugged at the back after Kiss me more was announced as the best pop duo, my heart 🥺 pic.twitter.com/TlynYqkJW5

— miss.thv. (@iamdaniella_v) April 4, 2022
@RecordingAcad serious question why there's a tie for Best R&B Performance but NOT A TIE for Best Pop Duo/Group Performance? BTS AND doja should've won. they held the music industry for the year #Grammys2022 #GRAMMYs #bts #BTSxGrammys #BTSARMY #BTSGrammy #GrammyAwards #BTSxVegas

— Catherine (@geobite26) April 4, 2022
guys lets not go there, we all know in our hearts who are the true winners. they purposely put best pop duo at the end to make all ARMYS watch the damn show because without BTS that show is shit 😂. NOT OUR LOSS

BTS BTS BTS
SCAMMYS
OMG OMG OMG
BIGGEST JOKE OF THE YEAR
#scammys pic.twitter.com/GXB0UJ04lY

— Krys Tle (@Krystlekrys1) April 4, 2022
 BTS ARMY'S trend 'Scammys' on twitter
I hate the Grammys #scammys pic.twitter.com/bGG9wrJ6vy

— Nakisha (@_tharealkisha) April 4, 2022
it's almost like we knew this was gonna happen again…

still proud of you bts!!💜💜#scammys #GotARMYRightBehindYou #BTSARMY pic.twitter.com/04ULRfe3CV

— roki ☀️ (@rokiisan) April 4, 2022
Disappointed, but not surprised. Scammys don't deserve BTS #scammys #bts #grammys pic.twitter.com/bEBzfr874j

— 🌌💜Mythamos💜🌌 || 21 (@_Mythamos_) April 4, 2022
we got robbed again #scammys #GRAMMYs pic.twitter.com/5VqpNQgPuF

— talia (@yoongiismybaeee) April 4, 2022