Best Wildlife and National Parks in Gujarat For Nature Lovers | Gujarat Foundation Day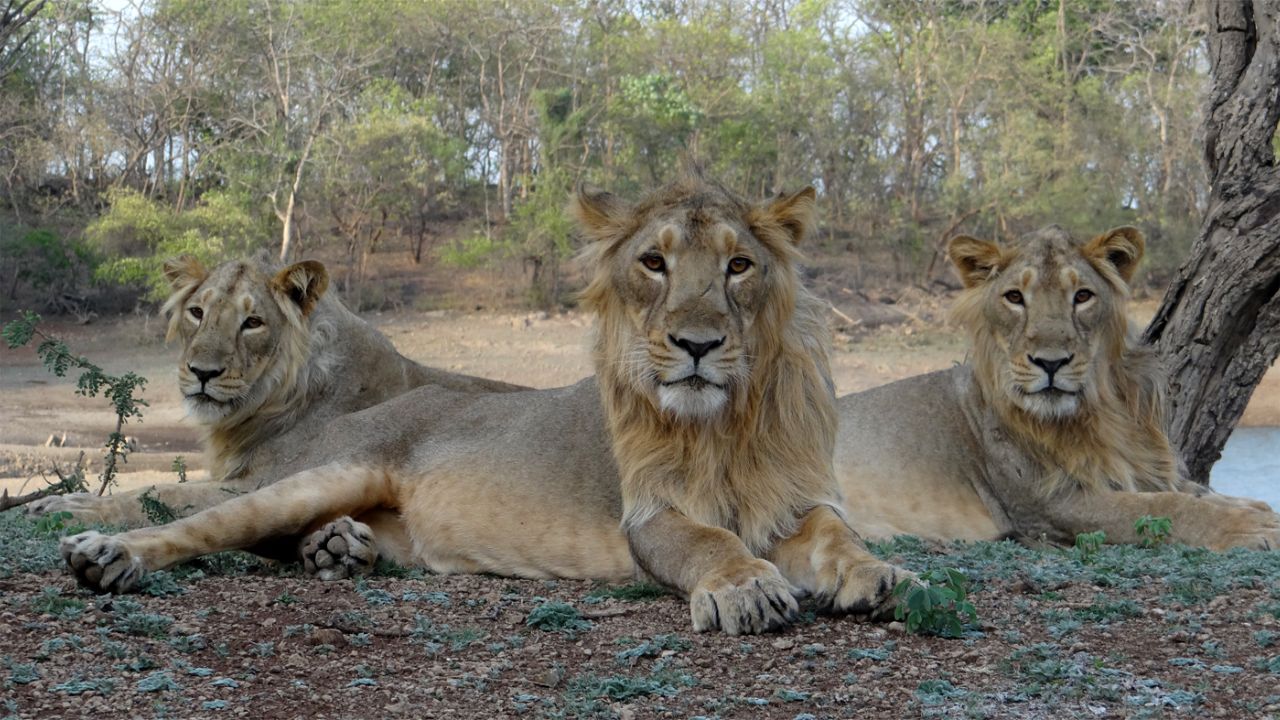 Gujarat Foundation Day 2023: Every year on May 1 to honour the state's Foundation Day, the special occasion of Gujarat Diwas is observed. The ninth-largest state in the union is Gujarat. In 1960, it was declared to be an autonomous state after being cut off from Bombay. Since that time, May 1 has been observed as Gujarat Day together with Labour Day around the globe. We have gathered a selection of wishes and messages for you to share with your friends and family in order to commemorate this memorable event. The state is known for its unique art, culture and lip-smacking delicacies. Also, the vivid destinations of Gujarat will mesmerise any travel lover. So let's check out the best places in Gujarat to get the experience of flora and fauna.  
10 Best Wildlife Sanctuaries & National Parks in Gujarat 
Gir National Park 
One of Gujarat's top tourist destinations is the Gir National Park, which is about 60 kilometres from Junagadh and 43 kilometres from Somnath. Gir National Park in Gujarat, which spans about 1412 square kilometres of land, is the only location in India where Asiatic lions are found in substantial numbers. 
Tale of Gir National Park
Visit- https://t.co/7Qg7tc1YZA pic.twitter.com/lKo7FVwUf3

— Gir National Park (@gir_park) April 24, 2023
Wild Ass Sanctuary 
The Wild Ass Sanctuary is also regarded as a piece of Gujarat's cultural history and is home to the Indian wild ass as well as the caracal, desert fox, flamingo, crane, and black cobra.
The Indian Wild Ass Sanctuary in Little Rann of Kutch, Gujarat is the home to a variety of flora and fauna, Indian Wild Ass being the most exotic of them all. pic.twitter.com/FWgE4C66L8

— Gujarat Tourism (@GujaratTourism) May 29, 2021
Velavadar National Park
More than 3,000 blackbucks and over 120 different bird species, such as flamingos, pelicans, white and painted storks, etc., can be found in the wildlife reserve. Animals including the nilgai (another Indian antelope), jungle cat, jackal, fox, and wolf are also found in the Velavadar Blackbuck National Park. 
Black buck contingent from Velavadar National Park.
📸 Abhishek Sharma pic.twitter.com/irY1Z3h4RT

— Susanta Nanda (@susantananda3) January 31, 2022
Marine National Park
The Marine National Park in Gujarat, which is situated in the Gulf of Kutch, is a treasure trove of enigmatic marine life, including sea cucumbers, sponges, sea urchins, mollusks, coral, and various species. This national park has 42 islands and is surrounded by coral reefs. The most well-known islands for viewing marine life are Narara and Pirotan.
Narara Marine National Park and Sanctuary #Gujarat pic.twitter.com/1xBPhU9FTF

— Shah2Virat (@shah2virat1) July 4, 2022
Nal Sarovar Birds Sanctuary
Tourists from all over the world visit Nal Sarovar, a bird sanctuary in Gujarat, to learn about the various varieties of flora and fauna because it is home to about 250 different kinds of migratory and local birds. various birds, including the Tibetan Brahminy Duck, the spoonbill, fishing eagles, kingfishers, etc. 
Nal Sarovar bird sanctuary is situated about 64 km to the west of Karnavati near Sanand Village in Gujarat. Nal Sarovar means 'Tap Lake'. It is deemed as the biggest wetland bird sanctuary of Gujarat. As many as 200 different species of birds can be discerned.

(📸: Noel Macwan) pic.twitter.com/4Z5tcvKhsR

— Karnavati City (@CityKarnavati) November 16, 2021
Jessore Sloth Bear Sanctuary 
45 km from Palanpur, in the Banaskantha Gujarat region, is the Jessore Sloth Bear Sanctuary. Numerous endangered species of plants and animals can be found in the Jessore Hill Forest and surrounding areas. 
Jessore Sloth Bear Sanctuary is situated in the Banaskantha district, 45 kms. from Palanpur. Declared as Wildlife Sanctuary in May 1978, this 180.66 https://t.co/tK0zvM6LWP pic.twitter.com/LFoCAr7JfE

— Gujarat Information (@InfoGujarat) June 30, 2022
Vansda National Park
450 plant varieties and around 115 bird species are this national park's key attractions in Gujarat. The park is home to several endangered species, including the grey hornbill, paradise flycatcher, racket-tailed drongo, leaf birds, yellow-backed sunbird, peafowls, jungle babbler, and forest spotted owlet. 
Jungle Owlet
Vansda National Park, South Dangs, Gujarat
October 2018, PC - Saswat Mishra#india #bharat #nature #hindustan #birds #birding #birdwatch #birdwatching #bird #nationalpark #gujarat pic.twitter.com/p2iKiqiDdO

— Mohit Sharma 'ज़हन' (@Trendy_Baba_) November 23, 2018
Gaga Wildlife Sanctuary
The 1988 declaration of the Gaga Wildlife Sanctuary makes it a well-known tourist destination in Gujarat.  Around 12 species of mammals, 88 species of birds, and 8 species of reptiles can be found at the Sanctuary. Numerous wild animals, such as wolves, jackals, blue bulls, jungle cats, and mongooses, live there.  
The Gaga Wildlife Sanctuary situated in Devbhoomi Dwarka District and established in 1988, is a protected home for the wild which is a thrill to explore.@purneshmodi @iArvindRaiyani @hareets @AlokPandey_IAS pic.twitter.com/NDz2fpro4T

— Gujarat Tourism (@GujaratTourism) May 3, 2022
Shoolpaneshwar Wildlife Sanctuary 
It is located in Gujarat, west of the Narmada River, in the Satpura Range. The Shoolpaneshwar Wildlife Sanctuary is renowned for its stunning scenery, deep splendid valleys, huge, undulating terrain, majestic waterfalls, solemnly silent rocks, and inescapable flora.  
Inside the dense Shoolpaneshwar Wildlife Sanctuary, is the magnificent Zarwani Waterfall.
The unexplored serene spot away from the bustle of city life draws nature and wildlife enthusiasts from across India. pic.twitter.com/fHadcz8Tca

— Gujarat Tourism (@GujaratTourism) July 12, 2022
Narayan Sarovar Sanctuary
One of the wildlife sanctuaries in Gujarat, Narayan Sarovar, has a diverse range of animals, including 15 species that are endangered. Only animals acclimated to the extreme temperature can survive here, hence the sanctuary is home to numerous animals that are extinct elsewhere.
The endangered Indian pangolin, that can sighted in Narayan Sarovar Sanctuary, #Gujarat pic.twitter.com/6owomwKZBH

— seek&hide (@goseekandhide) January 31, 2017