Happy Ram Navami 2023: Best wishes, greetings, images, whatsapp/fb forwards, status to share with loved ones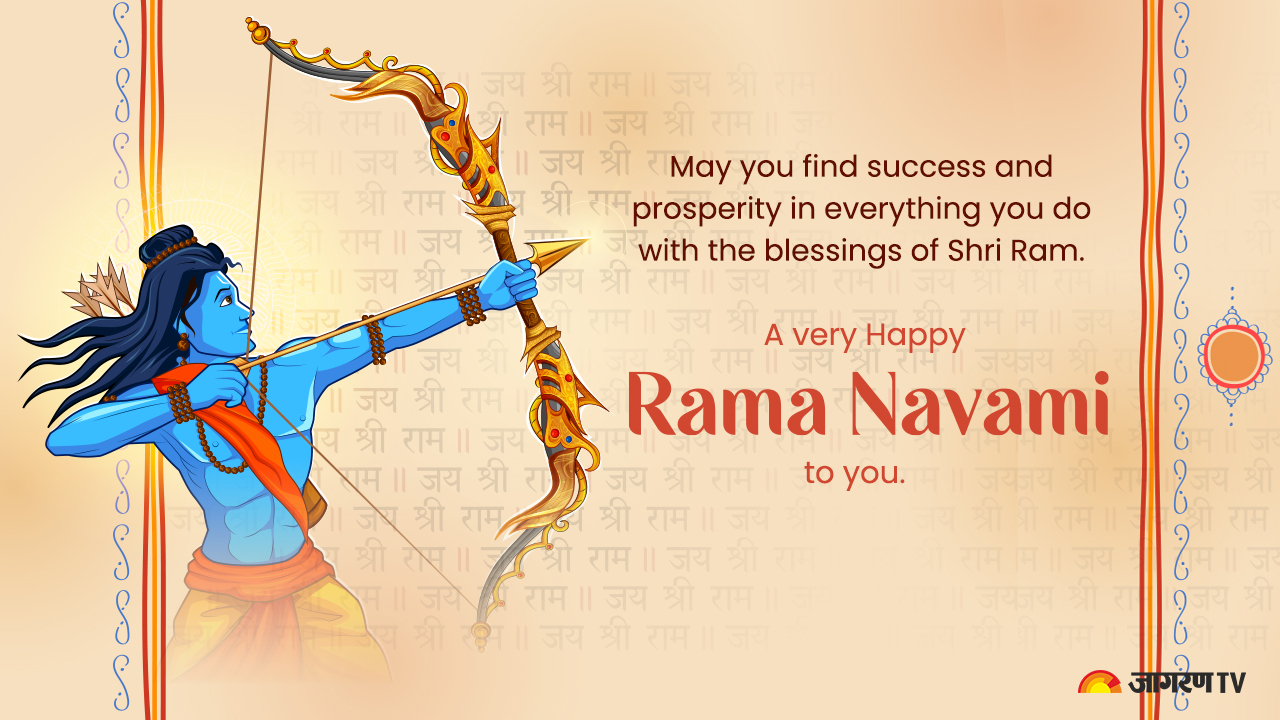 A very happy and prosperous Ram Navami to all!! "This Ram Navami, may Shri Ram shower you with his blessings, love, and care". After 9 days of fasting and devoted worshiping to goddess Durga, India is celebrating the auspicious day of Ram Navami which marks the birth of Lord Rama also known as the seventh avatar of Lord Vishnu. Ram Navami occurs on the ninth day of the Shukla Paksha (brighter half) of the Chaitra month. It is stated that Lord Ram was born at the madhayhna era, or in the middle of the day. On this day people celebrate by performing puja rituals, eating sweets and performing jhankiyan (Tableaus).
Send Ram Navami warm wishes to your loved ones
This year Ram Navami falls on March 30th 2023, and to celebrate this day here are the compilations of some of the Best wishes, greetings, images, whatsapp/fb forwards, social media status and more to share with your loved ones. 
Ram Navami best wishes 
May the glimmer of diyas and the echo of the chants fill your life with happiness and contentment.
May your heart and home be filled with happiness, peace, and prosperity. Happy Ram Navami.
Rama should mean the path he trod, the ideal he held aloft, and the ordinance he laid down for you. They are eternal and timeless. Happy Ram Navami!
With the gleam of diyas and the echo of the chants, may happiness and contentment fill your life. Wishing you a Happy Ram Navami.
I wish you and your family joy, harmony and prosperity on this special festival. Happy Ram Navami.
Ram Navami quotes
May Lord Ram, shower his choicest blessings upon you. Happy Ram Navami
Ram jinka naam hai, Ayodhya jinka dhaam hai, Aise Raghunandan ko, humara pranam hai.
May your life be showered with the love and blessings of Maa Durga, and may the occasion of Maha Navami bring along a year full of positivity for you
On the pious occasion of Maha Navami, I wish that Maa Durga is always there to bless you in each and every phase of your life and shower you with happiness.
Thank you, Maa Durga, for blessing us with the strength to perform fasts and pooja throughout Navratri. Happy Maha Navami to all!
Ram Navami wishes/greetings/images
Wish You A Happy Ram Navami! May You Achieve Your Goals This Year

May you find success and prosperity in everything you do with the blessings of Shri Ram. A very Happy Ram Navami to you.

Let us chant sacred mantras to praise Lord Ram and ask for his blessings. I hope you are bestowed with the love and blessings of Lord Ram.

With the gleam of diyas and the echo of the chants, May happiness and contentment fill your life. Wishing you a Happy Ram Navami

May Lord Rama shower his divine blessings and brighten your life with them.

May the divine grace of Lord Ram always be with you. Wish you a very happy and prosperous Ram Navami.

Mangal Bhawan Amangal Haari, Dravahu Su Dashrath Ajara Bihari. Here's wishing you and your family a very Happy Ram Navami