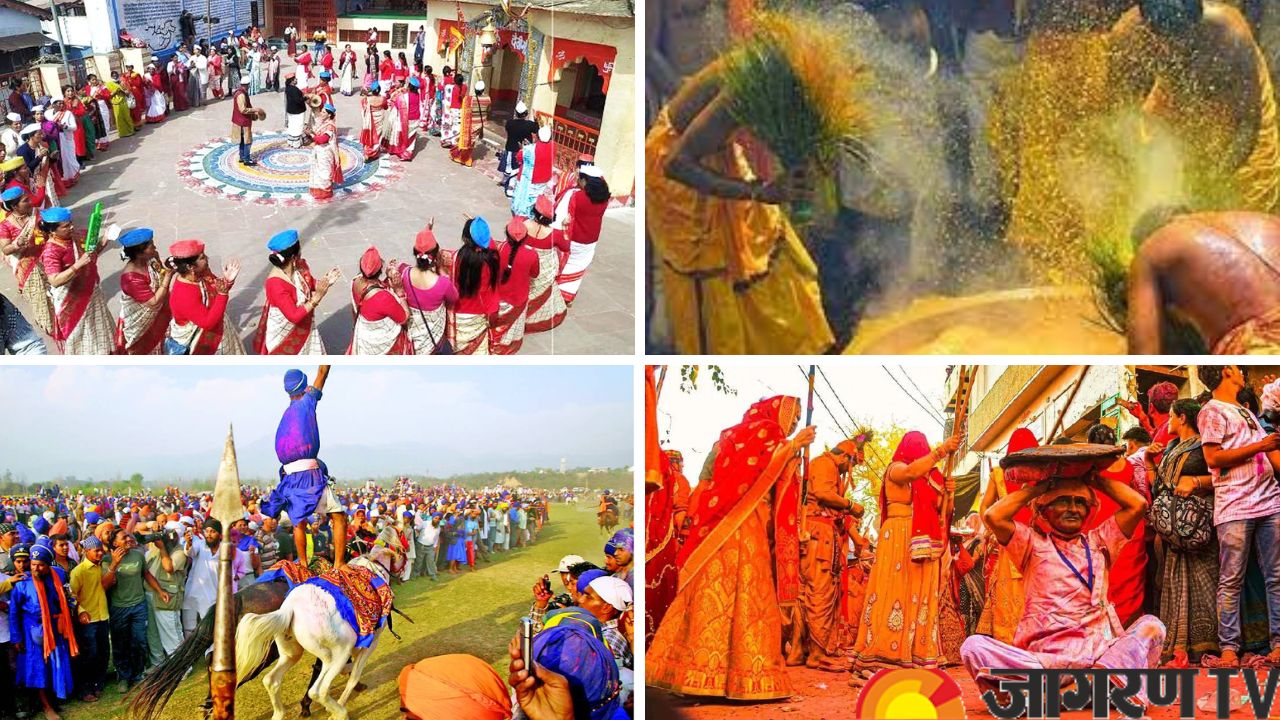 Holi 2023: The Holi festival has significant religious importance in India. The Hindu holiday of Holi, also known as the festival of colours, is celebrated on the full moon day of the month of Phalgun, which corresponds to March in the Gregorian calendar. According to legend, this event celebrates Radha and Krishna's unwavering love as well as Lord Vishnu's victory against the demon king Hiranyakashipu in his Narasimha form. This is one of the reasons to celebrate holi, but the festival is celebrated all over India with different traditions and different cultural values. Let's take a look at some of the weirdest Holi traditions in India.
Weirdest Holi traditions in India
Kumaoni Holi
In Uttarakhand, there is a special Holi festival. This custom, which also goes by the names Baithak Holi and Nirvan ki Holi, starts on Basant Panchmi and lasts for more than a month! By donning traditional white attire, participants in Kumaoni Holi gather to sing both classical and folk songs together. The tabla and harmonium add to the celebration and make it a must-attend event.
Manjul Kuli
Contrary to popular opinion, South India also celebrates Holi, but under various names. Manjul Kuli is observed on Holi in Kerala. It is a leisurely event that lasts for two days. An excursion to Gosripuram Thiruma's Konkani is included on the first day. On the second day of Manjul Kuli, individuals refrain from using any other colours and instead sprinkle each other with water and turmeric. At this festival, there will also be singing and dancing to traditional folk music.
Hola Mohalla 
This Punjabi custom, which is observed one day after Holi, has its roots in Anandpur Sahib. Men demonstrate their courage by participating in simulated battles, sword fights, and martial arts during this three-day celebration. It heralds the start of the Sikh new year and is seen as a homage to the bravery of Sikh warriors. A sizable langar is also planned and is accessible to everyone.
Laathmar Holi
This rite, which has its roots in Barsana, Uttar Pradesh, is carried out precisely as it sounds: by beating oneself up with laathis (sticks). But it's women who throw the objects. In Barsana, women do in fact beat males with sticks. The custom is a tribute to Lord Krishna's playful relationship with Radha and the gopis. In some regions of Rajasthan, women chase men in an activity known as "kodey" in order to strike them.
Basanta Utsav
This solemn ritual, which is observed in Shantiniketan, is based on the ideas of its creator, Nobel laureate Rabindranath Tagore. This festival heralds the arrival of spring because the word "basant" signifies that it is springtime. Students from the Tagore-founded Visva Bharati University put on a show while dressed in yellow and orange. The residents of Shantiniketan employ a unique colour known as "aabeer," which is created from dried vegetables. This year, Basanta Utsav will start on March 16 and last through March 18.