How to Become a Teacher in India? Eligibility, Courses, Qualifications, Exams, Scope and more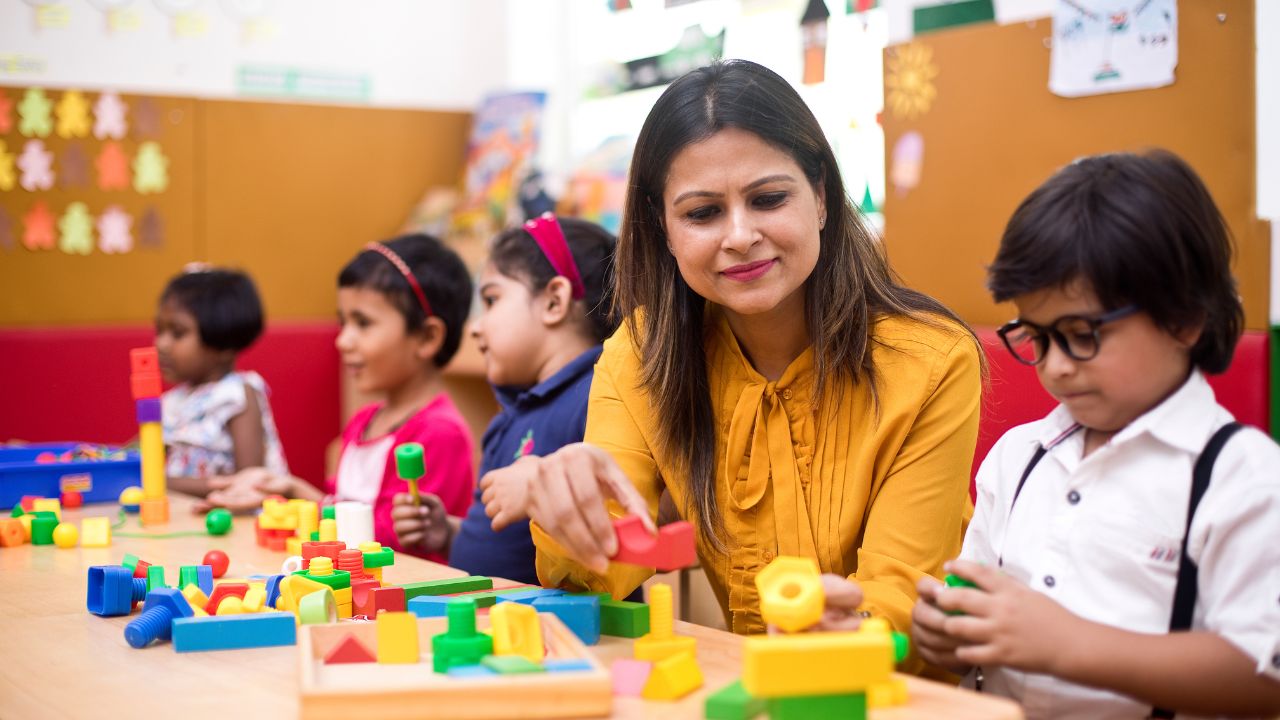 In India, a BEd is the bare minimum need for the job as a teacher. In addition, candidates who want to become teachers must complete their postgraduate studies in relevant fields. The TET, TGT, and PGT are a few of the national and state-level entrance tests that candidates who want to teach in the primary and pre-primary grades must take before being accepted into one of the many government-run primary and pre-primary schools. 
Candidates should enrol in a variety of undergraduate and graduate teaching programmes at some of India's top teaching institutes and universities to meet the requirements to become teachers in that nation. Aside from teaching courses, some additional options for people who want to become teachers include education, English, science, and/or commerce courses, depending on their favourite subject and applicability. A typical teaching course lasts one to three years and costs between INR 8,000 and 5 LPA.
Types of Teachers
Pre-Primary School Teacher- Elementary School Being the second most important person in students' lives after their parents, teachers play a crucial part in their lives. They work with youngsters ranging in age from 3 to 5. The students are given an introduction to the initial fundamental ideas of the alphabet.

Primary School Teacher- Primary school Teachers work with pupils ranging in age from 6 to 12. Primary school teachers must impart technology, life skills, and other modern educational concepts to their children. They will lay a permanent educational basis for the pupils' lives.

Secondary School Teacher- Teachers at secondary schools work with students in grades 6 to 10. Secondary school teachers are in charge of gaining a thorough understanding of their students' lives and helping them pursue their hobbies and aspirations.

Senior Secondary School Teacher- Senior Secondary School Teachers generally have a post-graduate degree and are experts in the fields in which they have chosen to specialise. These instructors are qualified to provide in-depth explanations of the subjects and career guidance to students. 

Special Educator- Teachers who work with students who have special needs are known as special educators. These students may experience problems with their mental well-being, as well as physical, emotional, and learning difficulties. They receive specialised training to instruct those children with disabilities in various schools.
 Entrance Exam Preparation
Candidates seeking to become teachers must pass the Central Teacher Eligibility Test (CTET), a nationwide teacher eligibility test. In addition to this, there are a number of state-level teacher admission exams that can be taken to become a teacher.The Teacher Eligibility Test is given by individual states, but CTET candidates may benefit from completing one test with opportunities for employment across the country.

Teacher Eligibility Test (TET) conducted by both the Central and State governments of India. It is the very minimum qualification needed to be appointed as a teacher for classes I to VIII in India.

State Teacher Eligibility Test (STET) is conducted by the various State Governments of India for individuals interested in pursuing a career as a teacher in their states. Paper I and Paper II are the two tests that make up the STET.

National Eligibility Test (NET) UGC-NET is conducted by CBSE now on behalf of UGC. Two times a year UGC NET is held to choose qualified applicants for the positions of Assistant Professor and Junior Research Fellowship (JRF) or merely Assistant Professor at Indian colleges and universities.
Eligibility to Become a Teacher
Obtaining a good and pertinent degree is one of the most important steps to take in order to become a teacher in India. After completing their undergraduate and graduate degrees in relevant fields, as was already said, students must pursue a B.Ed. Students can pursue an M.Ed in addition to a B.Ed to become teachers.
Teaching Courses in India 
BA BEd Integrated Course

B.Sc and B.Ed Integrated Course

D.El.Ed

B.P.Ed.

B.Ed

M.Ed

M.Sc Education

MA Education

M.Phil in Education

Assistant Professor Course
Salary of a Teacher in India 
Average Starting Salary- INR 6,000 to 1,00,000
Highest Salary - INR 7,00,000 – 9,50,000