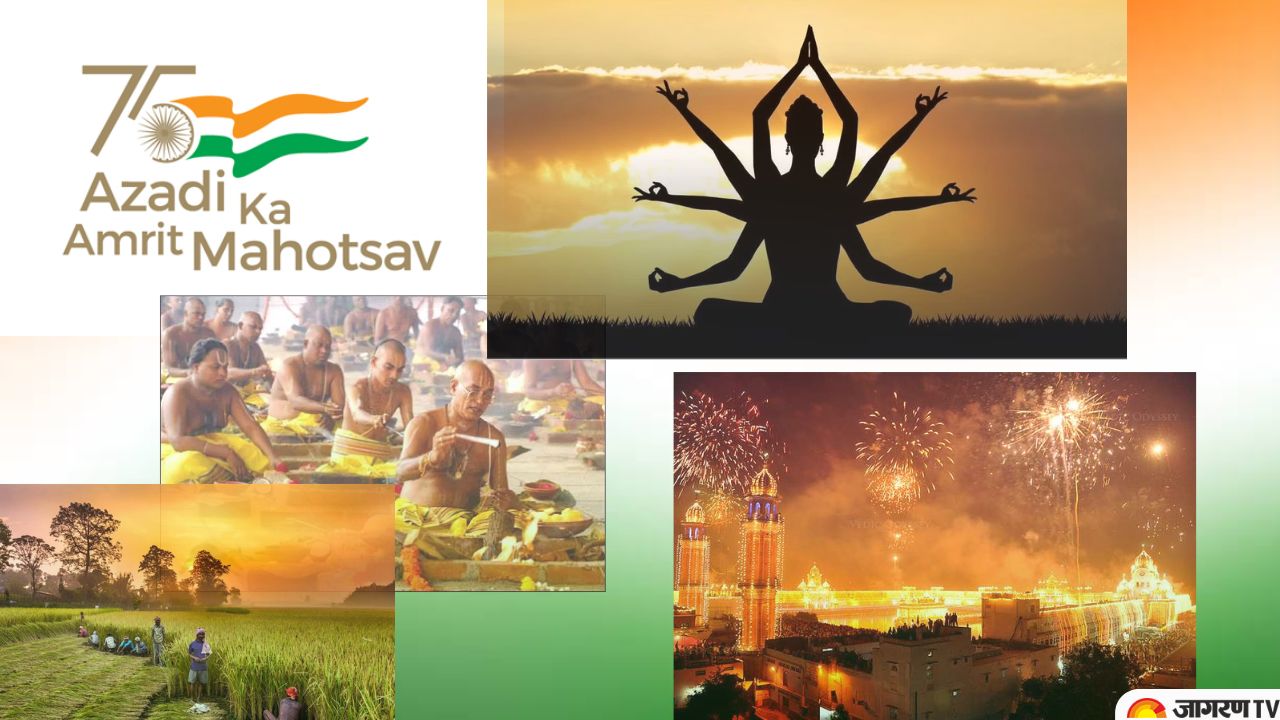 "The Azadi Amrit Mahotsav means elixir of energy of independence; elixir of inspirations of the warriors of freedom struggle; elixir of new ideas and pledges; and elixir of Aatmanirbharta. Therefore, this Mahotsav is a festival of awakening of the nation; festival of fulfilling the dream of good governance; and the festival of global peace and development." Narendra Modi
The Government of India has launched the Azadi Ka Amrit Mahotsav to commemorate and celebrate 75 years of independence as well as the illustrious past of its people, culture, and accomplishments.
This Mahotsav is dedicated to the Indian people who, in addition to playing a key role in the country's progress to this point, also possess the strength and capacity to realise Prime Minister Narendra Modi's vision of enabling India 2.0, fueled by the spirit of Aatmanirbhar Bharat.
On India completing 75 years of Independence, lets see some unique cultures and traditions that are an integral part of India's heritage. 
Yoga
Yoga, an age-old Indian practise for physical, mental, and spiritual well-being, emphasises the integration of the mind with the body and soul. Yoga is scientific. Through a series of positions, sequences, guided meditation, regulated breathing, word chanting, and other techniques, yoga disciplines your mind, breath, and body. It supports self-realization, lessens physical discomfort, and encourages relaxation, which calms and cheers you up.
Kumbh Mela
The sacred Kumbh Mela is an occasion that brings together information from the fields of astrology, astronomy, spirituality, liberation, ritualistic traditions, knowledge, and religion, as well as from various cultural and social practises. The festival is held every three years in one of the four cities: Haridwar, Allahabad (Prayag), Nashik, or Ujjain. While the Purna Kumbh is observed every 12 years, the Ardh Kumbh takes place every 6 years. Every 144 years, Prayag hosts the largest event known as Maha Kumbh.
Vedic Chanting
Hinduism's ancient scriptures, the Vedas, are traditionally recited by chanting. The four main Vedas—Rig, Yajur, Sama, and Atharva—are regarded as the most important sources of information about Hindu traditions and philosophy. The scriptures are composed of poetry, philosophical discourse, myth, and ritual incantations and are written in Vedic Sanskrit. The Vedas were written by Aryans some 3,500 years ago, and each generation has passed them down orally ever since.
Architecture
The majority of temples are situated along the Earth's magnetic wave lines, which helps to maximise the positive energy that is accessible. Under the main deity, a copper plate known as Garbhagriha or Moolasthan absorbs and reverberates this energy to its surroundings. Going to the temple frequently aids in cultivating positive thoughts and energy, which in turn promote healthier functioning.
Additionally, it is customary to remove shoes before entering places of worship because doing so would contaminate the space's otherwise clean and holy environment.
Atithi Devo Bhavah 
The proverb "Atithi Devo Bhavah" is also important in India. It translates as "the guest is equal to god." It is a Sanskrit verse that was taken from Hindu scriptures and then included in the "Code of Conduct for Hindu Society" because in Indian culture, guests have always been given the utmost respect.
Dresses of India
Indian women are frequently dressed in "saris." The sari is a single piece of material that doesn't require any sewing; it's simple to produce, comfortable to wear, and it complies with religious customs. It was originally a Hindu custom, but it has gracefully expanded to all other religions. The same holds true for Indian men of all faiths' more practical "Kurta-Pyjama" and their ceremonial "Sherwani."