Dainik Jagran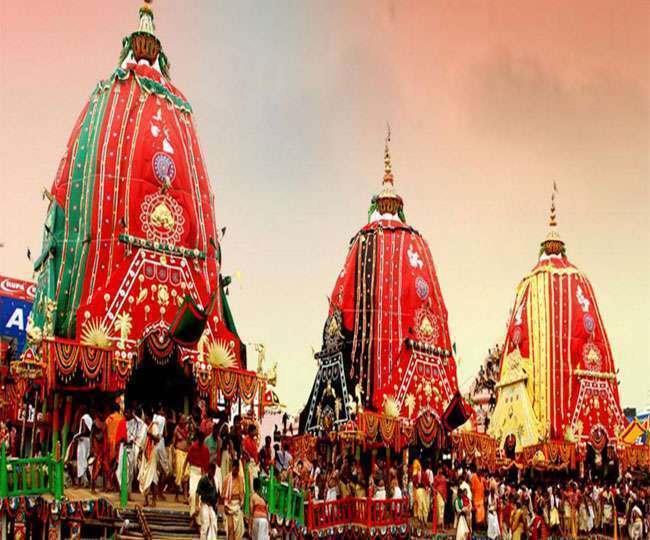 Jagannath Puri Rath Yatra 2021:
The famous Jagannath Yatra is organized every year in Puri, Orissa, and this year too the yatra is commencing on 12th July, which will continue till 20th July on the day of Devshayani Ekadashi. The Rath Yatra of Lord Jagannath is also known as Gundicha Yatra, Patitpavan Yatra, Janakpuri Yatra, Navday Yatra and Dashavatar Yatra. 
However, similar to the last year, this year too, lakhs of devotees will not participate be able to participate in due to the Covid-19 guidelines, but all the rituals of the scriptures will be duly followed. Apart from Puri in Orissa, people also organize the journey of Lord Jagannath in many other parts of the country. 
Puri Yatra Date and Muhurat:
According to Padma Purana, the famous Rath Yatra of Lord Jagannath is organized on the Dwitiya Tithi of Shukla Paksha of Ashadha month. Those who rest for seven days in the temple of Mata Gundicha and return home on the day of Devshayana Ekadashi. This year, the Rath Yatra will be taken out tomorrow on Monday 12th July, and will end on 20th July on Ekadashi.
The date of Dwitiya has been started on 11th July at 07:47 in the morning, but the sunrise will be the second date of July 12, which will remain till 08:19. Therefore, the second date will be considered today, and Rath Yatra will also start from today morning.
Significance of Jagannath Rath Yatra:
Lord Jagannath's Dham in Puri is one of the four Dhams of Hindus. The Rath Yatra of Lord Jagannath is being organized for hundreds of years and its greatness has been described in the Puranas and religious texts. Lord Jagannath is a form of Shri Krishna, an incarnation of Vishnu. In the form of Balabhadra, sister Subhadra in the middle and Lord Jagannath's chariot comes out in the form of Balabhadra.
It is believed that the mere sight of this Rath Yatra removes all the troubles of the devotees and by the grace of God one attains the world of Baikunth. Many saints like Adi Shankaracharya, Chaitanya Mahaprabhu, Ramanujacharya, Jayadeva, Kabir, and Tulsi have visited Jagannath Puri and accepted the glory of Lord Jagannath and became his exclusive devotee.