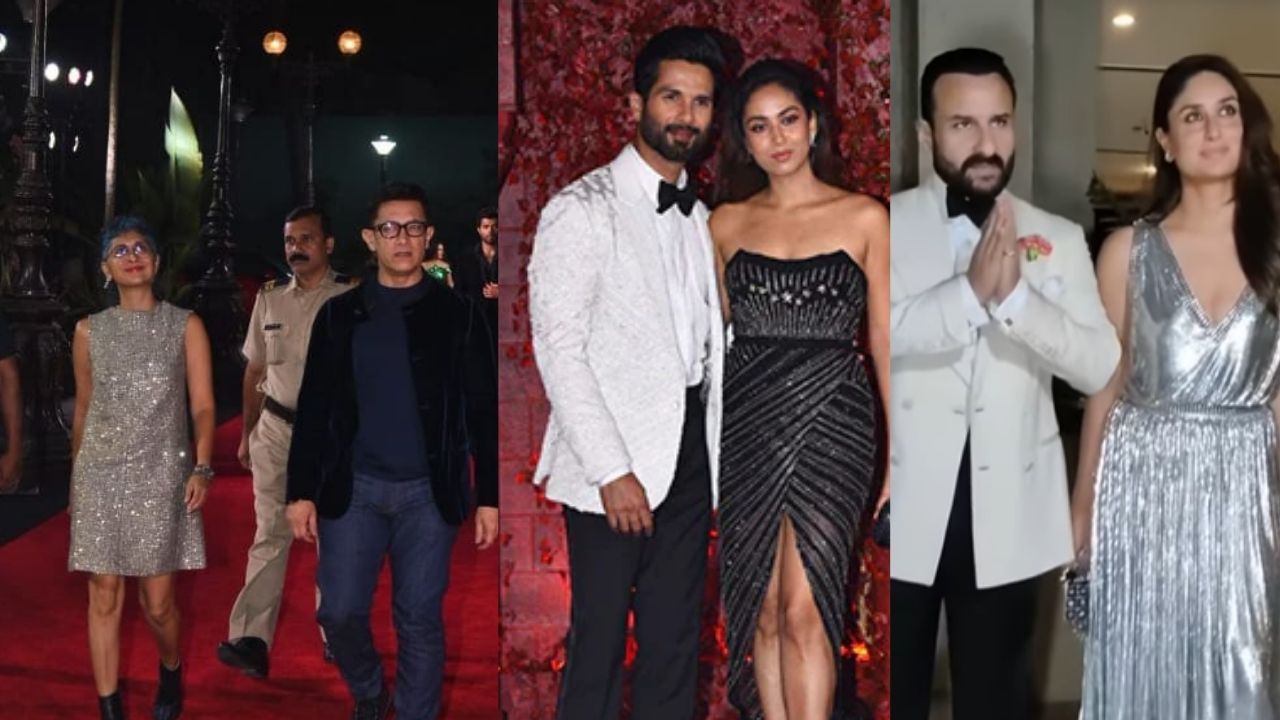 From the red carpet to Bollywood celebs slaying in their finest party attire, Karan Johar's 50th Birthday party was no less than an award show. It was a grand occasion in the town. The reunion of prominent Bollywood ex-couples was one of the things that fans noted the most. While everyone was focused on the town's new lovebirds, such as Siddhant-Navya, Kiara-Sidharth, and others, there were a few times when the ex lovers exchanged glances. While Kirran Rao and Amir Khan walked the red carpet together, others kept things low-key and posed alone on the red carpet to avoid affecting their party vibe.
Aamir Khan and ex wife Kirran rao walks together at Kjo birthday bash
Aamir Khan was joined at the party by his ex-wife Kiran Rao.  Aamir and Kiran arrived at the venue together and happily posed for the paparazzi. Kirran, on the other hand, donned an A line shimmering dress while the Dangal actor kept things casual with a t-shirt, jacket, and denims.
 

 

 

View this post on Instagram
Aishwarya & Salman attends Kjo's 50th birthday bash
While Kirran and Amir posed happily together, Aishwarya and Salman maintained the distance and were seen enjoying and posing for the red carpet alone.  But, all focus on the Cannes OG couple. In their gorgeous outfits, Aishwarya Rai and Abhishek Bachchan looked utterly regal. Aishwarya Rai wore a dazzling golden gown with a sophisticated black jacket. Abhishek Bachchan, on the other hand, wore a dapper tuxedo.
 

 

 

View this post on Instagram
Salman's entry in the birthday bash was almost a suprise for many fans and even the Bollywood celebs considering his a bit frosty releationship with filmmaker Kjo but seems like Bollywood is finally coming into one umbrella.
 

 

 

View this post on Instagram
Ranbir Kapoor- Katrina Kaif attends Karan Johar birthday bash
 
Yes, Ranbir and Katrina too were present at the star studded affair but, this time Katrina was spotted with her beloved husband Vicky kaushal and while Alia Bhatt is away shooting for her Hollywood debut, Ranbir attended the bash with mom Neetu Kapoor.
 

 

 

View this post on Instagram
 

 

 

View this post on Instagram
Ranveer-Anushka the ex Bollywood couple reunites at KJo 50th birthday
While Deepika is busy at the Cannes 2022 jury panel Ranveer had to make his red carpet appearance alone on the other hand with Virat Kohli being busy in the IPL matches Anushka Sharma too came with no plus one. While Anushka Sharma's sensual avatar at Karan Johar's birthday event had many hearts skip a beat, Ranveer Singh stunned everyone with his not so unique red carpet costume choice.
 

 

 

View this post on Instagram
 

 

 

View this post on Instagram
View this post on Instagram
 

 

 

View this post on Instagram
Kareena Kapoor-Shahid Kapoor at the Kjo birthday bash
Both Kareena and Shahid who were once the famous and most loved Bollywood couple made their red carpet appearance with their spouses. Bebo looked stunning in a silver dress, while Saif complemented her look with a cream coloured coat, black pants, and a tuxedo. On the other hand Shahid Kapoor was almost twinning with Saif & walked hand in hand with wife Meera.
Hrithik Roshan- Sussanne Khan party under one roof
At Karan Johar's birthday party, Hrithik Roshan made his first formal public appearance with actor-singer Saba Azad, making their relationship official. Hrithik's ex-wife Sussanne Khan attended the celebration with lover Arslan Goni.
 

 

 

View this post on Instagram
 

 

 

View this post on Instagram