Karwa chauth 2021: Is it wrong to say that Indian rich cultural heritage, religious beliefs along with many colorful festivals from every corner of the country is what makes it different from the others. You cannot be an Indian if after every one or two months you don't get excited about any festival. In this long list of several festivals and holidays, month of September to December is the most awaited ones during these times you will just find yourself jumping from one festival to another in these months. Now here comes the next one, it's just been a few days when we celebrated Navrati and Dussehra and now Karva Chauth is around the corner.

This year the festival is falling on 24th and 35th October. Karwa Chauth is claimed to be one of the most auspicious and full of love festival. It is commonly a fast which is observed by a woman who pray for their husband's long life and health. In many cases young girls also observe this to get the desired groom. Being a Hindu festival, it is more significantly celebrated in the northern part of India. After Hartalika teej it is also known as the toughest fast for women who observe it from the sunrise till the moonrise without drinking a drop of water and eating anything.On the Chaturthi of the Karthika month, Karwa Chauth means offering Argya to the moon in an earthen pot known as Karwa.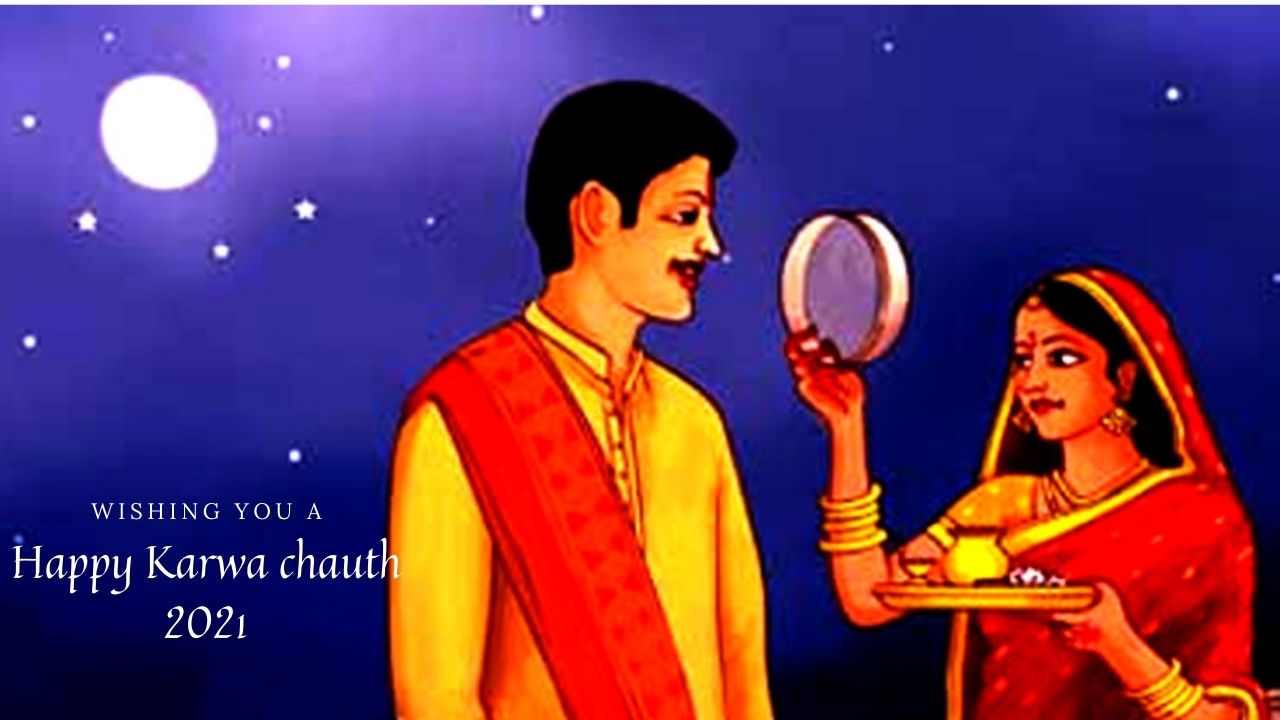 History of Karva chauth:
Although there are several stories and tail justifying the reasons why woman observe such strict and nirjala vrat on this day, some of them are most prominent and gets included in the 'Vrat Katha'. 
According to the story it goes back to the time when a queen named Veerawati was deeply in love with her husband. She was also the only sister among her 7 brothers, so it was quite obvious that the brothers can't see her in pain and loved her the most. So the story goes to the time when Veerawati gets married and laves her parent home. Next on the day of Karwa Chauth she returned to her home while she was observing the fast after sunrise. By the evening she was waiting eagerly for the moon to come out so that she can eat something, watching her suffer the brothers begged her to eat something, but she denied, so they came up with the plan where one of them climbed up the pipal tree and held up a sieve with the flame behind it. They then bought their little sister and showed her that the moon came out, innocent Veerawati believed them and broke the fast the moment she did it her the news of her husband came. She began to cry, and a Goddess appeared in front of her, revealing that she had been duped by her brothers she then promised to keep the fast with full devotion when Yama, the Lord of Death, saw her devotion, he restored her husband's life.
Significance of Karwa chauth in Mahabharta:
Along with many other vrat katha there is also a chapter in Mahabharata where the importance of observing the fast on this day has been explained. So, there was one time when Arjuna went to Nilgiri mountain for a long period as a self penalty after he left the other Pandavas started to suffer and were facing a hard time. Draupadi who was the wife of the Pandavas was feeling sad watching them suffer she then remembered Lord Krishna and asked him the solution to which he narrated him the story of Goddess Parvati and a similar incident which occurred which was solved after she observed a karwa chauth fast listening to which Draupadi also became determined to do the fast with pure devotion, as a result the suffering of Pandavas soon went away.
Significance of Karwa Chauth:
Karwa Chauth is a ritual in which married women pray to Lord Shiva and Goddess Parvati for a long life for their husbands. They wear ethnic dresses mostly saree and salwar suit and wears Sindoor along with other accessories and make-ups. Woman from neighborhood gather at one place where they hear Vrat Katha and stories together till the moon rise.
Sargi:
It is one of the most important ritual of observing the fast. Sargi is generally a plate full of fruits, Kheer, halwa, dry fruits and all those foods which can provide enough energy for the long day ahead. Generally the mother-in-law offers this plate to her son's wife in the morning before the sun rise as her blessing.
Not only women but these days even husbands keep the fast for their beloved wife and prays the same for her. It represents the husband and wife's love and care, as the wife fasts for the entire day for her husband's safety, while he, in return the husband often gifts something to their wife to show affectionate gesture and feeds her after moonrise, breaking/fulfilling her fast.
Why do we celebrate Karwa Chauth:
There is a reason behind why Karwa Chauth is celebrated with much devotion and love in Northern and western India. Soldiers of the Indian Army and officials of the Military Forces made up a large portion of the male population in these areas, and that's why their wife and most of the woman's started to observe the fast for their long live sand safety. Karwa Chauth falls on the first day of the Rabi crop season. This can also be celebrated as a prayer for a good harvest in the coming season because the clay pots where wheat is stored are also called as karwa.

There is one more reason why the vrat katha is narrated in the group of woman, so in the ancient time girls in their teenage or shall we say during 10-13 used to get married. Now after marrying, all the house responsibility used to come upon her from an early age only due to which they were kept deprived of enjoying their life, coming to their parent's home for a long visit was also not considered good and that's why the women began to celebrate Karwa Chauth in a big way, gathering married women from the entire village and some neighboring villages in one spot to spend the day in joy and fun. This festival began as a way for them to have fun and forget about the fact that they were alone at their in laws.