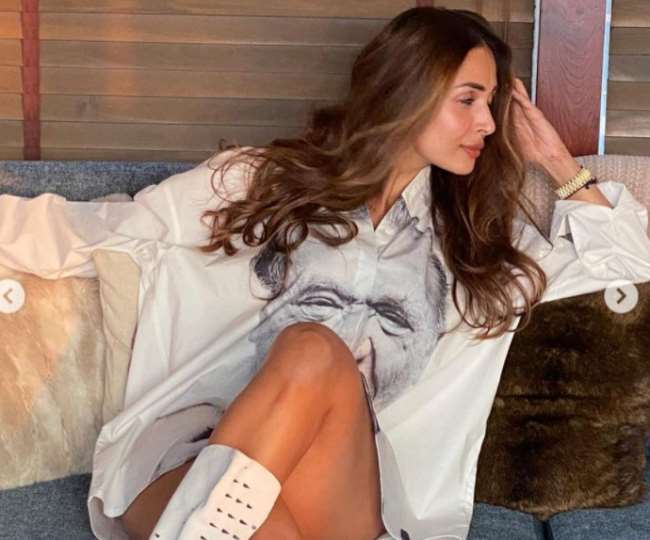 Malaika Arora secret home remedy for hair loss: Coronavirus has seriously taken a toll on everyone. The infected person deals with many physical and emotional health issues during their road to recovery. Be it weak stamina or other effects like dull skin and hair loss, the body suffers a lot and needs aftercare. Talking about the same, Bollywood actress Malaika Arora shared a special post on her Instagram and shared how she battled with Covid-19 and suffered many problems including hair loss. The actress shared her secret home remedy which helped her in haircare and how she maintained her thick, silky hairs and controlled her hair loss post-recovery. 
Defining strength and sharing her road to recovery after fighting with Covid-19, Malaika Arora Arora shared a special post on Instagram and penned down her journey. Along with this, she shared how the most concerning symptom and impact were on her hair and she faced a lot of hair loss. 
Malaika Arora secret kitchen ingredient for controlling hair fall

Sharing her kitchen ingredient and home remedy to fight hair loss, Malaika revealed how she used onion for her hair loss. Yes, you heard it right. Apart from bringing the perfect flavours to your recipes to be the perfect partner in your salad, onion has another wonderful use. 
Onion Control Hair Fall and Stimulates Hair Growth
This common kitchen vegetable is a magical ingredient for your hair as it has anti-inflammatory and antimicrobial properties helping in fighting fungal infections and dandruff. It stimulates blood flow in the follicles and helps in hair growth and reduces hair fall. In short, the onion is a magical ingredient for your hair related issues. 
How to use onions to control hair fall?
We know onion is the king and even our fitness diva Malaika suggested it. But now you may be wondering how to use it. Right?
Well, there is no rocket science in it. All you have to do is take out the juice of onion and apply it to your hair roots. 
Malaika Arora DIY Onion Remedy for Hair
You'll need-
How to apply it
Malaika's  #MalaikaTrickorTip for using onion for hair growth was, "Grate one onion and extract the juice. Use a cotton pad and apply it in sections of your hair all over your scalp. Keep it on for half an hour to 45 minutes and then wash off with your favourite shampoo with a paraben-free shampoo. You'll see the results within a week."
Why Is Onion Good For Hair?
Onion is one of the vegetables which has sulfur in it. Sulfur helios in providing needed nourishment to your hair follicles, stimulating flood flow to roots. 
It also has anti-microbial properties which help in fighting any scalp infections including dandruff and problems triggering itchy scalp. Onion also holds ample amounts of antioxidants which can help in preventing grey hairs and makes your hairs long and healthy. 
It will fight dandruff, scalp infections, hair loss and will backup hair growth making it a perfect ingredient for your hairs.