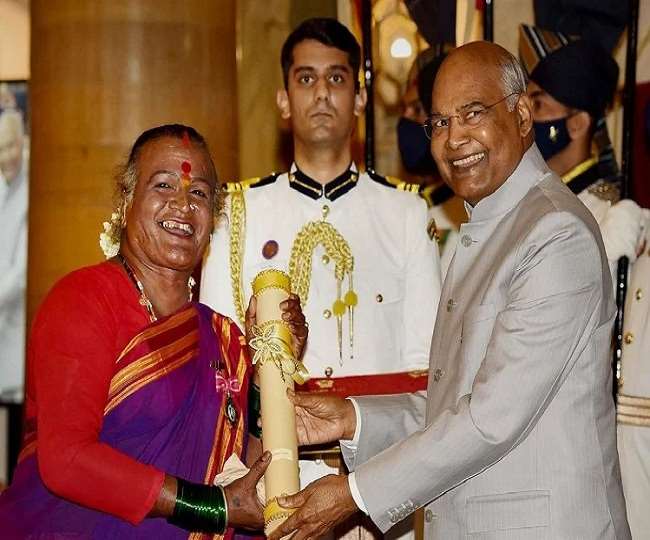 Manjamma Jogati Padma Shri:
President Ram Nath Kovind conferred the Padma Shri award to various achievers on 8th and 9th November, and one such achiever was Manjamma Jogathi. Manjamma Jogathi became the first transgender to be honored with a Padma Shri award, the fourth highest civilian award. So, in this article further, let's know more about Padma Shri Manjamma Jogathi Biography, Age, story, and career.
Matha B Manjamma Jogati Biography:
Born as Manjunatha Shetty, Manjamma Jogathi is an Indian Kannada theatre artist, dancer of Jogti Nritya, which is a folk dance form of North Karnataka, and a singer. Manjamma Jogathi in the year 2019 became the first transwoman to lead The Karnataka Janapada Academy, the state's top institution for folk arts. While in the year 2021, Manjamma was conferred with the Padma Shri award by the Government of India for her extended contribution to the field of folk arts.
Manjamma Jogati Age:
Born on 18th April 1964, Manjamma Jogathi is 57 years old.
Manjamma Jogati Birthplace:
Manjamma Jogati was born as Manjunatha Shetty in Kallukamba village in Ballari District to parents Hanumantaiah and Jayalakshmi.
Manjamma Jogathi Story:
Padma Shri Manjamma Jogathi used to perform all across the state of Karnataka after she became a permanent dancer in Kaalavva's Jogati dance group. Followed by Kaalavva's death, Manjamma took over the group and worked towards making her dance popular among the people. In the year 2010, Manjamma was conferred with the Rajhotsava award by the Government of Karnataka. 
It must be noted that Manjamma was initially appointed as a member of the Karnataka Jaanapada Academy, and later as the president of the same institution by the Government of Karnataka.