Matsya Setu App: The government of India has launched a special application to help farmers and fishermen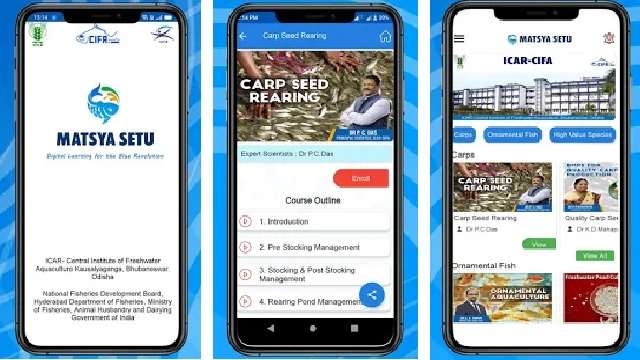 Matsya Setu App:
The Union Minister for Fisheries, Animal Husbandry, and Dairies, Giriraj Singh launched Matsya Setu mobile app for fish farming farmers on Wednesday. The mobile app has been developed by ICAR and CIFA and is being funded by NFDB.
Let's know about the application in the article below.
Matsya Setu mobile app has been developed to provide online self-learning modules to know about different species. Also, the platform will avail basic information on fish breeding, seed production, and grow-out culture by experts. Apart from this, fish farming farmers will be taught through short videos in the app to maintain the quality of soil and water, better management, follow food and health management in aquaculture operations.
In Matsya Setu mobile app farmers will be given an e-certificate on completion of each course module and they can ask questions to experts through this app.
Union Minister Giriraj Singh has stated that PM Modi launched the flagship scheme Pradhan Mantri Matsya Sampada Yojana in September 2020 to develop the fisheries sector with an investment of Rs.20,050 crore. Achieving the ambitious targets of additional 7 million tonnes of fish production under PMSY, Rs 1 lakh crore fish exports, 55 lakh employment generation in the next five years, etc. requires multi-pronged strategies with collaborative and concerted efforts between the government and stakeholders. Adding further, he said that the app, farmers will be able to understand better about the new technology and this will ultimately lead to their development.