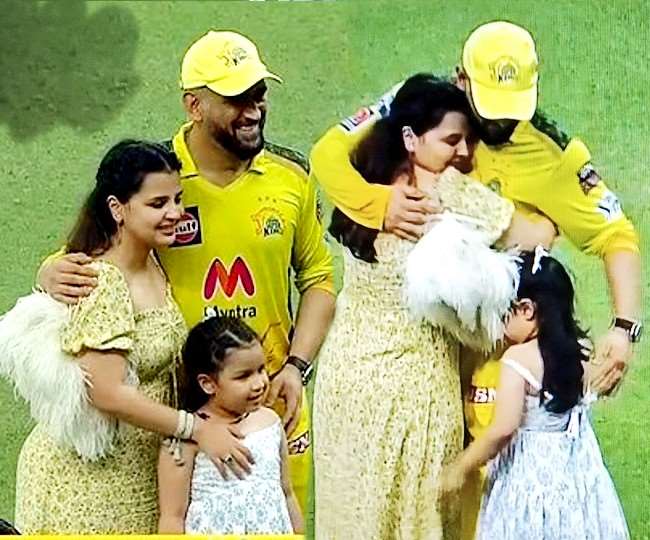 Chennai Super Kings won IPL 2021
After a heartbreaking season for Chennai Fans in 2020, the 2021 season brought extreme happiness to fans and the players as Mahendra Singh Dhoni's Chennai Super Kings lifted their 4th IPL Title by becoming the IPL 2021 Champions on Friday Night. The Franchise has earlier won the IPL 2010, 2011 and 2018. Also the Super Kings have entered the IPL finals 9 times, most by any team. In the Match played at Dubai International Stadium on October 15,2021, Chennai Super Kings lost the toss to Kolkata Knight Riders and had to bat first. After putting 192 runs on the board, the team managed to ensure victory by restricting the Knight Riders on just 165 runs.
Dhoni and Sakshi expecting their Second Child

After this fantastic victory, the players and their families celebrated with great zeal and enthusiasm. During this, MS Dhoni's wife Sakshi and his daughter also rushed to the ground to celebrate the 4th title won by CSK. MSD's wife Sakshu could be seen hugging him and his daughter Ziva Dhoni also didn't loose any time and quicky hugged him. After the event, people started making speculations about Sakhi being pregnant. 
And now the news has been confirmed by Dhoni's teammate and friend Suresh Raina's Wife Priyanka Raina. She confirmed that the couple is expecting their second child and Sakshi is pregnant. So, the season has not just brought happiness to Dhoni in professional life but also in his personal life.
After the news was confirmed fans have started expressing their excitement on social media and have congratulated the couple for the addition in the family.
Birth of Ziva Dhoni

Dhoni and Sakshi welcomed their first child on February 6,2015, just before the ICC World Cup 2015. Keeping his National Duty ahead, Dhoni decided not to meet his new born baby girl, who was named Ziva Dhoni, until the World Cup Campaign ends. Another interesting fact related to Ziva's birth is that it was Dhoni's friend and teammate Suresh Raina who first learned about the birth of Ziva as Dhoni didn't carry mobile phone to the World Cup, which took place in Australia. Hence, Sakshi had to message Suresh Raina about the birth of baby girl and it was he who passed the good news to MSD. India reached the semi-finals of the world cup but faced a crushing defeat from the hosts and lost by 95 runs.