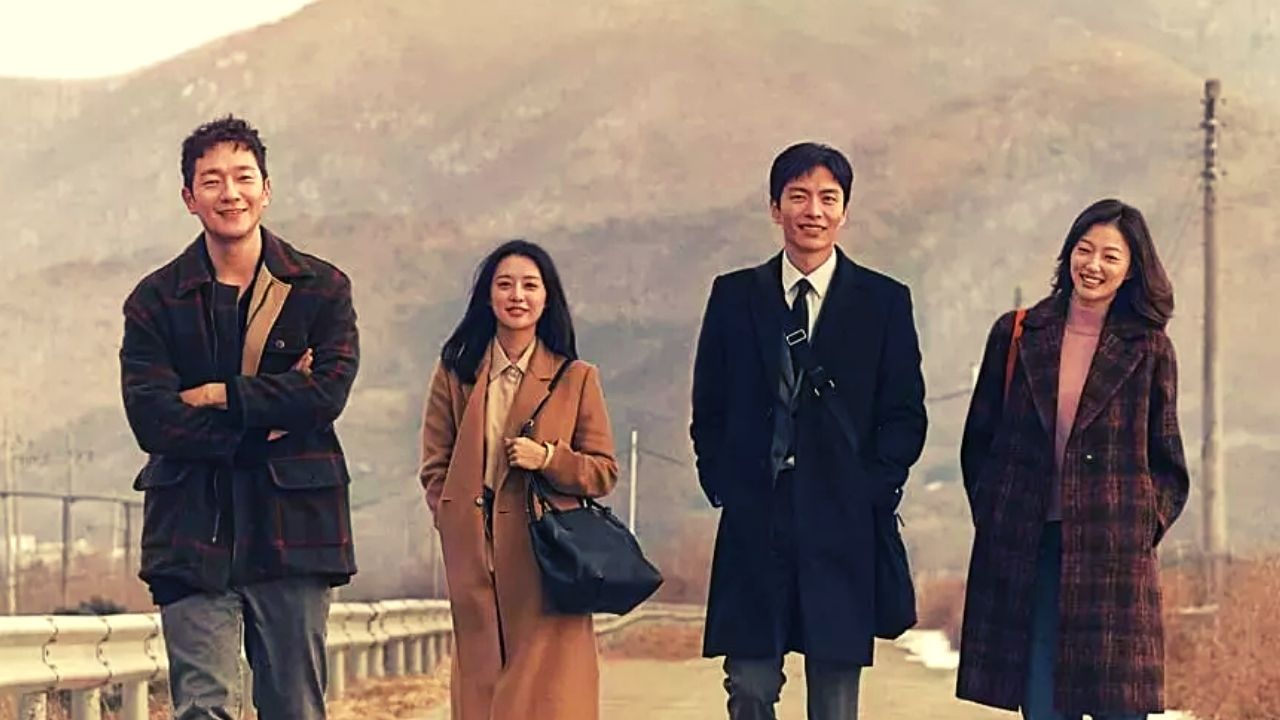 My Liberation note episode 8 :
Netflix K-drama My Liberation note is doing wonders in the life of k-drama lovers. With it's realistic touch, amazing screenplay and the slow and steady story development it is winning over the hearts of people. The K-drama stars Lee Min-ki, Kim Ji-won, Son Seok-koo, and Lee El among the other  cast members. It premiered on April 9, 2022, and airs every Saturday and Sunday at 22:30 on JTBC (KST) and Netflix.
MY liberation note episode 8 review
The story started with Mi Jeong & Mr Gu developing a relationship where he waits for her in the convenience store while she completes her work and on the other hand Mi Jeong is now slowly opening with Gu. When Mi Jeong's friends ask her what she found interesting in him she said 'he has no shell' and that 'he is transparent'. She repeated the same when she was walking with Gu back to home to which he laughed and asked her about being transparent because his character doesn't seem so, but Mi Jeong didn't budge for a slightest moment, instead she continued by saying yes. Gu then asked her whether she is worshiping him and they smiled at each other.
Gi Jeong  & Tae Hoon love story
On the other hand, Gi Jeong is inspired by Chang Hee and his childhood buddy's talk, and she decides to take a chance and confess her feelings to Tae hoon, and if he disappoints her, she will pretend to get hit by a motorbike driven by Chang Hee and his friend, and then black out. She will then wake up and act as if she has never admitted anything to anyone, and everything will return to normal. But, things turn even worse when Tae hoon doesn't return his feelings to her and gets shocked by the random confession which breaks Gi jeong into tears and despite getting hit she fails to pretend anything.
Next Gi Jeong, Chang Hee, Hyun na and others sit together and wait for Mi jeong and Gu. Hyun Na says that she can easily find out if something is wrong with Mr. Gu. As the story comes to an end a rainbow shines and everyone gets up to take the picture, just then phone dings and Chang Gee gets a message of not getting selected in a team lead but, instead of getting disappointed he pledges to get a promotion, Gi Jeong also wants to live her life happily again and on the other side Mr Gu and Mi jeong looks at a rainbow while talking about meeting his younger self.
Fans react at K-drama My Liberation notes episode 8