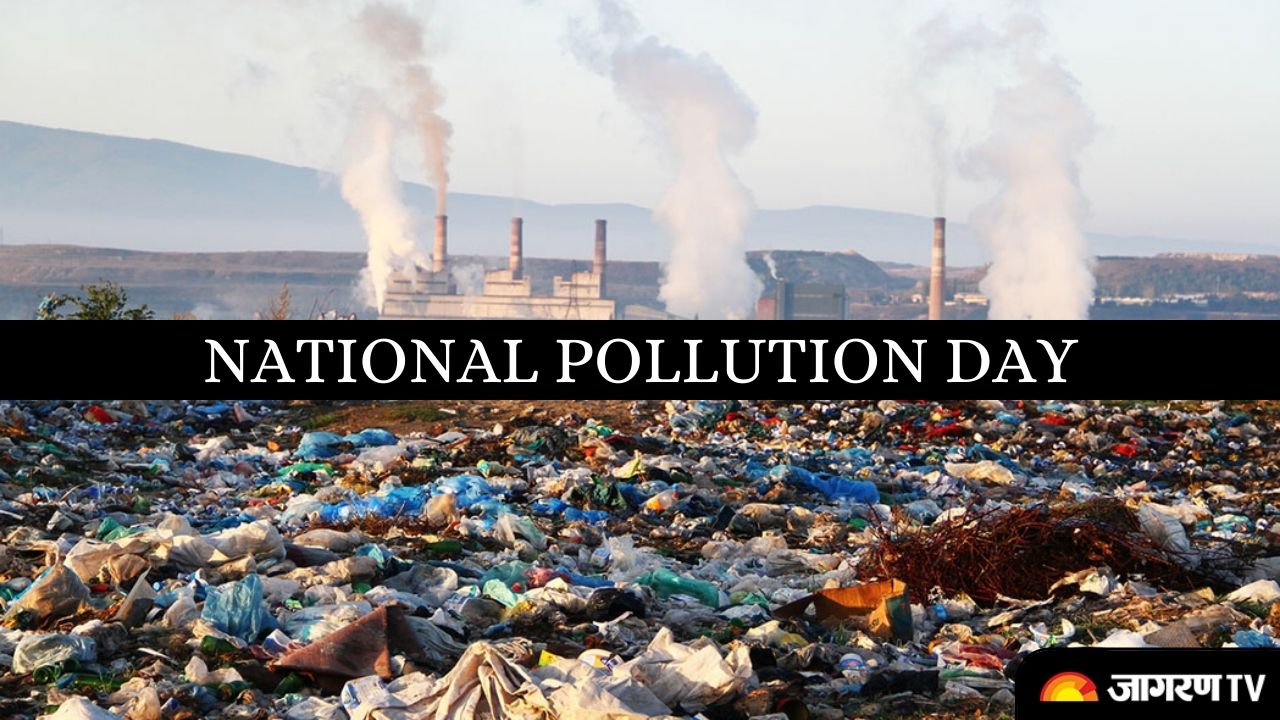 National Pollution Control Day 2021: Pollution has always been one of the top concerns of humanity. With technological advancement, development and increasing population, the rise of pollution has also become inevitable. The more human activity the more it has an adverse effect on the environment. Preventing pollution now has become a global concern as everyone including humans and animals are entitled to clean air to breathe, clean water to drink and clean land to live in. 
There is a quote by R.Buckminster Fuller which states, 
"Pollution is nothing but the resources we are not harvesting. We allow them to disperse because we've been ignorant of their value."
So just to get rid of something we just can't deal with we drop it in our environment making our air land and waters polluted. While we get rid of something we don't want, we also get something which makes it difficult to live. So controlling our habits and preventing pollution is the need of the hour. National Pollution Day gives us a trigger that we have to do a lot and stop neglecting the deets we did to spoil our environment. 
National Pollution Control Day 2021 Date 
 National Pollution Control Day is observed every year on December 2. This year too we are observing this day on Dec 2, 2021 on Thursday. 
National Pollution Control Day- Bhopal Gas Tragedy 
This day is also dedicated in the memory of India's one of the most tragic industrial accidents, Bhopal Gas tragedy. The unfortunate event took place on the night of December 2nd and 3rd, 1984. Bhopal witnessed the leak of  Methyl Isocyanate also known as MIC in the night which made people lose their lives. Thousands of people lost their lives and the people living in the city are experiencing the side effects of the gas leak till date. 
National Pollution Control Day 2021 Significance
According to a report by Livemint, 'At least 30.7% of deaths in India can be attributed to air pollution from fossil fuels--that means about 2.5 million people die every year after breathing toxic air.'
The National Health Portal of India has revealed that every year around 7 million people die globally due to air pollution. Among them 4 million of the population solely die due to the impacts of indoor air pollution.
National Pollution Control Day Objective
The main objective of observing National Pollution Day is to educate the masses about the importance of pollution control preventive measures, and how to adopt an environmentally friendly and low carbon footprint life. The day is to be aware and urge people to control and protect our earth from air, water, and noise pollution. 
National Pollution Control  Acts by Indian Government
Water (Prevention and Control of Pollution) Act of 1974

Water (Prevention and Control of Pollution) Cess Act of 1977

Air (Prevention and Control of Pollution) Act of 1981

Environment (Protection) Act of 1986

Environment (Protection) Rules of 1986

Manufacture, Storage and Import of Hazardous Chemical Rules of 1989

Manufacture, Storage, Import, Export & Storage of Hazardous Micro- Organisms Genetically Engineered Organisms or Cells Rules of 1989

Chemical Accidents (Emergency, Planning, Preparedness and Response) Rules of 1996

Bio-Medical Waste (Management & Handling) Rules of 1998

Recycled Plastics Manufacture and Usage Rules of 1999

Ozone Depleting Substances (Regulation) Rules of 2000

Noise Pollution (Regulation and Control) Rules of 2000

Municipal Solid Waste (Management & Handling) Rules of 2000

Batteries (Management and Handling) Rules of 2001

Environment Impact Assessment Notification of 2006

The National Green Tribunal Act, 2010

Solid Waste Management Rules, 2016

Hazardous and Other Wastes (Management and Transboundary Movement) Rules, 2016

Bio-Medical Waste Management Rules, 2016

Plastic Waste Management Rules, 2016

E-Waste (Management) Rules, 2016

Construction and Demolition Waste Management Rules, 2016