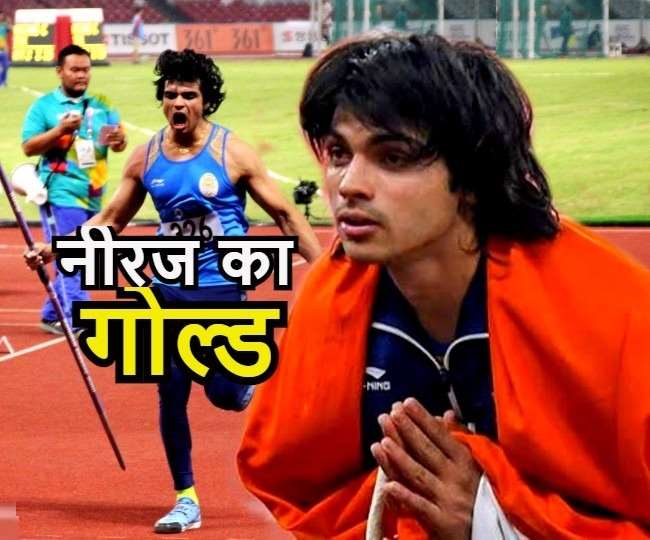 Neeraj Chopra Biography:
India's ace javelin thrower Neeraj Chopra set a new national record as he threw 89.30 metres at the Paavo Nurmi Games in Finland. Chopra's earlier national record was 88.07m which he had set in Patiala in March last year. He had won the Tokyo Olympics gold with a throw of 87.58m on August 7, 2021. Neeraj Chopra is India's first ever Olympic gold medallist in athletics and only the second individual gold medallist at Olympics.
Creating history in the pages of the Indian Olympics Neeraj Chopra has become the first-ever Indian Athlete to bring Gold. The 23-years-old Neeraj smashed a big throw of 87.58 meters creating history. All the eyes are on this young javelin thrower who made Indian proud on the world stage. 
 

 

 

View this post on Instagram
Neeraj Chopra Olympics 2020:
Indian track and field athlete Neeraj Chopra has won India's first gold medal at the Tokyo Olympics and has become India's second-ever individual Olympic medalist after shooter Abhinav Bindra (2008). Neeraj Chopra won a Gold medal at the Men's Javelin throw finals at Tokyo Olympics with his best throw of 87.58 m.
Who is Neeraj Chopra?
An Indian track and field athlete, Neeraj Chopra is also a Junior Commissioned Officer (JOC) in the Indian Army who represents India in Javelin throw. Neeraj's best was an 88.06m throw at the 2018 Asian Games and 2018 Commonwealth Games which won him a Gold Medal, which was further improved by him to be 88.07m.
Chopra also was the flag-bearer at the opening ceremony for India at the 2018 Asian Games.
Neeraj Chopra Best throw:
Neeraj had his best throw at 87.58 m in Men's Javelin throw final at Tyo Olympics 2020.
Neeraj Chopra Age, Date of Birth and parents
Born on 24th December 1997, Neeraj Chopra is 23 years old from Khandra village, Panipat, Haryana. His fathers name is Satish Kumar and 
Neeraj Chopra World Ranking:
Neeraj Chopra is currently at the 2nd rank across the world in Javelin Throw.
Neeraj Chopra Sports:
Neeraj Chopra represents India in Men's Javelin Throw.
Neeraj Chopra Early Life: Parents, School, collage
Hailing from Khandra village, Panipat district, Haryana, Neeraj received his education from the DAV College, Chandigarh. Also, Neeraj is a Junior Commissioned Officer of the Indian Army with the rank of Naib Subedar in 2016.
Neeraj Chopra Career:
During his earlier career, Neeraj was the 2016 World U20 champion and he set the world under-20 record of 86.48m. Also, Neera is the first Indian athlete to ever win a World title in Track and Field at U-20.
Neeraj Chopra Coach
Uwe Hohn is the contracted coach of Olympic gold medalist Neeraj Chopra. 
Neeraj Chopra Olympic Gold
Neeraj Chopra wins India's first Gold medal in the history of the Olympics in athletics and makes the nation proud.