Neha Dhupia Instagram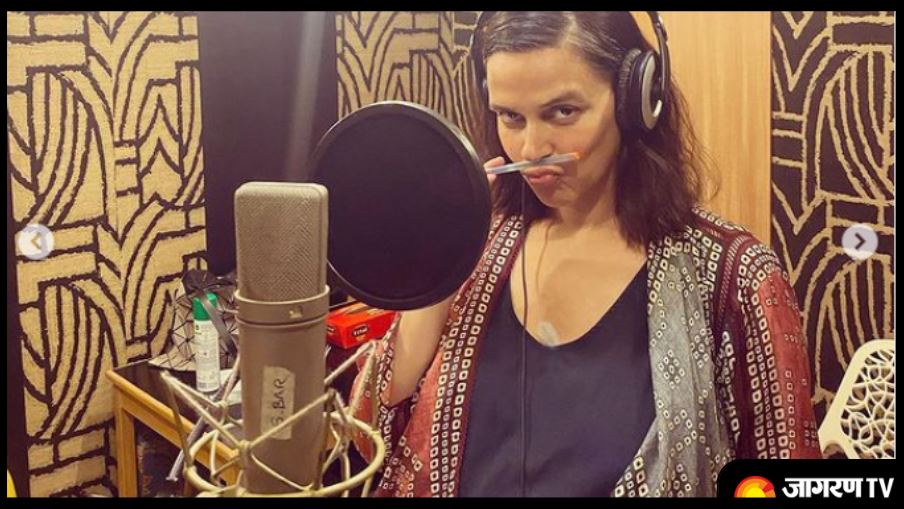 Actress Neha Dhupia will soon become a mommy to her second child. While she is in her Third trimester, the actress is not taking a break from her work. Neha is also keeping her fans updated with her latest news from daily life. While she is experiencing motherhood for the second time, this time too she is sharing her experience with pregnancy and how she is keeping herself mentally and physically fit.  
Neha Dhupia dubbing for film Sanak
In her recent post, Neha Dhupia talked about the difficulties she is facing while dubbing for her upcoming action film 'Sanak'. Sharing pictures from her dubbing session and BTS fun, Neha penned down her problems and difficulties she is facing e going through her third trimester. Neha Neha also thanked the entire cast for helping her and giving her the best environment during this scenario. 
Sharing the pictures, Neha wrote, "Dubbing for an action film in your third trimester is a different ball game ofcourse I had no idea when I was shooting that I would be coming back to dub some bits in this state Somewhere between the breathlessness and the back ache and the burps. The only way out was to sit and get thru as opposed to always standing and recreating the force (sic)."
Neha further adds, "I love dubbing it gives you the opportunity to re create so much in such a controlled environment but when you are this pregnant one just has to do the same things differently. This ones for the cast n crew on #sanak thank you for making me a part of this and now can't wait for everyone to watch it . @mevidyutjammwal @kanishk.varma #vipulshah @iamroysanyal @rukminimaitra @sunshinepicturesofficial @aashin_shah (sic)." 
Neha Dhupia, Angad Bedi announce their second Pregnancy 
Let us tell you that last month on July 19, Neha and Angad revealed that they are expecting their second child soon. Neha shared this special news while posting a cute family pic  with ANagad and their daughter Mehr. Sharing the picture, Neha wrote, "Took us 2 days to come with a caption. The best one we could think of was Thank you, God @prasadnaaik #WaheguruMehrKare (sic)."