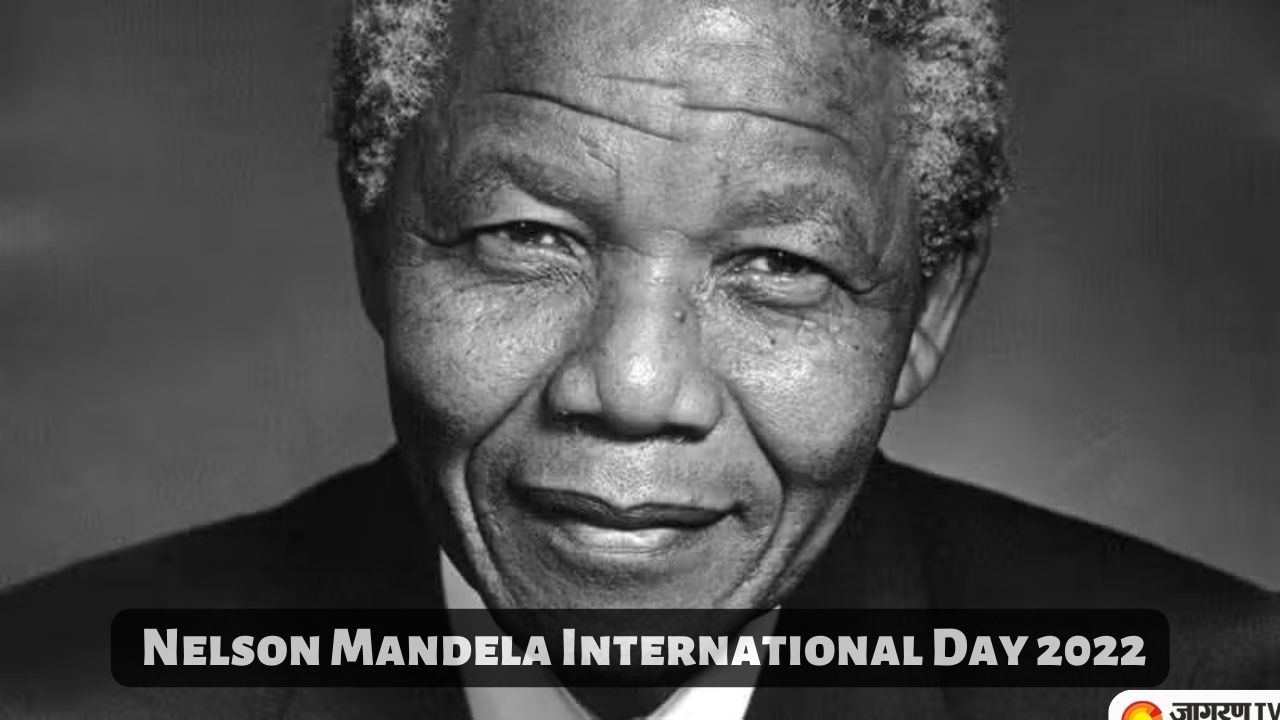 It is easy to break down and destroy. The heroes are those who make peace and build.  - Nelson Mandela
Nelson Mandela International Day 2022: On July 18, 1918, Nelson Mandela was born in South Africa. He was an outstanding revolutionary, statesman, and philanthropist. Nelson Mandela International Day is observed on July 18, which also happens to be his birthday. It's also referred to as Mandela Day.
As a human rights lawyer, a political prisoner, a global mediator, and the first democratically elected leader of a free South Africa, he had dedicated his life to serving humanity. He demonstrated that nothing is impossible; all that is needed to realise one's aspirations is determination.
Who was Nelson Mandela?
On July 18, 1918, Nelson Rolihlahla Mandela was born in Transkei, South Africa. His parents were Nkosi Mphakanyiswa Gadla Mandela and Nonqaphi Nosekeni. After his father passed away, Jongintaba, the Tembu regent, reared him. There, he frequently heard tales about the bravery of the ancestors who fought for independence. He attended University College of Fort Hare to earn his B. A. But because he had joined the student protest, he was denied his degree. He was thus dismissed from the college. 
He then returned to the Great Place at Mqhekezweni, where the monarch had threatened to arrange a marriage for him if he did not finish his degree.
He fled to Johannesburg as a result, where he was employed as a mine security officer. He eventually obtained his B.A. after completing his studies at the University of South Africa. He is without a doubt one of South Africa's most well-known anti-apartheid activists.
He joined the African National Congress party in 1944, and later rose to prominence as the organiser of several nonviolent demonstrations against the white minority government in South Africa.
He was detained in Robben Island, Cape Town, South Africa, from 1964 to 1982 as a result of his leadership of the liberation movement against apartheid and his support for the right of everyone to live in freedom. He was in custody under 466.
Even the prisoners on Robben Island were only ever identified by their numbers rather than by their names. Mandela had the number 46664. He was released from prison in 1990 and made contributions to South Africa's multiracial democracy. He worked hard to get elected as president of South Africa in 1994. He thereby became South Africa's first black president. He continued to hold the office of president until 1999. Together with another former South African president, Frederic Willem de Klerk, he shared the 1993 Nobel Peace Prize.
In 2007, Mandela established the Elders, an independent organisation of world leaders who use their influence and expertise to support peacebuilding, assist in addressing the main causes of human suffering, and advance the common goals of humanity. 2013 saw his passing.
Nelson Mandela International Day 2022: Theme
Nelson Mandela International Day theme for 2022 is 'Do what you can with what you have where you are'.
Nelson Mandela International Day: History
The first Mandela Day was inaugurated in New York on July 18, 2009. On 10 November 2009, the United Nations General Assembly passed a resolution designating 18 July as "Nelson Mandela International Day." This day commemorates his commitment to world peace via his strong involvement in addressing racial concerns, advancing human rights, worldwide democracy, and atonement.
Nelson Mandela is being honoured with a number of statues and civic tributes, including a statue in his likeness at Johannesburg, South Africa's Nelson Mandela Square. Johannesburg also has a bridge, known as the Nelson Mandela Bridge. Nelson Mandela has also been honoured with a postage stamp and other musical tributes in the past.
Nelson Mandela International Day Quotes
"After climbing a great hill, one only finds that there are many more hills to climb."

"I learned that courage was not the absence of fear, but the triumph over it. The brave man is not he who does not feel afraid, but he who conquers that fear."

"We can change the world and make it a better place. It is in your hands to make a difference."

"Education is the most powerful weapon which you can use to change the world."

It always seems impossible until it's done."

"Money won't create success, the freedom to make it will."

"History will judge us by the difference we make in the everyday lives of children."