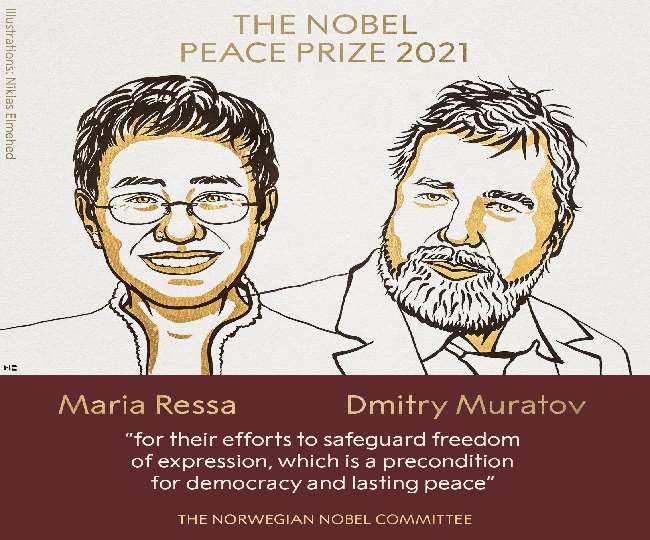 Nobel Peace Prize 2021
Journalists Maria Ressa and Dmitry Muratov have been awarded with the Nobel Prize in Peace for the year 2021. They have been awarded the prize for their considerate efforts to protect freedom of speech and expression, vital preconditions for successful democracy and maintaining peace. Maria Ressa is the Chief Operating Officer of a Philippines based newspaper-  Rappler while Andreyevich Muratov is editor-in-chief of the Russian Newspaper Novaya Gazeta. 
"Maria Ressa and Dmitry Muratov awarded the 2021 Nobel Peace Prize are representatives of all journalists who stand up for this ideal in a world in which democracy and freedom of the press face increasingly adverse conditions," said the Nobel Peace Prize Committee chair Berit-Reiss-Andersen while announcing the award. The Norwegian Nobel Committee seemed convinced with the fact that freedom of expression and freedom of information help in keeping people well-informed and are important prerequisites for a stable democracy. 
Nobel Peace Prize History

The Nobel Peace Prize Award is awarded by the committee elected by Norwegian Parliament (Stortinget). So far the Parliament has awarded 135 people out of which 17 are women. Alfred Nobel, the founder of Nobel Prizes, had a lot of interest in peace movement. His views on peace were influenced by Bertha von Suttner, the driving force of peace movement in Europe, who was later awarded the Nobel Peace Prize. Peace was the fifth and final award mentioned by Alfred Nobel in his will. 
The 2020 Nobel Peace Prize was awarded to World Food Organization for it's work to prevent the use of hunger as a weapon in war and conflicts.

Know everything about Maria Ressa here:

Maria Ressa Birth
Maria Ressa was born on October 2,1963 at Manila, Philippines and is currently 58 years old. She lost her father when she was just one and was taken to USA by her mother when she was ten, where her step-father adopted her. 
Maria Ressa Education
She acquired education in molecular biology and theatre at Princeton University, where she also acquired the degree of BA English with distinction and certificates in Theatre and Dance in 1986. She then received Fulbright Fellowship for studying political theatre at the University of Philippines Diliman.
Maria Ressa Career
She has worked for various news agencies including CNN, ABS-CNN, The Wall Street Journal. She also taught courses in Politics and Press in Southeast Asia for Princeton University and in Broadcast Journalism for University of Philippines Diliman.
Maria Ressa Books
Maria has also written two books such as Seeds of Terror: An Eyewitness Account of Al-Qaeda's Newest Center and From Bin Laden to Facebook: 10 Days of Abduction, 10 Years of Terrorism 
Maria Ressa and Rappler
Maria co-founded an online newspaper sit, Rappler in 2012, along with three other female founders and with a small team of just 12 journalists and developers. It initially started as a facebook page named MovePH in August 2011 and then developed into a website on January1,2012. She is currently the CEO of Rappler.