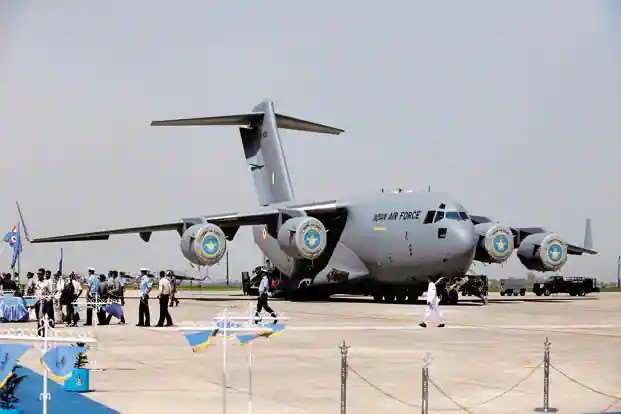 Indian Air Force Day 2021:
With the motto of Nabha: Sprush Deeptam, the Indian Air Force aircraft will show their might in the sky on the occasion of Indian Air Force Day 2021, on Friday.
Rafale, Tejas, and Sukhoi will roar in the sky while airmen will show harmony by stepping on the parade ground at Hindon Air Force Station in Ghaziabad. Chief of Defense Staff General Bipin Rawat, along with Chief of Air Staff, Navy, and Army Chiefs will also be present at the ceremony.
Honorary Group Captain Sachin Tendulkar of the Air Force is also expected to attend the event. Indian Air Force is going to celebrate 89th Air Force Day at Hindan Air Force Station.
The Rafale, which was inducted into the Indian Air Force last year, and the indigenously developed aircraft Tejas will be the main center of attraction. The event will begin with Parajumper Team Galaxy as the team members will jump from a height of eight thousand feet through the parachute and land on the parade ground of the Air Force Station.
After this, Garuda commandos through a mock drill will catch the intruder. Chinook and Apache helicopters will salute the chiefs of the three services at the air show. The trio of Rafael, Tejas, and Sukhoi will show their power and might to the people by forming a transformer formation. Along with this, the celestial feats of the Suryakiran Aerobatics Team and Sarang Helicopter Team will enthrall the people. Vintage aircraft Tigermoth and Dakota will make people aware of the historic bravery of the Air Force.
A strict message for China-Pakistan:
It is believed that during the address of the ceremony, the Air Force Chief will give a stern message to China and Pakistan. If the Tejas aircraft becomes self-reliant, Rafale will give the message of being able to hit every target. After the arrival of Rafale aircraft, the strength of the Air Force has increased manifold. In such a situation, Air Force Chief Vivek Ram Chaudhary will infuse new energy among the air warriors with his address.