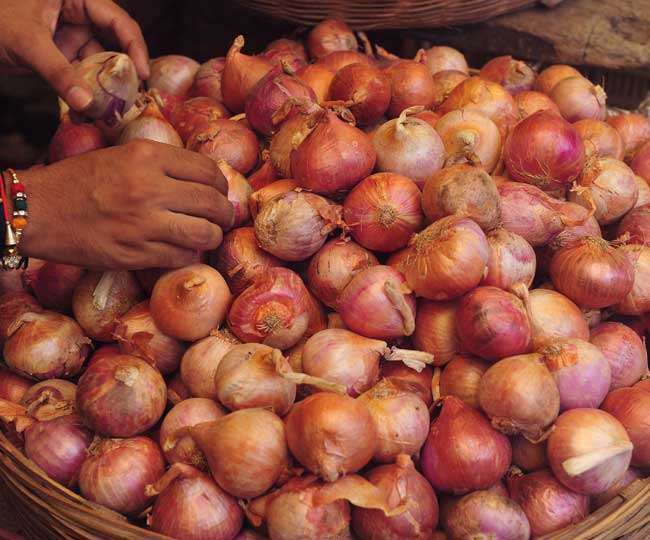 The shortage of Onions in Delhi's biggest market, Azadpur Market has led to increase in price of Onions. In the last week, the whole sale price has increased by Rs 8 per kg. As a result, the price of onions in retail market have also increased immensely and has reached to around Rs 50/kg. The shortage in onions is a result of heavy rainfall in the onion-producing state of Madhya States and other states in South India.
Price hike in Azadpur Market

From the last week, Azadpur Market has been experiencing intake of 1000 ton kg on an average, whereas the demand is as high as 1200-1300 ton kg. The National Agriculture Cooperative Marketing Federation of India(NAFED) is trying to fill the full capacity of Onions in the market, to bridge the gap between demand and intake. 
On Tuesday, the onion was sold in the market at the wholesale price of Rs 21-33/kg. On the contrary, last week the price was Rs. 22-25/kg
Cold storage Facility
The head of Azadpur market Onion and Potato merchant, Rajendtra Sharma, told that the shortage in Onions is due to the crop-failure in Madhya Pradesh Maharashtra and Rajasthan due to heavy rainfall. During this, most of the onion needs of market is being met through cold-storages. Only 7-8 trucks of farm-crop are able to reach the market every day. One truck includes around 20 quintal onions. On Tuesday, around 40 trucks reached the market, out of which 5 belonged to NAFED. As it was an off on Saturday and Sunday, the intake of Onions was high on Monday which reduced by around 400 ton on Tuesday. However, as Navratri Festival is approaching, the demand of Onions can be reduced by 25-35%, which can bring some stability in the price of onions.
Prices to reduce with new crop
The chairman of Azadpur Agricultural Produce Market, Aadil Khan told that the onion-producing belts like Alwar, have been affected adversely due to heavy rainfall in past days. This has resulted in destruction of the onion crop. However, the prize can begin to fall after the arrival of new crop in next month.