Paris Fashion week: Deepika Padukone Witchy look in LV or Priyanka Chopra in Valentino, who ate?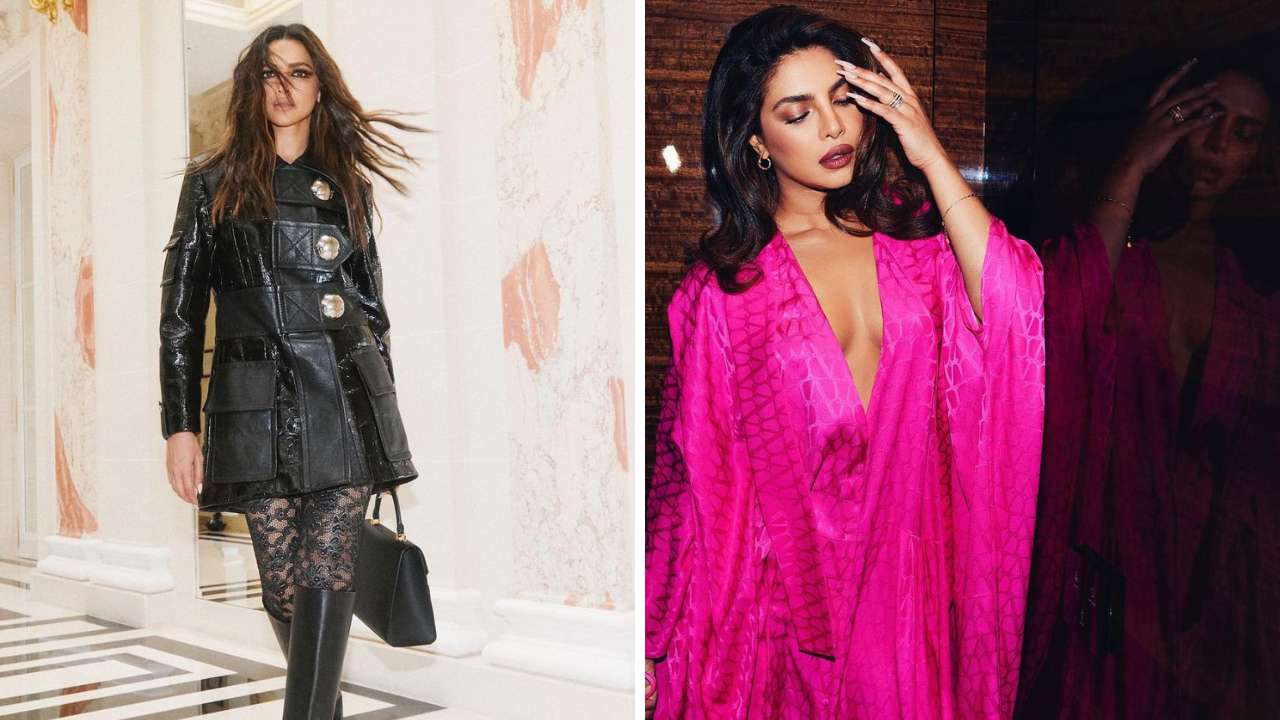 Paris Fashion Week:
For all the fashion heads out there, Paris Fashion week is loaded and oozing with Glam Glam and Glam. For those who might have missed our two Desi's going all global, setting their foots in two of the biggest luxury labels, here we are delivering you the visual treat. Deepika Padukone and Priyanka Chopra both were spotted playing the couture game in French Luxury Louis Vuitton and Italian Luxury label Maison Valentino. 
Paris Fashion week
It was just last year that Deepika Padukone was announced as the inhouse brand ambassador of Louis Vuitton and the diva is ready to showcase her prowess in the same. While Priyanka who will soon be seen in the legendary Russo Brothers Citadel was spotted sporting her inner princess in Maison Valentino with hubby Nick Jonas. While both of them were exceptionally beautiful we loved how each of the looks was styled completely opposite to each other.
Deepika Padukone gothic glam at LV Paris Fashion week
Messy styled hair, smokey eye, and Deepika Padukone looked extremely fab in Nicolas Ghesquiere Louis Vuitton Fall/Winter 2023-2024 ready-to-wear collection. The actress attended the event in Musée d'Orsay in Paris. On Monday during Paris Fashion Week, Nicolas Ghesquiere, the brand's creative director, exhibited the newest collection for Fall/Winter 2023–2024. The fashion show witnessed some of the LV's loyal faces including Deepika Padukone, Zendaya, Emma Stone, Ana de Armas, and others. Deepika's look included a black leather jacket styled ensemble and lacy bottom tagged along with knee length black boots, ditching the accessories she opted for a black bag and a gothic makeup look.
 

 

 

View this post on Instagram
Priyanka Chopra in Valentino at Paris Fashion week
Our Citadel boss lady Priyanka Chopra was spotted attending the Maison Valentino Paris fashion week with hubby Nick Jonas. The actress chose to dress up in all pink attire from the racks of Italian Luxury. In Paris for the Valentino Womenswear Autumn Winter 2023–2024 show, Priyanka Chopra and Nick Jonas dressed to the nines. When Pierpaolo Piccioli, the brand's creative director, debuted his newest designs at the Valentino Autumn/Winter 2023 collection the duo dominated the front row with their mushy pics and stylish avatar. Nick complimented Priyanka's Valentino pink look with a slate grey suit over a black top and boots, while she embraced the trendiest shade of pink in a hottest plunging neckline ever.
 

 

 

View this post on Instagram