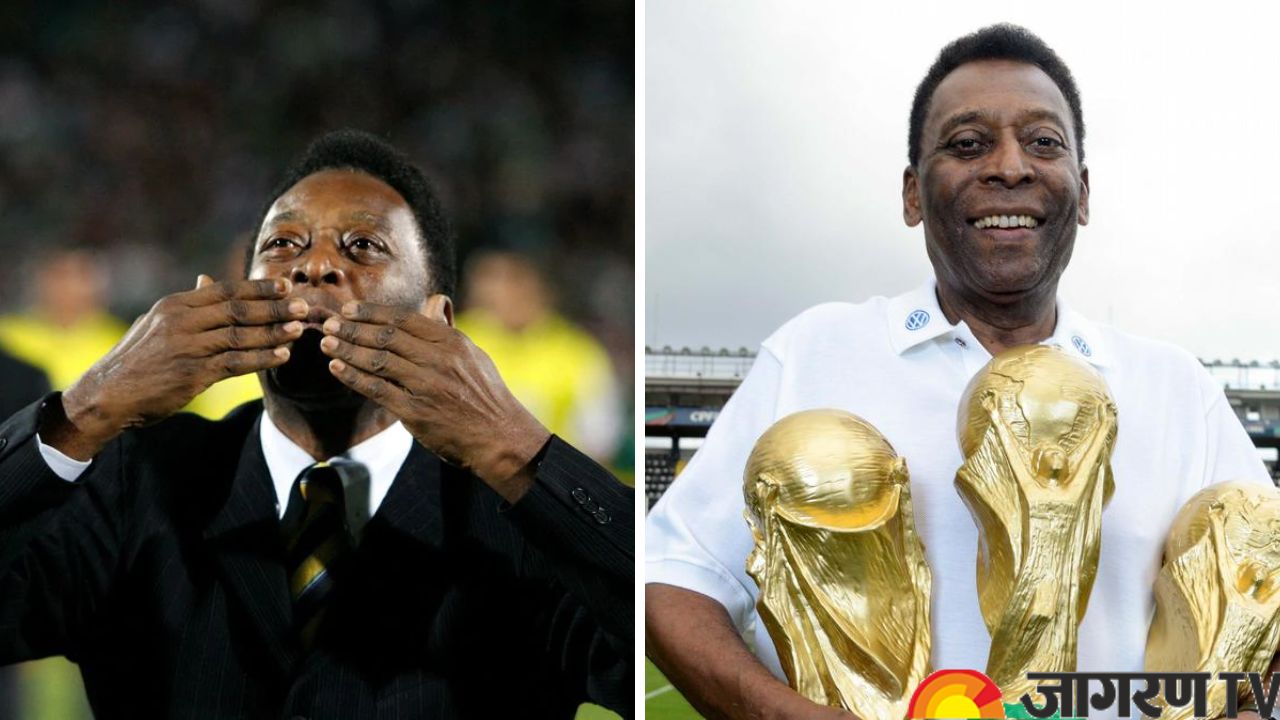 Brazillian star football player passed away at 82.

Pele is the only player to win the Fifa world cup thrice.

Pele was known as the KING of football and also the Black pearl.

Pele made 1363 appearances in his career and scored 128 goals.
The King of Football Edson Arantes do Nascimento 'Pele' passed away on Thursday at the age of 82. He was undergoing cancer treatment and has been in the hospital for the past month after battling stomach cancer since 2021. He was the only player to win the Fifa world cup thrice. He was known as the "KING" of football in his active years. Let's take a look at his biography and find out more about the football legend.
Pele's biography
Edson Arantes do Nascimento also known as Pelé, was a Brazilian professional football player who played as a forward. Considered one of the greatest players of all time and labeled "the greatest" by FIFA and the world, he was among the most successful and popular sports figures of the 20th century. He was known by many names such as "King of Football" and "Black Pearl".
Pele's Family
Pelé was born in Tres Coracos, Brazil, the son of Dondinho, a Fluminense football player, and Dona Celeste Arantes. He was named Edison after the American inventor Thomas Edison. Pele has been married three times. His first marriage was in 1966 to Rosemary Dos Rais Cholbi. They also had two daughters, but they divorced in 1982. He had an affair with his girlfriend, Xuxa, and helped her become a model from 1981 to 1986. Xuxa was still 17 years old when Pele started dating her. In 1994, he married psychologist and gospel singer Assyria Lemos Seixas. She gave birth to two twin children. After that, they parted. In 2016, Pele married Marcia Oki.
Pele's Career
In 1957, Pele played his first international match against Argentina and scored his first international goal, but Brazil lost 2–1. Pele was the youngest player to score a goal in an international football match. In the final of the 1958 FIFA World Cup, he won his World Champion title with his two goals against Sweden, becoming the youngest player ever to win his World Cup. In the 1962 World Cup, which was named after Brazil, he was unable to play due to an injury.
1966 was a difficult year for Pele. Due to Brazil's poor performance in their first match, they were left out of the World Cup. In 1969, Pele scored his 1,000th goal against Vasco da Gama at the Maracana stadium. At the same time, thousands of Pele fans hit the ground and stopped the game for half an hour.
At the 1970 World Cup, Pele gave his best and won another World Cup title in Brazil. Pele was named 'Player of the Tournament' and was awarded a gold medal for his outstanding performance. In 1971 Pele played his last international match against Yugoslavia in Rio de Janeiro and retired from the sport. Pele made 1363 appearances in his career and scored 128 goals.
Pele's achievements
Pele has also won a gold medal for Brazil and a BBC Lifetime Award. In 1999, Pele was named "Footballer of the Century" by the International Olympic Committee. In 2010, Pele was named honorary president of Cosmos in New York. In 2012, he was awarded an honorary doctorate by the University of Edinburgh in recognition of his significant contribution to the world of football. In 1980, Pele starred in the film Escape to Victory, which earned the title of 'Best Football Film'.