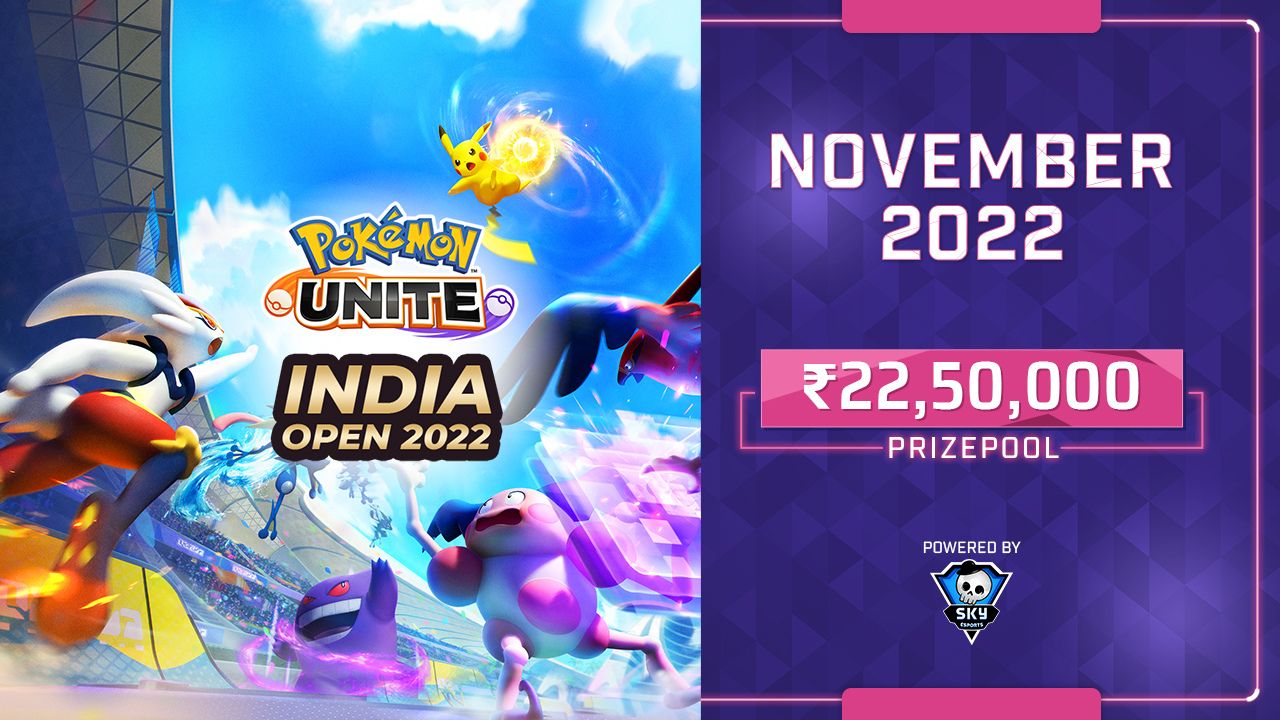 One of India's largest esports competitions for the mobile MOBA game, the Pokémon UNITE India Open 2022, is currently accepting registrations till November 18. For a shot at the glitzy trophy and a piece of the massive Rs. 22,50,000 prize pool, you can sign up right away with your team.
Pokémon UNITE India Open 2022 will be held courtesy to a collaboration between Skyesports and The Pokémon Company. For six different zones across India, the competition includes open qualifiers for everyone. The National Finals of the Pokémon UNITE India Open 2022 will also take place as a LAN competition during the Skyesports Championship 4.0 in Mumbai.
Eligiblity to register for Pokémon UNITE India Open 2022
All players above the age of 16 years old and residing in India can register for the tournament. Players have to select one of six zones while registering for the tournament. These zones are as follows
⦁ North Zone: Punjab, Rajasthan, Haryana, Himachal Pradesh, Chandigarh, Delhi, Ladakh, and Jammu and Kashmir
⦁ East Zone: Bihar, Jharkhand, Odisha, and West Bengal
⦁ West Zone: Goa, Gujarat, Maharashtra, Dadra and Nagar / Haveli / Daman and Diu
⦁ South Zone: Andhra Pradesh, Karnataka, Kerala, Telangana, Tamil Nadu, Andaman and Nicobar Islands, Lakshadweep, and Puducherry
⦁ Central Zone: Chhattisgarh, Madhya Pradesh, Uttar Pradesh, and Uttarakhand
⦁ North East Zone: Arunachal Pradesh, Assam, Manipur, Meghalaya, Mizoram, Nagaland, Tripura, and Sikkim
Each team must have at least five players. You can add two more optional substitute players as well. A minimum of three players from each registered roster must reside in the same region. Failure to do so will result in disqualification.
How to Register?
You can register for the Pokémon UNITE India Open 2022 on the official Skyesports website. Make sure to fill out the form correctly. Players are also required to upload a valid Address Proof to ascertain their identities and location of residence.
Once you have filled out the form, check the tick box for the terms and conditions after reading them. Then, click on Submit.
After registering, make sure to join the Skyesports India Discord server for communication regarding the qualifiers and schedule. The Zonal Qualifiers will begin on Nov. 21.