Each and every activity of our celebs is under constant surveillance. From their outfits to their social media activity, everything has a 24/7 eye of fans and media. Recently, everyone got shocked after our desi girl Priyanka Chopra removed her surname 'Jonas' from her Instagram account. The speculations even got to an extent that people started thinking that there is a tiff between Priyanka and Nick Jonas's relationship. People started thinking that they might get a divroce. 
Priyanka Chopra Dropped Surname from Instagram
Priyanka Chopra on Monday Nov'22 dropped both her surname 'Chopra' and 'Jonas From her Instagram user id and Bio. Her move got a lot of attention and people started visiting her profile to check the same. And during all the trends of Priyanka, the actress dropped in her first poster  The Matrix Resurrections.
Yes it all seems like a marketing thing as she was able to bring all the attention to her new Hollywood film poster. Sharing her look, Priyanka wrote in the caption, "And she's here.
Re-enter #TheMatrix 12.22.21."
 

 

 

View this post on Instagram
Priyanka Chopra Divorcing Nick Jonas
And if you are still in the dilemma if she is really divorcing Nick then let us tell you that she is not. In a statement Priyanka's mother Madhu Chopra spoke on the rumors and called it rubbish.  "It's all rubbish, don't spread rumours," Says Madhu. 
Priyanka Chopra on Divorcing Nick Jonas
Even though Desi Girl herself cleared the air round divorcing her beau. In the recent IG workout video of Nick Jonas, Priyanka's comment just said it all. 
Actually Nick shared his ärm workout video on Instagram and wrote, "Monday motivation. Let's get it. 💪🏼.
 

 

 

View this post on Instagram
And PC just can't hold herself and showed her romantic side by commenting, "Damn! I just died in your arms…"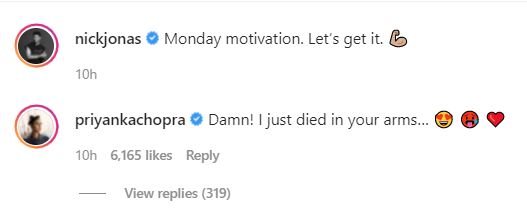 Well, we guess now everything is clear. Now splitting it there and everything is good in PC's personal and professional life. 
Priyanka Chopra in Matrix
Talking about Priyanka's upcoming Hollywood film, The Matrix Resurrections stars Keanu Reeves as Neo. Carrie-Ann Moss and Jada Pinkett Smith coming back as Trinity and Niobe. Laurence Fishburne's role of Morpheus will be played by Yahya Abdul-Mateen II. Directed by Lana Wachowski, The Matrix Resurrections is all set to release in December 2021.