Pulwama Attack: Major terrorist attacks that shook India just like the Pulwama attack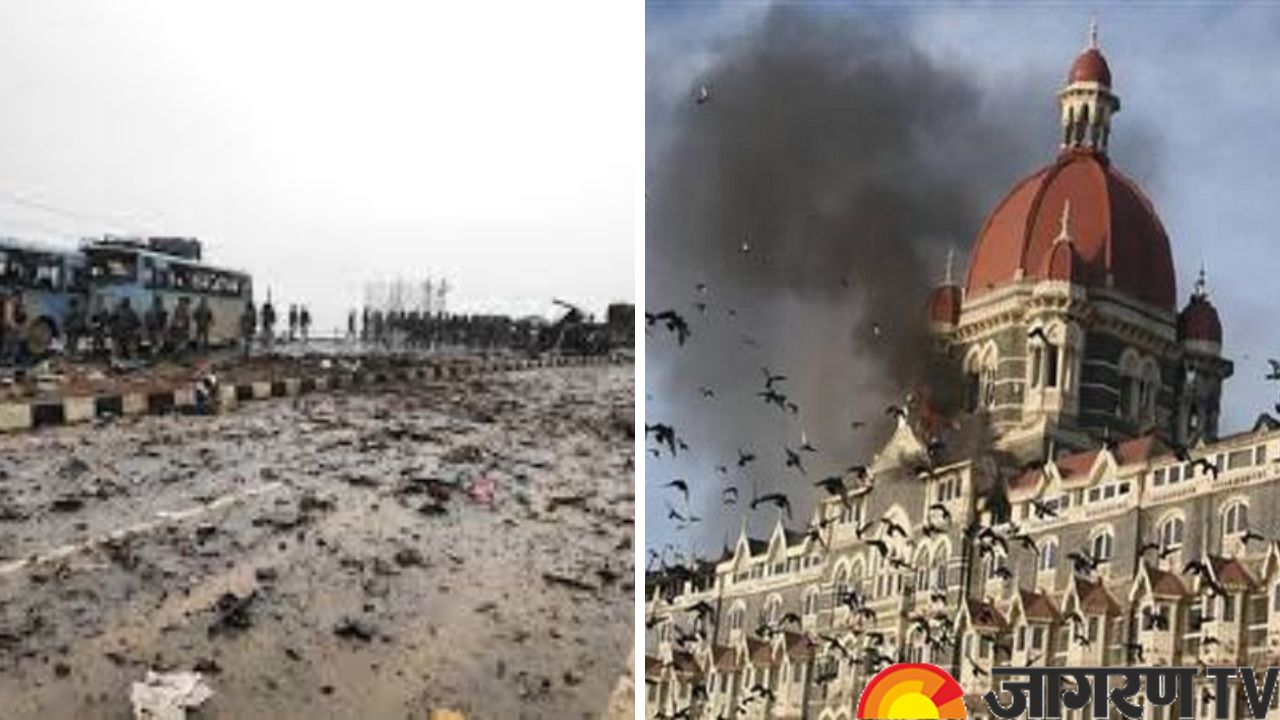 The Pulwama attack took place today five years ago. A vehicle-borne suicide bomber assaulted a convoy of cars transporting Indian security forces on the Jammu-Srinagar National Highway at Lethapora in the Pulwama district of the former state of Jammu and Kashmir. This attack killed 40 CRPF Indian soldiers and injured many others.
The attack was a shock to the entire country and measures were taken immediately to deal with the situation and compensate the martyred soldiers. But that was never enough as the attack not only brought fear into the hearts of people but a big change in the country's method of dealing with terrorists. Therefore let's take a look at some of the major terrorist attacks on our country that changed the entire face of India.
Major terrorist attacks that terrorized India
26/11 Mumbai Attacks 2011
It is considered the biggest terror attack on India. 10 men entered Mumbai through docks and killed a lot of people in different places in the city. The attack began on Wednesday, November 26, and lasted until Saturday, November 29, 2008, killing 164 people and wounding at least 308. The attack took place at Chhatrapati Shivaji Terminus, Leopold Cafe, Cama Hospital, and Metro Cinema. They also attacked Nariman's house, Hotel Taj, and Hotel Oberoi Trident.
1993 Mumbai Serial Bomb blasts
On March 12, 1993, Mumbai witnessed a series of bomb blasts that resulted in 257 fatalities and 717 injuries. 12 bomb explosions took place in the Air India building, Stock Exchange building, Hotel Sea Rock, Hotel Juhu Centaur, Hotel Airport Centaur, Plaza Theatre, etc.
Delhi serial bomb blasts 2005
The terror attack that took place a few days before Diwali on October 29, 2005, was a big fatality and resulted in the death of 62 people and injuring at least 210 others. Three bomb blasts took place in the city. Two bombs exploded in the main markets of Sarojini Nagar and Paharganj, whereas the third one took place in a bus in Govindpuri.
Parliament attack 2001
Terrorists from organizations of Jaish-e-Mohammad and Lashkar-e-Taiba targeted the Parliament of India, the safest place in India on December 13, 2001. The attack led to the death of six Delhi Police personnel, two Parliament Security Service personnel, and a gardener. 
Coimbatore bombings 1998
On February 14th, 1998, Al Ummah an Islamist fundamentalist carried out 12 bomb blasts at 11 separate locations in Coimbatore, killing 58 people and injuring over 200 others. The explosions appear to have been carried out in retribution for the city's riots in November and December 1997, during which Hindu hardline groups killed 18 Muslims.
Mumbai train blasts 2006
The largest terror attack to ever hit Mumbai occurred there on July 11, 2006. In Mumbai's local trains, there were seven explosions in a row over the course of 11 minutes during rush hour in the evening. Over 700 people were hurt, and a total of 209 people died. The suburban railway stations of Matunga Road, Mahim, Bandra, Khar Road, Jogeshwari, Bhayandar, and Borivali all had bombs placed.